IMHA On The Move! – May 2017
Table of contents
---
A Message from the Scientific Director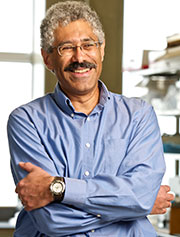 Greetings!
With this being my next-to-last message as Scientific Director of the CIHR Institute of Musculoskeletal Health and Arthritis, I would like to highlight several important developments happening at CIHR – IMHA this spring. But first, I would like to extend farewells and best wishes to CIHR's retiring President Dr. Alain Beaudet, and Chief Scientific Officer and Vice-President, Research, Knowledge Translation and Ethics, Dr. Jane E. Aubin. I have had the opportunity to work with both for a number of years and wish them both all the best. I would also like to extend a warm welcome to new Acting President of CIHR, Dr. Roderick McInnes whose first message to the Canadian public can be read in full on the CIHR website.
Pain Research in Canada
Since co-hosting the Canadian Pain Research Summit last September with the CIHR Institutes of Aboriginal Peoples' Health (IAPH), Cancer Research (ICR), Gender and Health (IGH), and Neurosciences, Mental Health and Addiction (INMHA), we have been steadily working to develop the area of pain research in Canada. Much work remains to be done to thoughtfully and carefully develop a pain research agenda in Canada, and together with my colleagues at these partnering CIHR institutes, we look forward to laying the groundwork in this exciting research area.
Research Ambassadors
We are pleased to have hosted our Spring Research Ambassadors meeting in April, which will have been my last time meeting with this group. They are a collection of bright, interested, engaged individuals who live with, or advocate for others living with health conditions falling under IMHA's research mandate. This meeting's discussion focused on how the Research Ambassadors can have more of an impact on health research by sharing their experience as patients and advocates for patients with researchers and health funding decision makers. Also, a big part of the discussion was on how the group can contribute to training researchers to improve plain language translation of research abstracts and to raising awareness of the importance of translating research into plain language so that not just members of the public can understand it but so that policy decision makers can understand the importance and accomplishments of different research projects and consequently make well-informed decisions about health research funding. Please visit the CIHR – IMHA Knowledge Translation web pages for more information about the current Research Ambassador Knowledge Translation Awards and to see examples of abstracts written in excellent plain language.

One of the patient advocacy groups with which CIHR – IMHA is pleased to have a strong relationship is the Arthritis Alliance of Canada (AAC). It has been important to the Institute to help support the 2016 AAC Research Awards program for which the winners were announced April 13 at the ACC meeting in Toronto. CIHR - IMHA funded two of the seven awards given to different categories of excellence in research. Congratulations to all 7 winners. Please see our community news below for more information about the awards.
A major priority for CIHR – IMHA is capacity building, including supporting funding opportunities for new investigators, and offering a Young Investigators forum every two or three years. Therefore I would encourage all of our communities to please recommend new investigators to CIHR – IMHA to be included in future Young Investigator Forums to be held in the coming years. Please contact IMHA@umanitoba.ca for more information about these Forums.
I appreciate hearing from our stakeholder community members. Please send any questions or comments to IMHA@umanitoba.ca, and please also follow me on Twitter @HaniElgabalawy.
Sincerely,
Hani El-Gabalawy MD FRCPC, FCAHS
Scientific Director
CIHR Institute of Musculoskeletal Health and Arthritis
---
Funding Opportunities and News
CIHR – IMHA Funding Opportunities
For a full listing of CIHR funding opportunities, please visit the ResearchNet website. For all inquiries please contact: CIHR Contact Centre; Telephone: 613-954-1968; Toll Free: 1-888-603-4178; Email: support@cihr-irsc.gc.ca.
Application Deadline (Letter of Intent): June 6, 2017
Sponsors: The Institute of Infection and Immunity, the Institute of Gender and Health, the Institute of Musculoskeletal Health and Arthritis and the Institute of Nutrition, Metabolism and Diabetes.

Application Deadline: November 1, 2017
Sponsors: The Social Sciences and Humanities Research Council (SSHRC) and the CIHR Roadmap Accelerator Fund (RAF) in collaboration with Employment and Social Development Canada (ESDC).
---
CIHR Funding Opportunities
Application Deadline: May 16, 2017
Sponsor: The Strategy for Patient-Oriented Research (SPOR)
Application Deadline: May 23, 2017
Sponsors: CIHR's Institute of Health Services and Policy Research (IHSPR) in collaboration with the Institute of Aging (IA), the Institute of Aboriginal Peoples' Health (IAPH), the Institute of Circulatory and Respiratory Health (ICRH), the Institute of Infection and Immunity (III), the Institute of Population and Public Health (IPPH), and CIHR's Science, Knowledge Translation and Ethics (SKTE) Branch in partnership with the Fonds de recherche du Québec –Santé (FRQS) and Mitacs.
Application Deadline: May 24, 2017
Sponsors: The Canadian Institutes of Health Research (CIHR) under the scientific leadership of the Institute of Aging (IA) in partnership with the Institute of Health Services and Policy Research (IHSPR), the Active and Assisted Living Association (AAL), the AGE-WELL Network of Centres of Excellence (AGE-WELL NCE) and Mitacs
Please Note: Changes are currently being made to the Project Grant competition process. A revised funding opportunity, which will have a registration deadline of August 15 and an application deadline of September 15, will be available when details are finalized. (Updated May 5, 2017)
The Project Grant program is designed to capture ideas with the greatest potential to advance health-related knowledge, health research, health care, health systems, and/or health outcomes. It supports projects with a specific purpose and a defined endpoint. The best ideas may stem from new, incremental, innovative, and/or high-risk lines of inquiry or knowledge translation approaches. The Project Grant program is expected to:
Support a diverse portfolio of health-related research and knowledge translation projects at any stage, from discovery to application, including commercialization;
Contribute to the creation and use of health-related knowledge;
Promote relevant collaborations across disciplines, professions, and sectors.
Application Deadline: June 2, 2017
Sponsors: CIHR, the FRQS and MDC in partnership with the E-Rare-3 Joint Transnational Call Partners
Application Deadline: June 13, 2017
Sponsors: The Canadian Institutes of Health Research Healthy Life Trajectories Initiative in partnership with CIHR's Roadmap-Accelerator Fund with scientific leadership and support shared across CIHR's Institute of Human Development, Child and Youth Health, Institute of Aboriginal People's Health, Institute of Aging, Institute of Circulatory and Respiratory Health, Institute of Gender and Health, Institute of Neurosciences, Mental Health and Addiction, Institute of Nutrition, Metabolism and Diabetes, and Institute of Population and Public Health.
Registration Deadline: August 8, 2017
Application Deadline – Stage 1: September 12, 2017
Application Deadline – Stage 2: February 6, 2018
Note: Registration to the 2017 Foundation Grant funding opportunity will be accepted between May 8, 2017 and August 08, 2017. Once the registration has been submitted, applicants will have the ability to complete the full application.
---
CIHR News
Announcement: Delay of next Project Grant Competition
Please see the CIHR website for an important announcement regarding the Project Grant Competition. The Registration that was to close on May 30, 2017 will be delayed to August 15, 2017 with an application deadline of September 15, 2017.
Read More.
Promoting Equity and Excellence in Health Research
Equity is an integral part of a sustainable health research ecosystem. Beyond the obvious reality that all researchers should have equitable access to funding for their research, equity also allows for diversity in the system. There have been countless studies that show that diversity—not just of scientific expertise, but of the people conducting and participating in the research—leads to more creativity, more innovation, and more meaningful outcomes. As such, CIHR, in alignment with the Government of Canada's broader Gender-Based Analysis Plus (GBA+) Initiative, is proactively evaluating equity throughout its organizational activities. CIHR's GBA+ activities focus on three main areas: Sex and Gender-Based Analysis (SGBA) in Research, equity in CIHR's funding system and equity in how CIHR conducts its business internally. Recently, CIHR developed an Equity Strategy with a vision of creating an equitable funding system.
Read more
CIHR Seeks Community Input on Data Sharing about Competition Processes
CIHR wants to hear from the community on how to enhance data sharing about competition processes. To that end, CIHR will organize a meeting with members of the community interested in this topic on June 20, 2017 in Ottawa. The meeting will provide an opportunity to discuss how best to share microdata moving forward, the details that should be included, and the safeguards that should be in place to secure the confidentiality of applicants. It will also provide the opportunity to explore other potential avenues to share funding decision data or carry out important analysis, such as formal research partnerships or special studies conducted at the request of community members. If you are interested in attending, please send your name to funding-analytics@cihr-irsc.gc.ca before May 10, 2017. We will be in touch with interested individuals to confirm attendance. If there are more applicants than CIHR can host, a selection will made with the aim of balancing career stage, gender, regional representation, etc.
College of Reviewers will start enrolling members this summer
On behalf of the College Chairs, Dr. Paul Kubes and Dr. Jane Rylett are pleased to announce that membership enrolment will start in June 2017.
Read more.
NIH News
The National Institute of Dental and Craniofacial Research is pleased to launch NIDCR 2030, a strategic visioning initiative designed to advance dental, oral, and craniofacial research over the next 15 years. The Institute hopes to obtain input from the CIHR Institute of Musculoskeletal Health and Arthritis community, especially ideas on how to ensure that future NIDCR investments address critical research gaps and strengthen the scientific workforce.
Please visit NIDCR 2030 to submit ideas and to vote and comment on other offered ideas. The NIDCR 2030 team will use this input to plan future workshops and research initiatives. The idea submission period ends May 19, 2017. All votes must be entered by June 2, 2017.
Contact Centre extended hours of operation
We are pleased to announce the extension of the CIHR Contact Centre's hours of operation. This is an important step in ensuring that consistent and full support is offered to stakeholders coast-to-coast. Contact Centre staff are now available to provide assistance from 7:00 – 20:00 Eastern Time, Monday to Friday. CIHR has also implemented service standards which will be monitored and reported on periodically. Get in touch with staff at the Contact Centre.
Change in parental leave policy for training award holders
All CIHR, SSHRC and NSERC training award holders are now eligible for paid parental leave. Until now, training award holders had to confirm they were not eligible for other parental leave benefits programs in order to be eligible. The Tri-Agency Research Training Award Holder's Guide was updated accordingly on April 1, 2017. For any question regarding this change or any questions about training award programs, please contact: support@cihr-irsc.gc.ca.
Healthy and Productive Work Strengthening Workshop March 24, 2017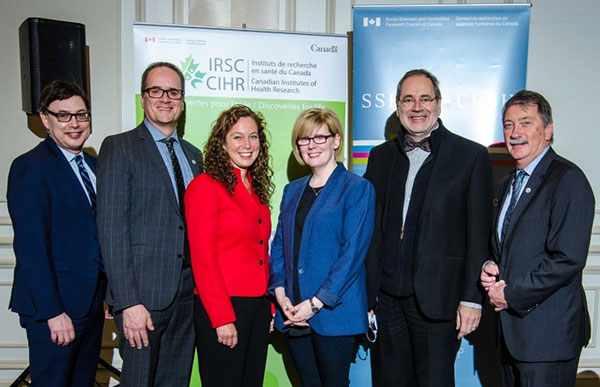 CIHR – IMHA was pleased to support the recent strengthening workshop for applicants of the Healthy and Productive Work CIHR Signature Initiative. This initiative has a strong focus on researcher and partner co-development throughout the research process, and applications are launched in two phases. Phase 1 is already complete, with 20 teams funded. The second phase of this competition will be launched this year, and is only open to Phase 1 recipients. HPW is a joint initiative of the Canadian Institutes of Health Research (CIHR) and the Social Sciences and Humanities Research Council of Canada (SSHRC), representing an investment of over $15.2M to date. Employment and Social Development Canada (ESDC) is also a valued collaborator on this initiative, as demonstrated by their role as co-host of the strengthening workshop and in their role in supporting knowledge translation (KT) and knowledge mobilization (KMb) activities for the upcoming Partnership Grant Funding Opportunity.
Catalyst Grant: Population Health Intervention Research Related to the Legalization of Cannabis in Canada
CIHR's Institute of Population and Public Health (IPPH), Institute of Circulatory and Respiratory Health (ICRH), Institute of Gender and Health (IGH), Institute of Neurosciences, Mental Health and Addiction (INMHA), and Institute of Health Services and Policy Research (IHSPR) announced the upcoming launch of a new Catalyst Grant in Population Health Intervention Research related to the Legalization of Cannabis in Canada. With recent announcements that legislation involving the legalization and regulation of non-medical cannabis use is expected to be introduced in Parliament in early April 2017, supporting research in this area is all the more timely. Given the pace of this change, we anticipate that the timeline to apply for the Catalyst Grant will be relatively short, and wanted to make sure you are aware that this is coming up so you can plan accordingly. The planned launch for this opportunity is at the end of April 2017. Read more
Canadian Longitudinal Study on Aging (CLSA) Data Analysis
Three applications from the recent CLSA Data Analysis competition were funded by CIHR – IMHA. Congratulations to the following researchers:
Dr. Pasqualina Santaguida – Understanding the disablement process in people with osteoarthritis and rheumatoid arthritis: Analysis of the CLSA Comprehensive Cohort baseline data.
Dr. Carla Prado – Prevalence and Health Implications of Sarcopenia and Sarcopenic Obesity in Canada.
Dr. Anthony Perruccio – A Biopsychosocial Approach to Understanding the Impact of Osteoarthritis on Social Participation: A Population-based Study.
Congratulations to Catalyst Grant Recipients
Congratulations to the recipients of recent CIHR – IMHA Catalyst Grants:
MSK – David M. Cooper; Longitudinal Imaging of Cortical Bone Remodeling Events in a Rabbit Model of Osteoporosis: A Novel Platform for the Study of Bone Physiology and Disease
MSK – Tara Gomes, Richard J. Jenkinson, David N. Juurlink, Timothy Leroux, Colin J. McCartney, Daniel Pincus; A Population-based Assessment of Opioid Use Before and After Total Joint Arthroplasty
MSK – Bernard J. Jasmin; The RNA-binding protein Staufen1 as a novel atrogene and therapeutic target in skeletal muscle atrophy
MSK – Marc G. Jeschke; Glucose control in burned patients: a multi-centre phase III prospective RCT
MSK – Michelle E. Kho; CYCLE Vanguard: The Catalyst to an International Randomized Comparative Effectiveness Trial of Early in-Bed Cycling with Mechanically Ventilated Patients
MSK – Lisa M.Lix, William D. Leslie; Familial and Personal Histories of Comorbid Conditions for Predicting Fracture Risk using Novel Population-Based Record Linkage
MSK – Vladimir Ljubicic; AMPK-mediated neuromuscular plasticity: Implications for the treatment of neuromuscular disorders
MSK – Jordan Miller; Determining the impact of a new physiotherapist led primary care model for low back pain - A pilot study for a cluster randomized controlled trial
MSK – Stuart M. Phillips; Efficacy of a high quality protein leucine-enriched nutraceutical in attenuating inactivity- and hypoenergetic diet-induced muscle loss in older women
MSK – Brett D. Thombs, Ghassan El-Baalbaki; Scleroderma Patient-centered Intervention Network Teletherapy for Appearance Anxiety (SPIN-TAPA) Feasibility Study
MSK – Evelyne Vinet, Jill P. Buyon, Megan E. Clowse, Carl A. Laskin, Jane Salmon; The Lupus prEGnAnCY (LEGACY) Cohort
ME/CFS – John Edward R. Ussher; Impaired Skeletal Muscle Pyruvate Dehydrogenase Activity & Chronic Fatigue Syndrome
Oral Health – Hugh Kim; Targeting platelet-specific molecules in periodontal disease
Oral Health – Michael Glogauer; Neutrophil Activation Profiles in Circulation and Their Roles in Periodontal Health and Disease
Oral Health – Celine M. Levesque; Characterization of oral probiotic products for the prevention of dental caries
Oral Health – Christopher A. McCulloch; Novel treatment of periodontitis
Skin – Julie Fradette; Use of adipose-derived stem cells and hyperbaric oxygen therapy to enhance healing of skin wounds in irradiated tissues
Skin –  Jeffrey A. Biernaskie; Characterizing dermal stem/progenitor contribution during endogenous skin regeneration versus scar formation.
Skin – Vinod Chandran, Vathany Kulasingam; Understanding Dynamic Psoriasis Phenotypes through Metabolomics
---
IMHA community news
CIHR-IMHA On the Move! strives to connect its community of stakeholders by sharing news. Please send your community's news to the Institute Communications Project Officer.
About Face
Camp Trailblazers is now accepting registrations for the summer. New this year:
We opened up our age range to include campers ages 8-18
We added a new location in Saskatchewan
We updated our registration process and fee structure for better efficiency
We implemented a new subsidy request process to make sure our limited subsidies go to those who demonstrate the greatest need
Please visit the AboutFace website for more.
Arthritis Consumer Experts (ACE)
Arthritis in the workplace:F Are employers and employees speaking the same language?
Please visit the March 2017 issue of Joint Health™ insight for informative articles:
Become an Arthritis Advocate: Arthritis Research Canada (ARC) is looking for volunteer patient advocates to serve on their Vancouver based Arthritis Patient Advisory Board (APAB). The core strategic values of their board are: Research, Knowledge Translation, Community Advocacy, Education, Communications and Government Relations. Additional information including our Mission Statement can be found at the ARC website.
Arthritis Alliance of Canada (AAC)
Please see the Arthritis Alliance of Canada Newsletter online for news about the AAC Research Awards Program, the 2017 Annual Meeting, Inflammatory Arthritis Models of Care and more. Congratulations to Dr. Karine Toupin-April from Children's Hospital of Eastern Ontario Research Institute and University of Ottawa, who won the Early Career Researcher/Early Career Faculty Member Research Award for her project entitled "Helping adolescents with juvenile idiopathic arthritis and their parents to make informed and value-based decisions about pain management options: Development of a novel decision support intervention" and to Dr. Jessica Widdifield from University of Toronto, who won the Post-doctoral Research Award for her project entitled "Evaluating Patient Care and Outcomes of Rheumatoid Arthritis in Ontario."
Canadian Pain Society
The Canadian Pain Society 2017 Annual Scientific Program takes place May 23 – 26 in Halifax. Speakers include Dr. Frank Porreca (Brain circuits mediating pain and its relief), Dr. Yves De Koninck (Gating pain: from normal to pathological sensory coding), Dr. Melanie Noel (Remembering the Pain of Childhood: Development, Impact, and Intervention), Dr. Rohini Kuner (Cortex: unravelling the final frontier in pain), and Dr. Gary MacFarlane (The epidemiology of chronic pain: something old, something new).

May 12th – International Awareness Day
May 12, the birthday of Florence Nightingale, has been designated as International Awareness Day for Chronic Immunological and Neurological Diseases (CIND) since 1992. Included in CIND are diseases like Myalgic Encephalomyelitis (ME), Chronic Fatigue Syndrome (CFS), Fibromyalgia (FM), Gulf War Syndrome (GWS) and Multiple Chemical Sensitivity (MCS). This year marks the 25th Anniversary of the awareness day. Please visit the May 12th website for information on what events are taking place and how you can help raise awareness.
Canadian Dental Association
The Canadian Dental Association has recently published The State of Oral Health in Canada, a comprehensive overview of dentistry and the oral health landscape in Canada and worldwide. While Canada is among the world leaders in the overall oral health of its citizens, it still faces challenges with getting access to oral health care to the most vulnerable segments of its population (e.g. seniors, low-income populations, people with special needs, children, Indigenous peoples, new immigrants with refugee status, etc.) The report outlines some of these challenges and the work being done to address them. Please read the full report available for download on the Canadian Dental Association website.
Cochrane Canada
The theme of the Cochrane Canada Symposium 2017, taking place May 11 – 12 in Hamilton, ON, is Evidence & Impact: Engaging consumers, practitioners, researchers and policy makers. Please see the Cochrane Canada website for more information.
Institute of Work and Health (IWH)
A series of seminars regularly take place at the Institute for Work & Health and can be attended either in person at the Institute at 481 University Avenue, Suite 800, Toronto, ON from 11:00a.m. to noon ET, or by livestreaming. Past seminars can be viewed on the IWH YouTube channel. Contact Albana Canga for more information. Upcoming seminars include: Understanding effective worker health and safety representation by John Oudyk, Andrew King and Alan Hall, The Labour/OHCOW/Academic Research Collaboration (LOARC) (Tuesday, May 16, 2017).
Muscular Dystrophy Canada
The Twitter hashtag #WALK4MD is circulating to promote the 10th anniversary of the annual Muscular Dystrophy Canada event to raise awareness and fundraise in support of Canadians affected by neuromuscular disorders. The event takes place in 50 locations across Canada. Please visit the Walk for Muscular Dystrophy website to find out when and where each walk takes place this year.
Network for Canadian Oral Health Research (NCOHR)
The CADR-NCOHR Student research awards, sponsored by the Canadian Association for Dental Research (CADR) and by the Network for Canadian Oral Health Research (NCOHR), were recently presented at the Annual General Meeting of CADR. The AGM was held in conjunction with the meeting of the International Association for Dental Research (IADR) in San Francisco, California, USA in March 2017. In 2016-17, a total of 7 awards were given out.  Mohamed Omar of the University of Alberta, won one of the 7 awards and took first place in the 2017 IADR/Unilever Hatton Competition, representing Canada in the Senior – Basic Science Category. His research project entitled "Bone Marrow Transplant from Periodontal Diseased Mice Induces Atherosclerosis" was conducted under the supervision of Dr. Maria Febbraio.
The Arthritis Society (TAS)
The Arthritis Society Launches Stop Childhood Arthritis with $5 million research commitment Fundraising initiative will accelerate ground-breaking research into personalized medicine to improve outcomes for children living with arthritis. Read More. See the announcement on Facebook Live.

---
Meetings of Interest
Cochrane Canada Symposium 2017
May 11 – 12 2017 Hamilton, ON (Deadline for submitting abstracts March 20, 2017)
Canadian Pain Society 38th Annual Scientific Meeting 2017
May 23 – 26, 2017, Halifax, NS
Canadian Orthopaedic Association Annual Meeting
June 15 – 18, 2017 Ottawa, Ontario
Canadian Association of Occupational Therapists Conference 2017
June 21 – 24, 2017 Charlottetown, PEI
Complex Regional Pain Syndrome (CRPS) Congress
August 30 – September 1, 2017 Cork, Ireland
Canadian Institute for Military and Veteran Health Research (CIMVHR) 8th annual research Forum
September 25 – 27, 2017 Toronto, ON (Deadline for submitting abstracts March 15, 2017)
Canadian Society for Exercise Physiology (CSEP) 2017 50th Annual General Meeting
October 25 – 28, 2017 Winnipeg, MB
2017 Inaugural Canadian Physiotherapists Association (CPA) Leadership Forum
Nov 2 – 4, 2017 Ottawa, ON
Date modified: