IMHA On the Move! – June 2017
Table of contents
---
A Message from the Scientific Director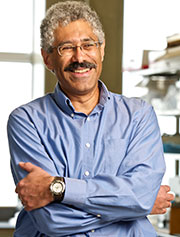 It is with mixed emotions that I write my final message as Scientific Director of the CIHR Institute of Musculoskeletal Health and Arthritis, as my term will end on June 30, 2017. Since I started in 2013, the time has literally flown by. At all stages during the term there were many challenges and opportunities. Now my final challenge and opportunity is to make sure there is a smooth transition to my successor, who will be announced shortly after Governing Council approves his/her appointment. So perhaps I will indulge myself in a few reflections as I enter the final weeks of the term.
The initial stages of my tenure as SD were filled with stakeholder community engagements, both nationally and internationally. There was a clear need to hear as many perspectives as possible, in order to develop a strategic plan that was appropriate for an Institute with IMHA's diversity of stakeholder communities. I am particularly indebted to Liz Stirling and Elizabeth Robson for their help during that phase, both of whom had been with IMHA for many years, Elizabeth having been there since its inception with Cy Frank as the inaugural SD. Liz, along with Tanya Gallant, formed IMHA's so called "Ottawa Based Institute Staff" or OBIS, and they had extensive corporate memory, as well as in-depth knowledge of how "160 Elgin" works. As you can imagine, they were invaluable for an incoming SD. I got sage advice from my friend and colleague, the late Cy Frank, and he played an important role in the development of IMHA's 2014-2018 Strategic Plan. His sudden passing in 2015 was staggering and incomprehensible to all of us.
With the help of a terrific Institutional Advisory Board (IAB) led by Monique Gignac as Chair, we developed and launched the 2014-2018 Strategic Plan that featured key priorities in 1) Chronic Pain and Fatigue; 2) Inflammation and Tissue Repair; and 3) Mobility, Disability and Health. The launch was strategically timed with the awarding of the prestigious Gairdner Award to Sirs Marc Feldmann and Ravinder (Tiny) Maini for their work in developing TNF inhibitors for the treatment of rheumatoid arthritis and many other inflammatory diseases. Indeed, this resulted in Sir Marc Feldmann becoming an International Advisor for CIHR's Inflammation in Chronic Disease Signature Initiative, which is co-lead by IMHA and III.
The next phase of my term at CIHR featured fundamental changes in the organization that were based on recommendations from CIHR's Governing Council. These recommendations were far reaching, and included changes to the Institute Model, staffing in Ottawa, and the structure of the IABs. In parallel, major changes were undertaken in the design of the open competitions and the peer review system.
Individually, each of the changes was based on a sound rationale with an anticipated positive outcome for the organization, but few would argue that undertaking the full scope of these changes concurrently held the risk of at least some unanticipated consequences. Nevertheless, tireless work at all levels of CIHR, including the Institutes and their staff, stabilized the organization through these changes, and a clearer understanding of what works and what does not work began to emerge, and continues to do so. I personally believe CIHR is more mature, experienced, and heading in a good direction.
The final phase of my SD term has clearly been the most satisfying and productive, as IMHA began to invest in its Strategic Plan, both through Institute specific initiatives, and in multi-Institute Initiatives with broader, cross-cutting themes. We have focused on supporting innovation, capacity building, and knowledge translation in all IMHA's mandate areas. I am particularly proud of a wonderful collaboration we were able to establish with the Dutch funding agencies ZonMw and Reumafonds to fund a bilateral network focused on developing personalized medicine approaches for the treatment of juvenile forms of arthritis. The integrated teams in Canada and the Netherlands are exceptionally well positioned to change practice in this area over the next 5 years.
IMHA, along with several other CIHR Institutes, have recently set the ground work for a new CIHR pain research initiative aimed at developing new treatments, particularly for chronic pain. Clearly this will be an important part of the solution to Canada's opioid crisis.
Arguably one of IMHA's greatest strengths has been its patient engagement programs. This focus was established during Cy Frank's tenure, and has been continued and expanded upon. IMHA's Research Ambassadors, a program which engages patients from the full scope of the Institute mandate areas, have been truly a pleasure to work with. This key perspective is now central to CIHR's overall mandate, particularly in the Strategy for Patient Oriented Research (SPOR). I would also like to acknowledge the great work that was done by patients and clinicians in developing priorities for the treatment of adult fibromyalgia using the James Lind Alliance approach. The top priorities are now published on the JLA website in the UK, and will hopefully serve as impetus for new research funding in this area.
It remains only for me to thank the Winnipeg based IMHA staff who have worked tirelessly to move all aspects of the Institute ahead: Nicole Szajcz-Keller, Assistant Director; Christine Mazur, Communications Project Officer; Michelina Violi, Project and Finance Officer; Nicolette Masi, Administrative Coordinator; and all the previous IMHA staff: Nicole Mardis, Kate Walsh, Jodi Cullum, and of course Elizabeth Robson. I would also like to acknowledge the excellent consulting work done for IMHA by Marc Milot of Montreal.
My own plans involve immersing myself back into my research program, and my other academic duties at the University of Manitoba, with a particular emphasis on the training of a new generation of clinician scientists.
It has been a privilege and an honour to serve as the Scientific Director of the CIHR-Institute of Musculoskeletal Health and Arthritis. Thank you for all of the support you have given me and IMHA.
Sincerely,
Hani El-Gabalawy MD, FRCPC, FCAHS
Scientific Director
CIHR Institute of Musculoskeletal Health and Arthritis
---
Funding Opportunities and News
CIHR – IMHA Funding Opportunities
For a full listing of CIHR funding opportunities, please visit the ResearchNet website. For all inquiries please contact: CIHR Contact Centre; Telephone: 613-954-1968; Toll Free: 1-888-603-4178; Email: support@cihr-irsc.gc.ca.
Application Deadline: November 1, 2017
Sponsors: The Social Sciences and Humanities Research Council (SSHRC) and the CIHR Roadmap Accelerator Fund (RAF) in collaboration with Employment and Social Development Canada (ESDC)
Application Deadline (Full Application): March 6, 2018
Sponsors: The Institute of Infection and Immunity, the Institute of Gender and Health, the Institute of Musculoskeletal Health and Arthritis and the Institute of Nutrition, Metabolism and Diabetes.
---
CIHR Funding Opportunities
Application Deadline: Various
Sponsor: Science, Knowledge Translation and Ethics Branch, CIHR.
Registration Deadline: August 8, 2017
Application Deadline – Stage 1: September 12, 2017
Application Deadline – Stage 2: February 6, 2018
Note: Registration to the 2017 Foundation Grant funding opportunity will be accepted between May 8, 2017 and August 08, 2017. Once the registration has been submitted, applicants will have the ability to complete the full application.
Application Deadline: August 22, 2017
Sponsors: The CIHR Roadmap Accelerator Fund (RAF) in partnership with the Institute of Population and Public Health (IPPH) and under the co-scientific leadership of the Institute of Circulatory and Respiratory Health (ICRH), Institute of Gender and Health (IGH), Institute of Neurosciences, Mental Health and Addiction (INMHA), and Institute of Health Services and Policy Research (IHSPR).
Application Deadline (Letter of Intent): September 12, 2017
Sponsor: The Strategy for Patient Oriented Research (SPOR)
Application Deadline: September 20, 2017
Sponsors: The Canadian Institutes of Health Research (CIHR), the Natural Sciences and Engineering Research Council of Canada (NSERC) and the Social Sciences and Humanities Research Council of Canada (SSHRC)
Other Funding Opportunities
Clinicians, researchers and graduate/professional students interested in moving research evidence into clinical practice are invited to apply for an Edith Strauss knowledge translation grant of up to $12,000. Applications are accepted twice a year. The current deadline is extended to June 7, 2017 at 11:59pm EST. For the proposal guidelines and application form, visit the KT website.
For any questions, please contact Anita Menon/Diana Zidarov: straussresearch.spot@mcgill.ca.
---
CIHR News
Project Grant: Fall 2016 competition results
The results from the Project Grant: Fall 2016 competition are now available. A total of 475 research projects were awarded funding, plus an additional 121 bridge grants, for a total investment of approximately $359 million. It is important to note that as a result of the decision to delay the Spring 2017 competition, an additional $100 million was invested in the Fall 2016 competition. This allowed the organization to fund a larger number of highly ranked projects. As announced earlier this month, changes are being made to the Project Grant process in advance of the next competition. Read more
New measures to recruit more women, underrepresented groups to Canada Research Chairs
The Government of Canada is working hard to ensure women, Indigenous peoples, persons with disabilities and members of visible minorities have access to new opportunities that will allow them to succeed in the sciences. Read more
Canada's top health researchers recognized for their life-changing work
On May 16, 2017, His Excellency the Right Honourable David Johnston, Governor General of Canada, hosted the CIHR Gold Leaf Prizes ceremony at Rideau Hall. The celebration formally recognized Canada's best and brightest health researchers. Have a look at the memorable evening and learn what Canada's top researchers are doing by exploring the profiles, photo gallery and videos. Read more
Application data from CIHR's investigator initiated competitions now available
Members of Canada's health research community have expressed interest in obtaining data derived from CIHR's competition processes to conduct analyses around a variety of important issues. To help researchers carry out such analyses, CIHR funding information from a number of competitions is now available in the form of a Public-Use Microdata File. The file contains anonymized, non-aggregated data, which can be used to manipulate variables to conduct analyses. Read more
Dr. Samuel Weiss appointed Scientific Director of the CIHR Institute of Neurosciences, Mental Health and Addiction
Dr. Roderick McInnes, Acting President of the Canadian Institutes of Health Research (CIHR), along with CIHR's Governing Council, announced the appointment of Dr. Samuel Weiss as the new Scientific Director of the CIHR Institute of Neurosciences, Mental Health and Addiction (CIHR-INMHA). This appointment will be effective July 1, 2017. Since 2004, Dr. Weiss has served as the inaugural Director of the Hotchkiss Brain Institute at the University of Calgary. As the Scientific Director of CIHR-INMHA, Dr. Weiss will work with the Canadian neurosciences, mental health and addiction communities to identify research priorities, develop research funding opportunities, build partnerships and translate research evidence into policy and practice to improve the health of Canadians and people around the world. Read more
Appointment Opportunity
President, Canadian Institutes of Health Research
Closing date: June 30, 2017
CIHR Institute of Gender and Health Raising SGBA Awareness
Sex- and Gender-Based Analysis (SGBA) is an approach that systematically examines sex-based (biological) and gender-based (socio-cultural) differences between men, women, boys, girls and gender-diverse people. The purpose of SGBA is to promote rigorous science that is sensitive to sex and gender and therefore has the potential to expand our understanding of health determinants for all people. The Institute of Gender and Health aims to support all researchers in integrating SGBA into their research. Join the conversation by Tweeting to IGH using the hashtag #SGBA with tips and tricks to improve the integration of sex and gender in respective health disciplines, and sharing IGH's interactive online training modules with colleagues to support them in integrating sex and gender in their research.
Compute Canada and CIHR Webinar: Tools for Data-Intensive Health Research
Need support to create data visualizations that increase the impact of your research data? How about help creating a cloud-based development space to support collaboration? Or to securely manage your research data? Compute Canada can provide support to mid- and smaller-scale data intensive projects, as well as large ones, in any discipline. Services are accessible across the country. Compute Canada and the Canadian Institutes of Health Research (CIHR) invite you to a webinar to learn about the advanced research computing resources and services available to the health research community. Read more
45 preventive-health trainees converge on Concordia
The week-long CIHR Summer Program in Aging took place May 15 - 19 at the PERFORM Centre on the Concordia University campus in Montreal, QC. The SPA provides Canadian graduate students and postdoctoral fellows with advanced knowledge and skills that cross disciplines, institutions and geographical boundaries. Along with CIHR Institute of Aging and Concordia University's PERFORM Centre, partners supporting this year's SPA included: the CIHR Institutes of Aboriginal Peoples' Health, Cancer Research, Circulatory and Respiratory Health, Genetics, Health Services and Policy Research, Musculoskeletal Health and Arthritis, Population and Public Health, and the CIHR HIV/AIDS Research Initiative. Please read the full article on the Concordia University website.
Summer Student co-authors publication on management of post-operative skin grafting surgical pain with immediate clinical and research applications
Sarthak Sinha is an undergraduate student funded by CIHR – IMHA's summer studentship working under the mentorship of Drs. Jeff Biernaskie, Duncan Nickerson and Vincent Gabriel at the University of Calgary. This year he has been part of a team that successfully published a systematic review in the Journal of Trauma and Acute Care Surgery titled "Treating pain on skin graft donor sites: review and clinical recommendations."
Split-thickness skin grafting is the most common procedure for coverage of deep burn injuries. Harvesting split-thickness skin creates a new wound called the donor site. In the systematic review, the team synthesized guidelines on how to manage pain on donor sites by weighing the quality and quantity of evidence favoring the utility of each approach. Their analysis identified four approaches as "evidence-based" and outlined areas where future research in this field should concentrate. The article will be published in the September edition of the JTACS and is available by Epub ahead of print.
Understanding Lyme disease, in real time
The blacklegged ticks that carry Borrelia burgdorferi (or B. burgdorferi), the type of bacteria that causes Lyme disease, are expanding their territory, putting more people at risk of contracting the disease. In fact, public health researchers have estimated that by 2020, 80% of the population in eastern Canada will live in affected areas, up from just 18% in 2010. While working together at the University of Calgary, Dr. Moriarty and her colleague Dr. Ursula Norman developed a technique for watching the bacteria in action. Called intravital microscopy, it allows researchers to capture videos of pathogens as they are carried along by the blood. She and her team are also working to establish collaborations with clinicians and public health officials, so they can work together to understand which strains of B. burgdorferi are entering the country, how they are spreading, how they are causing disease, and how we can stop them. Read more
---
IMHA Community News
CIHR-IMHA On the Move! strives to connect its community of stakeholders by sharing news. Please send your community's news to the Institute Communications Project Officer.
AboutFace
AboutFace is hosting a farewell celebration in honour of retiring Executive Director of 21 years, Anna Pileggi. Anna has been the heart and soul of AboutFace and has overseen the development of many integral programs such as Camp Trailblazers, Adult Retreat, Facing it Together, and Facing Differences.
When: Thursday, June 22, 2017, 6pm – 10pm
Where: Davies Ward Phillips & Vineberg, 40th Floor, 155 Wellington Street West, Toronto, ON
Dress: Business Casual
Tickets: $20 suggested donation to cover costs. Get tickets by June 8, 2017.
Those not able to attend in person may make a donation to AboutFace in Anna's honour here.
New Executive Director: AboutFace is pleased to welcome Danielle Griffin as its new Executive Director starting June 12, 2017. Danielle has a personal and direct connection to AboutFace, and is passionate about making a difference in the facial difference community. Please read more.
Arthritis Consumer Experts (ACE)
On May 20, ACE took part in World Autoimmune Arthritis Day (WAAD), established by the International Foundation for Autoimmune Arthritis in 2012. The virtual event unites nonprofits, advocates, and experts worldwide to provide educational and awareness information to patients, their supporters, and the general public. Information about Autoimmune /Autoinflammatory Arthritis is on the WAAD website.
Arthritis Alliance of Canada (AAC)
The Arthritis Alliance of Canada and the College of Family Physicians of Canada has collaborated to develop an Osteoarthritis (OA) Tool for Family Practice. The OA Tool is now in its final stage of development and is expected to be launched mid-June 2017. For more information about this project, please contact Jaime Coish jcoish@arthritisalliance.ca
Save the Date: The AAC's 2017 Annual Meeting will take place October 26 - 27 in Vancouver, with the theme, "Change is Good: Implementing Arthritis Models of Care." More information is available on the AAC website.
Canadian Association of Occupational Therapists
Occupational therapists take a leadership position regarding driving rehabilitation services because of their expertise in assessing and intervening on the interaction between the person, the environment and the occupation – in this case the occupation of driving. The National Blueprint for Injury Prevention in Drivers with Arthritis [ PDF (324) – external link ] has been developed as a guiding document for teams interested in advancing research, training curricula, practices and policies to support drivers with arthritis.  This blueprint is directed towards the health and wellness needs of the over 4.6 million Canadians diagnosed with arthritis who want to maintain their occupation of driving.
Canadian Arthritis Patient Alliance (CAPA)
A research study called "Preventing Rheumatoid Arthritis (Pre-RA): perspectives of people with RA, people at risk and of rheumatologists" is looking for participants. For more information, please contact Katherine, Research Coordinator, by email at research.q@cheos.ubc.ca or by phone at (604) 682-2344 ext 66239 on behalf of the lead researchers Dr. Mark Harrison (University of British Columbia) and Dr. Marie Hudson (McGill University Health Centre).
Several members of the CAPA Board of Directors attended this year's Canadian Agency for Drug Technologies in Health (CADTH) Symposium in Ottawa. CAPA Board Members were proud to present at three panel sessions ranging from fair drug pricing and the benefits of biologic treatments for people with inflammatory arthritis to our experiences and suggested improvements to the CADTH patient input submission process.
Canadian Pain Society
The Canadian Pain Society's 38th Annual Scientific Meeting took place May 23 to 26, 2017 at the Marriott Harbourfront Hotel in Halifax, NS. Dr. Frank Porreca, Professor of Pharmacology at the University of Arizona gave the Mary Ellen Jeans Lecture, and Dr. Yves De Koninck, Professor of Psychiatry and Neuroscience at Laval University, was the Distinguished Career Award Keynote Speaker. CIHR – IMHA was pleased to represent CIHR with a booth to provide information about Health Research Funding Opportunities in Canadian Pain Research.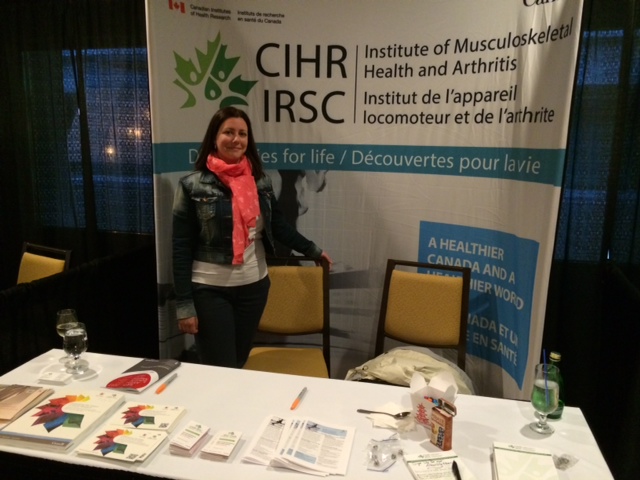 Institute of Work and Health (IWH)
The latest IWH newsletter includes a story on how IWH helped develop a safety climate audit tool as a result of its role in Ontario's mining safety review. Please read the IWH newsletter for more information.
Muscular Dystrophy Canada
This month, Muscular Dystrophy Canada is sharing stories of accessibility to highlight the enormous impact that activists make in the lead up to #NationalAccessibilityWeek, which took place May 28 – June 3, 2017. The week aims to bring Canadians together to celebrate, highlight and promote inclusion and accessibility in communities and workplaces. For more information and inspiration, please visit the National Accessibility website.
The Arthritis Society (TAS)
The Arthritis Society is looking for a Chief Science Office for its National Office located in Toronto. Reporting to the President & Chief Executive Officer, and an active member of the senior leadership team (SLT), the Chief Science Officer (CSO) is responsible for driving the scientific, research, advocacy, public policy and program & services agenda of The Arthritis Society, both internally and externally, in ways that measurably accelerate progress towards expanding the organization's reach and impact. If you are interested in and qualified for this exciting leadership opportunity, please submit a covering letter and resume in the strictest of confidence to hr@arthritis.ca by June 30, 2017. For more information, please visit The Arthritis Society's website.
---
Meetings of Interest
EULAR Congress 2017 Annual European Congress of Rheumatology
June 14-17, 2017 Madrid, Spain
Canadian Orthopaedic Association Annual Meeting
June 15-18, 2017 Ottawa, ON
Canadian Association of Occupational Therapists Conference 2017
June 21 – 24, 2017 Charlottetown, PEI
Complex Regional Pain Syndrome (CRPS) Congress
August 30 – September 1, 2017 Cork, Ireland
Canadian Institute for Military and Veteran Health Research (CIMVHR) 8th annual research Forum
September 25 – 27, 2017 Toronto, ON (Deadline for submitting abstracts March 15, 2017)
Canadian Society for Exercise Physiology (CSEP) 2017 50th Annual General Meeting
October 25 – 28, 2017 Winnipeg, MB
2017 Inaugural Canadian Physiotherapists Association (CPA) Leadership Forum
Nov 2 – 4, 2017 Ottawa, ON
American College of Rheumatology (ACR/ARHP) Annual Meeting 2017
November 3 - 8, 2017 San Diego, California
---
Date modified: