Spring 2017 Newsletter
Message from Dr. Stephen Robbins, ICR Scientific Director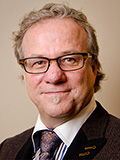 April is Cancer awareness month and an opportunity for ICR to highlight the innovative and progressive research occurring in Canada and with international partners. During this month look for a series of profiles on the work being done in the areas of personalized medicine and immunotherapy on the CIHR website. Canadian investigators are making great strides in connecting these life changing discoveries into clinical care for Canadians.
As co-chair of the Canadian Cancer Research Alliance (CCRA) I attended the March board meeting. Discussions focused on a number of topics including ongoing work in patient partnerships with the Alberta Cancer Foundation, activities occurring as part of Target 2020, the Comprehensive Cancer Centres Network, precision medicine initiatives, and Canadian Cancer Research Conference updates. In addition, outputs from CCRA, the Cancer Research Investment Report and Research Frameworks are now available to view.
The annual Governing Council meeting for the International Agency for Research on Cancer (IARC) will be held in May. I am pleased to be a member of Governing Council and able to represent Canada at this next meeting. For those unfamiliar with the Governing Council, members are responsible for directing general policy in IARC, their research programs are further reviewed by Scientific Council.
Since the transition to the new Institute Advisory Boards (IAB) in 2016 ICR has attended three IAB meetings covering areas of interest to multiple institutes. The current IABs are divided up into the following areas of expertise to support all 13 institutes: Research Excellence, Policy and Ethics; Health Innovation; Indigenous Peoples' Health; Health Promotion and Prevention; and Chronic Conditions. ICR will be co-hosting the Indigenous Peoples' Health IAB in June with Institute of Circulatory and Respiratory Health (ICRH) to seek their expertise in future research initiatives.
Canada's Fundamental Science Review
Canada's Fundamental Science Review 2017 report, Investing in Canada's Future: Strengthening the Foundations of Canadian Research, is now available. Please visit the CIHR website to read the report.
15th Annual New Investigator Meeting at Mont Gabriel, QC
ICR would like to thank all of the investigators and mentors that attended the new investigator meeting November 25th to 27th, 2016 co-hosted with the Institute of Genetics (IG). Close to 60 new investigators from across Canada attended. New investigators and mentors engaged in large and small group discussions on issues relevant to those at the beginning of their career. Plenary sessions were held on open access science and commercialization, the funding landscape, team science, balancing being a manager and scientist, and training and teaching responsibilities. New investigators also shared their research in lively poster sessions allowing for additional opportunities to network with their peers and mentors. 
Upcoming Early Career Researcher (New PI Meeting)

Fall 2017, Vancouver, BC
ICR will be partnering with the Canadian Cancer Society Research Institute (CCSRI) and the Ontario Institute for Cancer Research (OICR) to provide a professional development opportunity for New Investigators and Senior Post-Docs November 3-4th in Vancouver, BC. This Early Career Researcher Program is being held in conjunction with the 2017 Canadian Cancer Research Conference (CCRC). This program has been developed for newly established principal investigators / new faculty members (within their first 5 years of academic appointment) at Canadian universities, including new scientists and clinician scientists and senior postdocs (within 6 months of completing their training).
Registration for the CCRC as well as the Early Career Researcher (ECR) Program opened April 3, 2017. Individuals interested in attending the Early Career Researcher Program will "self-identify" as New PI's or Senior PostDoc's (PostDoc's will require a letter of support) at the time of registration and will be notified if they are awarded a ECR award to support meeting attendance. Individuals selected for the award will be notified late summer.
Early Career Award in Cancer Recipients
Congratulations to the 2016 Early Career Award in Cancer recipients for their top ranked applications in the Foundation and Project Scheme competitions at CIHR. Each awardee received an additional $25,000 in funding to build on their current work.
Dr. Catherine O'Brien, foundation grant recipient for her work in colorectal cancer stem cell plasticity: a novel therapeutic target.
Dr. Christian Steidl, foundation grant recipient for his work in the biology and clinical significance of the tumour microenvironment in B cell lymphomas.
Dr. Daniel De Carvalho, project grant recipient for his work in DNA methylation for colorectal cancer: implications for cancer immunotherapy.
Dr. Yan Yuan, project grant recipient for her work in risk prediction for premature ovarian insufficiency in childhood cancer survivors.
Additional details on the Early Career Award in Cancer
Recent ICR Strategic Funding Recipients
| Catalyst Grant - Health Services/Health Economics | NPI |
| --- | --- |
| Benchmarking the quality of urologic cancer care in Ontario: a population-based analysis | Antonio Finelli |
| Estimating the harms and benefits of cervical cancer screening in the pre- and post-HPV vaccination eras: A modelling study | Eduardo Franco |
| Estimating the cost-effectiveness threshold for cancer care in Alberta | Eldon Spackman |
| A multi-province approach to real world evidence development for cancer drugs: A case study of melanoma | Kelvin Chan |
| Deriving and validating a prediction tool for advanced gastrointestinal cancer patients to support early integration of palliative care | Hsien-Yeang Seow |
| A web-based self-management support program to promote adaptation to cancer in the acute treatment phase: usability and feasibility of the "I-Can Manage Cancer" intervention | Doris Howell |
| Comparison of adjuvant chemotherapy to chemoradiation following curative-intent resection for pancreatic cancer: A population-based cost-effectiveness | Nathalie Coburn |
| Evaluating the impact of the McMaster Optimal Aging Portal on knowledge, behavioural intentions and health behaviours related to cancer risk in under served populations | Maureen Dobbins |
| Patterns of care and outcomes in Indigenous patients with cancer | Winson Cheung |
| Catalyst Grant - Indigenous Approaches to Wellness Research | NPI |
|  Applications of Indigenous knowledge of birch bark oil for topical treatments of skin conditions | Matthias Bierenstiel |
| Can (should) Indigenous knowledge shape clinical science? Explorations at the intersection of biosociality, decolonizing methodology, and research ethics | Fern Brunger |
| Dismantling barriers: Indigenous peoples wellness approaches to the cancer care spectrum | Nadine Caron |
| An Indigenous Collaborative Care Best Practices Model (ICCBPM): Using simulated participant simulations to promote culturally safe healthcare along the cancer journey | Patty Chabbert |
| Juddah's Place - An Indigenous evaluation project | Karen Hill |
| Indigenous knowledge, western research, and cancer statistics: Braiding information together to understand a community's cancer journey | Alethea Kewayosh |
| An Indigenous recipe to living a healthy life | Erinn Monture |
| Mamawohkamatowin: Enhancing & integrated pathways to wellness | Vivian Ramsden |
| A holistic approach to cervical cancer prevention & treatment among Inuit communities: Using Inuit Qaujimajatuqangit (IQ) to guide the development of culturally competent care | Audrey Steenbeek |
| Innovation Grant - High Fatality Cancer (co-funded with CCSRI) | NPI |
| Development of natural killer cell-based precision immunotherapy for pancreatic cancer | Jeanette Boudreau |
| Heterogeneity and immune response in breast cancer | Susan Done |
| A novel therapeutic target for metastatic lung cancer | Douglas Gray |
| Adaptation, feasibility and acceptability study of the advanced symptom monitoring and management system (ASyMS) mobile health intervention to reduce chemotherapy toxicities in Canadian Cancer Patients | Doris Howell |
| Direct inhibition of mRNA translation for treatment of pancreatic cancer | Michael Pollak |
| New biguanides for mitochondrial accumulation and inhibition of cancer progression | Andreea Schmitzer |
| Co-targeting sensitizing integrin receptors and oncogenic growth factor receptors in lung cancer with bispecific antibodies | Sachdev Sidhu |
| Real-time surveillance of multiplexed, reversible cancer signalling markers in perturbed RAS networks | Matthew Smith |
| Targeting tumour initiating cells in hepatocellular carcinoma (HCC) to identify novel approaches in patient management | Isabella Tai |
| Analyses of Existing Canadian Cohorts & Databases | NPI |
| Improving the quality of cancer care by minimizing futile tests and treatments | Winson Cheung |
| Personalized medicine using registry cohort data: Developing an adaptive treatment strategy to prevent and treat graft-versus-host disease | Erica Moodie |
| Occupational physical activity and lung cancer risk | Vikki Ho |
| Rapid non-small cell lung cancer detection and phenotypic subtyping using machine learned metabolomic signatures of blood specimens from the Manitoba Lung Cancer Tumour Bank | Julian Kim |
| Deriving and validating a prediction tool for advanced colorectal cancer patients to support early integration of palliative care | Hsien-Yeang Seow |
| Trajectories of body mass index and pancreatic cancer risk: Identifying opportunities for primary prevention in early life | Laura Anderson |
| A prognostic model to enhance care decision making in high fatality cancers | Vickie Baracos |
| Levels of serum Arresten as a risk factor for the development and progression of high fatality cancers | Jose Teodoro |
| An Urgent Cancer Care Clinic: evaluating the benefits and costs of a specialized model of delivery of health care for cancer patients | Kathleen Decker |
| Investigating the role of dietary intakes of red and processed meat, vegetables and fruit, and fiber on cancer incidence in a large cohort of adults in Alberta's Tomorrow Project | Katerina Maximova |
| Analysis of R/S-2HG products of IDH1/2 mutation in glioma patient samples in brain tumor bank and correlation with patient survival outcome | Gelareh Zadeh |
| Validation of subtype-specific ovarian cancer biomarkers for pelvic mass discrimination | Vathany Kulasingam |
| Towards an assessment of health risks associated with exposure to gamma radiation among a cohort of Ontario Uranium miners | Minh Do |
Additional competitions recently closed that ICR has supported include the Effects of the Alberta Wild Fire Operating Grant and the PHSI for Cancer Control LOI phase.
Funding Announcements
Prevention Innovation Grants (in partnership with CCSRI)
Abstract Registration: May 1, 2017
Full application deadline: June 15, 2017
Knowledge to Action Grants (in partnership with CCSRI)
Abstract Registration: April 1, 2017
Full application deadline: June 23, 2016
Large-Scale Applied Research Project Competition: Genomics and Precision Health (in partnership with Genome Canada)    
Pre-applications to Genome Canada: March 16, 2017
Pre- application deadline: May 11, 2017
Full application deadline: October 5, 2017
Health System Impact Fellowship
Application deadline: May 23, 2017
Full Application: Mid 2017
Host partner organizations
Planning and Dissemination and Travel Awards
Requests for applications occur bi-annually. Watch for the next application period in June 2017* for the travel awards and July 2017** for the Planning and Dissemination awards
* Allowable travel window for Summer 2017 applications: Sept 28 2017 - April 30 2018
** Funding start date is November 1 2017
Date modified: