IMHA On The Move! – March 2017
Table of contents
---
A message from the Scientific Director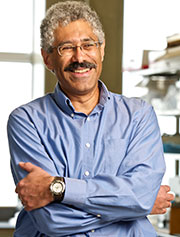 Greetings!
We at CIHR – IMHA are well into a busy 2017 with many achievements to celebrate and many exciting projects in development. Capacity building and patient engagement have taken up a lot of our agenda in recent months.
Achievements
First, I would like to extend congratulations to the recipients of the Canada-Netherlands Personalized Medicine in Immune Mediated Inflammatory Musculoskeletal Disease network. Dr. Rae Yeung of Toronto's Hospital for Sick Children and Prof. Nico Wulffraat from Utrecht University have been awarded an $8 million grant for their international UCAN CAN-DU research team to analyze and develop therapeutic strategies for juvenile idiopathic through a rapidly evolving personalized medicine lens, with the hope of changing practice to incorporate the 'omics revolution. This network will benefit the 4 to 16 per 10,000 children suffering from Juvenile Idiopathic Arthritis in North America and Europe. This grant was created out of a partnership between CIHR, ZonMw (the Netherlands Organization for Health Research and Development), and Reumafonds (the Dutch Arthritis Foundation). For more information on this award please see the CIHR press release.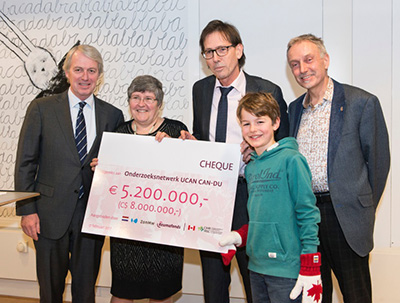 L-R: Lodewijk Ridderbos (CEO, Reumafonds), Sabine Nölke (Canadian Ambassador to The Netherlands), Dr. Nico Wulffraat, son of Benien Vingerhoed - van Aken (Program Manager, ZonMw), Henk Smid (Director, ZonMw) – photo courtesy of Reumafonds and ZonMw.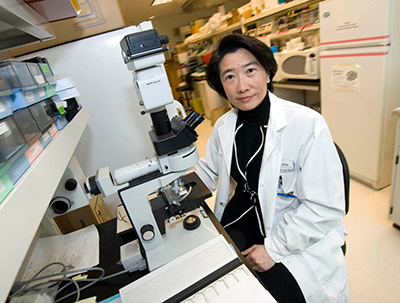 Dr. Rae Yeung in her lab – photo courtesy of CIHR.
Capacity building
In February, together with our colleagues at CIHR Institute of Infection and Immunity (CIHR – III), we assembled in Quebec City for the second Inflammation in Chronic Disease networking workshop. This brought together all of the multidisciplinary research teams funded under the Inflammation in Chronic Disease signature initiative including the Canadian Microbiome Initiative, the Transplantation Research Initiative, and the Team Grant: Health Challenges in Chronic Inflammation projects. The meeting's objectives were to share progress and lessons learned; to address knowledge translation and mobilization objectives; to look at to what extent this initiative is in line with international trends and explore future opportunities for Canada; and finally to offer meaningful learning and networking opportunities for trainees. All of these objectives were met successfully. A good part of the meeting was devoted to trainees, including an Elevator Pitch session where trainees were challenged to explain their projects within one minute. Prizes were given to top posters which I had the pleasure of helping to evaluate along with my colleague Marc Ouellette, Scientific Director of CIHR – III, representatives of our funding partners including Crohn's Colitis Canada and The Arthritis Society, and the initiative's three esteemed international advisors, Sir Marc Feldmann (Oxford, UK), Dr. Peter Ernst (UC San Diego, USA), and Dr. John O'Shea (NIAMS, NIH). Congratulations to the following poster winners: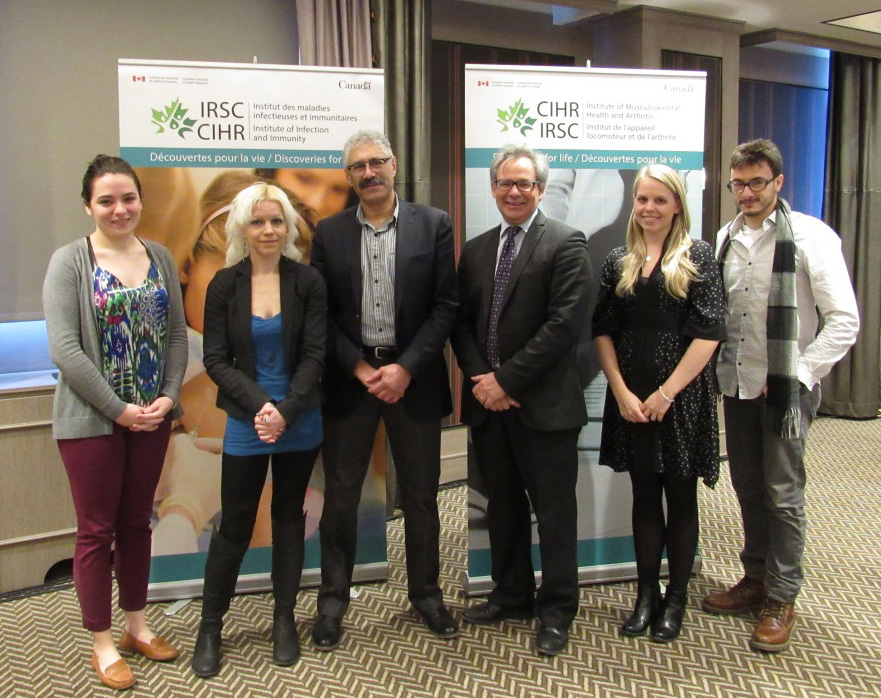 L-R: Ashleigh Goethel, Natalie McCormick, Dr. Hani El-Gabalawy (Scientific Director, CIHR – IMHA), Dr. Marc Ouellette (Scientific Director, CIHR – III), Danielle Reid, Williams Turpin.
Ashleigh Goethel: "Neonatal antibiotic exposure skews the developing microbiota and mucosal T cell populations" (Canadian Microbiome Initiative: Influences of Host Genome on the Human Gut Microbiome: Studies in a Healthy Cohort Carrying Crohn's Disease Risk Alleles. NPI Kenneth Croitoru)

Danielle Reid: "Obesity is Associated with Worsening Liver Disease" (Health Challenges Team: A multidisciplinary approach to target chronic inflammation of the gut, liver and joint. NPI Bertus Eksteen)

Williams Turpin: "Genetic influence on composition of the intestinal bacteria in healthy first degree relatives (FDR) of Crohn's Disease (CD) subjects" (Canadian Microbiome Initiative: Influences of Host Genome on the Human Gut Microbiome: Studies in a Healthy Cohort Carrying Crohn's Disease Risk Alleles. NPI Kenneth Croitoru)

Sex and Gender in Research Award: Natalie McCormick: "Using Patient Self-Report Data to 'Personalize' and Enhance Administrative Health Data" (Health Challenges Team: PRECISION: Preventing complications from inflammatory skin, joint and bowel conditions. NPI John Esdaile)
I would like to thank our international advisors for taking time to share their knowledge, experience, and insights to help us develop a clearer vision of the future of inflammation research in Canada. Further, I would especially like to express appreciation for three patient representatives, Laurie Proulx, David Smith, and Chantel Wicks, who attended both days of our meeting. Together, they led a session on Patient Engagement in Research addressing questions of gaps in research, how to engage patients meaningfully, what challenges patients face when engaging in research, how researchers can better communicate with them, and what results patients hope to see coming from research. The meeting afforded many opportunities for everyone to engage face to face and strengthen valuable relationships in this inflammation in chronic disease research community.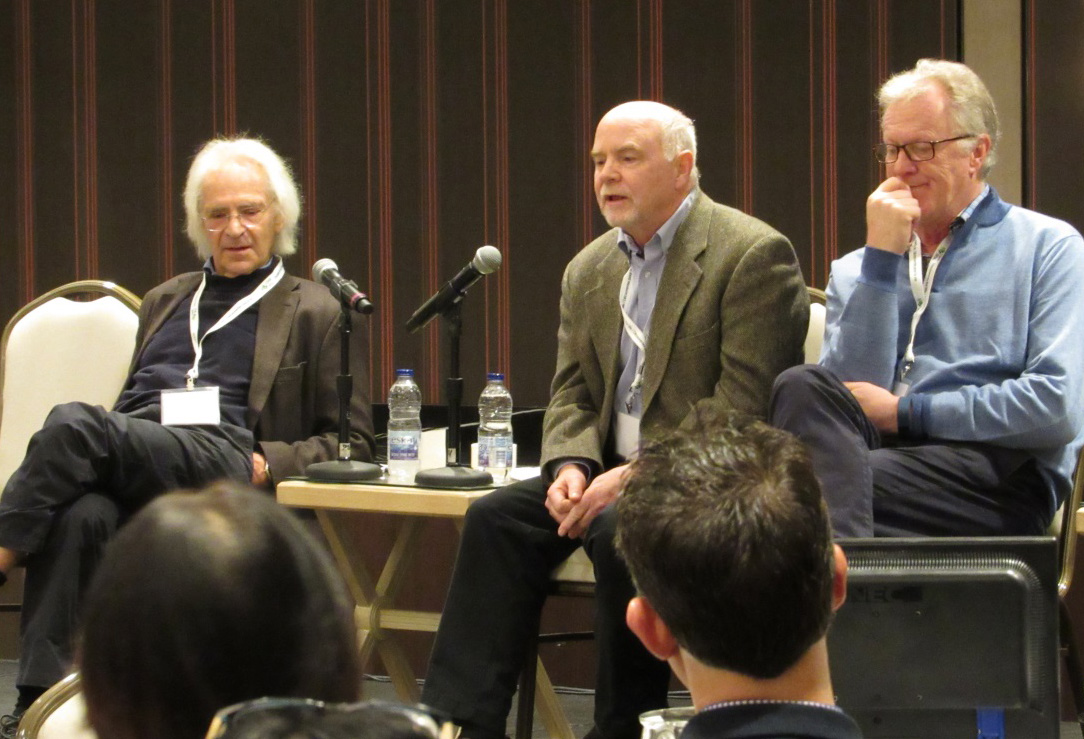 ICD Signature Initiative International Advisors L-R: Sir Marc Feldmann, Dr. John O'Shea, and Dr. Peter Ernst.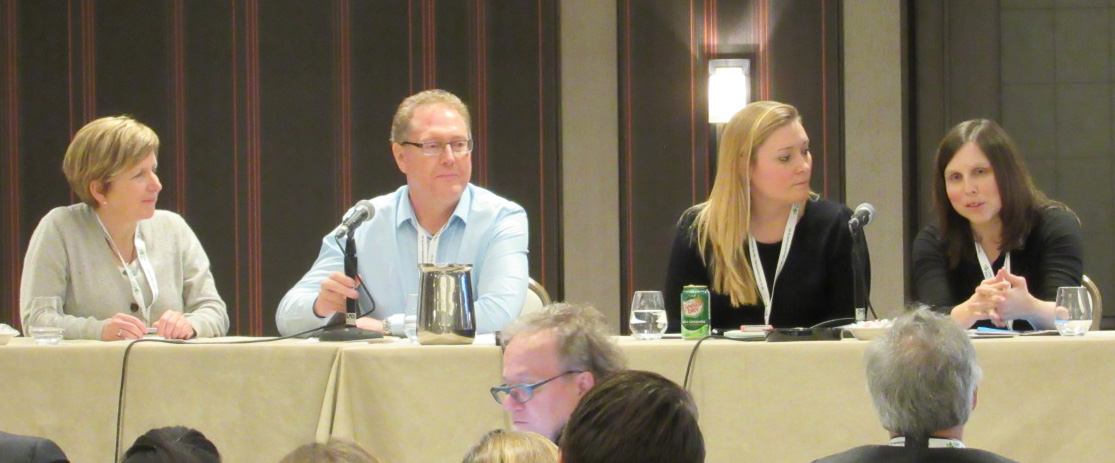 Patient Engagement in Research panel L-R: Dr. Dianne Mosher (Moderator), Dave Smith, Chantel Wicks, and Laurie Proulx.
The coming together of this initiative and this workshop would not have been possible without the hard work of CIHR – III's hardworking Assistant Director, Serge Desnoyers, to whom we said farewell just before the meeting. On behalf of everyone involved in the Inflammation in Chronic Disease signature initiative, I would like to thank Serge and wish him all the best in his new career.
Patient engagement
On the subject of patient engagement, I must mention our much increased Research Ambassador numbers, and the 2016 recipients of the Research Ambassadors Knowledge Translation Award. In October, we injected new life to our Research Ambassadors, a group of members of the public who live with, or advocate for others living with a condition that falls under IMHA's research mandate. The new roster includes representatives for the areas of bone, joints, muscles, connective tissue, skin, teeth, rare and chronic diseases. CIHR – IMHA is very fortunate to have this strong and enthusiastic group of individuals involved and keeping us informed about their patient communities. The full list of current Research Ambassadors is on the CIHR – IMHA website.

CIHR – IMHA Research Ambassadors L- R: Allan Stordy, Dawn Richards, Jonn Ord, Nicole Szajcz-Keller (Assistant Director, CIHR – IMHA), Brigitte Lagasse, Pam Sherwin, Ted McNichol, Debbie Feldman, Hani El-Gabalawy (Scientific Director, CIHR – IMHA), Claudia Malthais, Trudy Flynn, Gillian Newman, Suzanne Schrandt (Director, Patient Engagement, Arthritis Foundation, USA), Richard Hovey. Missing: Natalia da Costa, Larry Funnell, Anne Lyddiatt, Anna Pileggi, Graeme Reed.
In October, 2016, this group met in Montreal and selected the recipients of our annual Research Ambassadors Knowledge Translation Award. Congratulations to the 2016 winners:
The goal in granting these awards each year is to encourage researchers to recognize the importance of translating their research into plain language for the sake of the people who most stand to benefit from it: ordinary people living with health conditions. Please visit the Research Ambassador Knowledge Translation Award webpage to see more winning abstracts as excellent examples of science written in plain language.
Pathways annual gathering
Finally, as the lead institute on the oral health exemplar for the CIHR Signature Initiative Pathways to Health Equity for Aboriginal Peoples CIHR – IMHA is pleased to share news that the Pathways Annual Gathering will take place September 25 – 27, 2017 in Whitehorse, Yukon.
I appreciate hearing from our stakeholder community members. Please send any questions or comments to IMHA@umanitoba.ca, and please also follow me on Twitter @HaniElgabalawy.
Sincerely,
Hani El-Gabalawy MD FRCPC, FCAHS
Scientific Director
CIHR Institute of Musculoskeletal Health and Arthritis
---
Funding opportunities and News
CIHR – Funding opportunities
For a full listing of CIHR funding opportunities, please visit the ResearchNet website. For all inquiries please contact CIHR Contact Centre by telephone at 613-954-1968 or toll free at 1-888-603-4178, or by email at support@cihr-irsc.gc.ca.
Application deadline - Stage 2: March 14, 2017
Please visit ResearchNet for more information.
Registration Deadline: April 18, 2017
CIHR - IMHA will provide funding to applicants undertaking maternal, reproductive, child and/or youth health research in arthritis, bone, muscle, musculoskeletal rehabilitation, oral health and skin relevant to the institute's mandate. Of the $1,800,000 available from CIHR, $150,000 is available to fund applications in the research area relevant to CIHR - IMHA (2 grants).
Note: CIHR funding under this program will not be awarded to candidates who accept funding for their project from the IHDCYH-SickKids Foundation New Investigator Research Grants in Child and Youth Health competition.
Application Deadline (Letter of Intent): June 6, 2017
Sponsors: The Institute of Infection and Immunity, the Institute of Gender and Health, the Institute of Musculoskeletal Health and Arthritis and the Institute of Nutrition, Metabolism and Diabetes.
Members of the CIHR – IMHA research community are encouraged to apply.
New competition: Personalized Health Large-Scale Applied Research Project
The Canadian Institutes of Health Research (CIHR) is pleased to announce a strategic partnership with Genome Canada to collectively advance the Personalized/Precision Health Research agenda. CIHR's participation in this competition marks the launch of the CIHR Personalized Health Initiative that builds on the expertise developed in the Personalized Medicine Signature Initiative and the eHealth Innovation Initiative. Together, CIHR and Genome Canada are seeking proposals for large-scale research projects that will demonstrate how genomics-based research can contribute to a more evidence-based approach to health and, thereby, improve health outcomes, and/or enhance the cost effectiveness of the healthcare system.
This strategic partnership provides an opportunity to maximize the effectiveness of the research communities, infrastructure and resources of both Genome Canada and CIHR. Genome Canada funded researchers provide leadership in large-scale applied genomic research projects and Genome Canada funded Genomics Technology Platforms allow access to world leading centres applying genomic and other "omic" technologies to scientific problems.  CIHR brings access to their extensive health research community with expertise in health economics, health services and health policy, clinical epidemiology and clinical trials, eHealth, clinical and basic research as well as existing and prospective biobanks.
Applicants must demonstrate how their proposal holds potential for attaining concrete deliverables by the end of the funding period that will be positioned for translation into valuable clinical tools or improved healthcare policies and practices.
For information and documents relating to this competition, see the Genome Canada Website.
For information about regional webinars, please visit the Genome Centres Web page.
Important dates:
Registration deadline: March 16, 2017
Pre-Application deadline: May 11, 2017
Full application deadline: October 5, 2017
Notification of Decision: Mid-December, 2017
Contact information :
For more information please contact: 613-954-1968
---
CIHR News
2017 Microbiome Summer School: Big Data Analytics for Omics Science
June 18-22, 2017, Québec City
Submission of candidature: March 15, 2017
Notification of decision: April 7, 2017
Registration: April 14, 2017
CIHR-IMHA encourages members of its research community working in this area to apply.
Bioinformatics has become an important part of many areas of life and health research. Several fields of research such as microbiome, cancer, immunology and clinical research are generating massive amounts of data that need appropriate computational tools for their analysis and interpretation. Moreover, a need for bioinformatics training is more pressing than ever as big data are more and more present in health research. In order to meet this need in the Canadian health research space, CIHR, the Université Laval Big Data Research Center (BDRC-UL) in cooperation with the Canadian Bioinformatics Workshop series (hosted at bioinformatics.ca) are organizing a summer school in bioinformatics centered on the microbiome.
Target audience
This course is aimed at individuals intending to or working in microbiome research with a biomedical/health perspective who want to gain experience in bioinformatics. Applicants are expected to be embarking on bioinformatics related projects or need to use such approaches in their work. We expect a mix of bioinformatic and informatic researchers. Eligible applicants are:
Trainees (master, Ph.D., post-doctoral students);
Lab managers;
Independent researchers (depending on application pressure, preference will be for early career investigators);
Bioinformatician and informatician wanting to gain expertise in microbiome methodologies and big data analytics related to microbiome research.
How to apply
Applications will be received via the website, applicants will fill the requirements for their application to be assessed by the selection committee. Successful applicants will be contacted (see timeline) and asked to register to the event. For more information on how to apply, selection criteria and details of the event, please consult the 2017 Microbiome Summer School: Big Data Analytics for Omics Science website.
Position now open for Scientific Director, Institute of Musculoskeletal Health and Arthritis (IMHA)
Submissions must be received by: April 3, 2017
CIHR's Institute of Musculoskeletal Health and Arthritis (IMHA) has a mandate to develop, support, and promote research pertaining to musculoskeletal (MSK), skin and oral health in Canada. IMHA supports ethical and impactful research to enhance active living, mobility and oral health, and to address the wide range of conditions related to bone, joints, muscle, connective tissue, skin, and teeth. Reporting directly to CIHR's President, with functional reporting to its three vice-presidents, the Scientific Director will champion and support health research and knowledge translation at the highest level of scientific excellence. Please see the position posting in full on the CIHR website.
How to apply
For more information about CIHR, its vision and priorities, please visit our website. If you have any questions regarding this exciting leadership opportunity, please contact Daniel Blair, Human Resources Business Partner, in confidence, at 613-941-7367, or daniel.blair@cihr-irsc.gc.ca. Please email your CV and a letter of introduction to the Canadian Institutes of Health Research at hr-rh@cihr-irsc.gc.ca.
Submissions must be received by: April 3, 2017.
Call for abstracts – Institute of Gender and Health
Researchers, clinicians and trainees interested in sex differences and physiology and medicine are encouraged to submit abstracts for the 2017 scientific meeting of the Organization for the Study of Sex Differences (OSSD). OSSD 2017 will be held May 15-18, 2017 in Montréal. Join the Institute of Gender and Health for an exciting and diverse scientific program that will provide an opportunity to stay informed about the most recent advances in research and policy regarding sex differences in physiology and disease.
Deadline for abstract submission: April 14, 2017
Deadline for submission for award consideration: March 15, 2017
Submit your abstract.
Registration and more information about the OSSD 2017 meeting.
Update on the Project Grant peer review process
Please visit the Project Grant Program webpage for the latest updates.
Updates to the Foundation Grant peer review process
Please visit the Foundation Grant Program webpage for the latest updates.
International Peer Review Expert Panel report
The final report of the International Peer Review Expert Panel has now been received and accepted by CIHR Governing Council. Launched in September 2016, the International Peer Review Expert Panel brought together an exceptional group of individuals to examine CIHR's investigator-initiated programs. CIHR is grateful for the participation of the Panel members, and for the time and energy they devoted to this important review. CIHR is also grateful to the community members who brought forward their important perspectives and recommendations, including the participants at the January 16 and 17, 2017 meeting in Ottawa. Read the report and the message from CIHR Governing Council Chair and Vice-Chair.
Dr. Carrie Bourassa assumes the position of Scientific Director of the CIHR Institute of Aboriginal Peoples' Health
Dr. Alain Beaudet, President of the Canadian Institutes of Health Research (CIHR), announced the appointment of Dr. Carrie Bourassa as incoming Scientific Director, CIHR Institute of Aboriginal Peoples' Health. Dr. Bourassa is Chair of Northern & Indigenous Health at the Health Sciences North Research Institute in Sudbury. As Scientific Director, Dr. Bourassa will work with the Indigenous health research community and stakeholders to help implement this new 10-point plan to "Build a healthier future for Indigenous Peoples." She will also play a critical role in contributing to the development of the next generation of Indigenous researchers through capacity building and mentoring. Read more
CIHR President Dr. Alain Beaudet announces his retirement from the public service
Dr. Alain Beaudet, President of the Canadian Institutes of Health Research (CIHR), has informed the Minister of Health, the Honourable Jane Philpott and the CIHR Governing Council, of his retirement from the public service and CIHR at the end of March 2017. The Honourable Michael Wilson, Vice Chair of the CIHR Governing Council, extended his congratulations to Dr. Beaudet: "On behalf of the entire Governing Council we wish to extend our deepest appreciation and recognition to Alain for his close to nine years of service to the Canadian public and the scientific community. As leader of CIHR, he has greatly contributed to the evolution of the organization towards supporting research excellence across the full spectrum of its mandate."
The position of President of CIHR is a Governor in Council appointment and Mr. Wilson indicated that he and the CIHR Executive Team will work with the office of the Minister of Health to initiate the process for recruiting Dr. Beaudet's successor. Read more
In-bed cycling holds promise for critically ill patients' recovery
Can ICU patients avoid the muscle loss that limits mobility for years? Recent study of promising technology produces encouraging results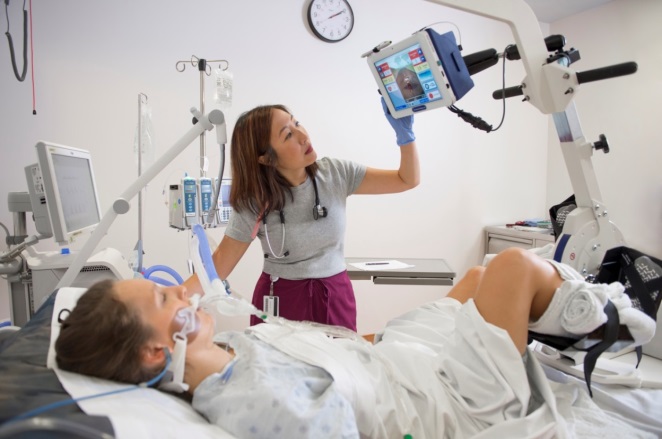 Dr. Michelle Kho, Assistant professor with the School of Rehabilitation Science at McMaster University and physiotherapist at St. Joseph's Healthcare Hamilton, monitors the stimulation of leg muscles with the peddling motion of the RT-300 supine apparatus. Photo credit: Marta Hewson

It is a given that only the most seriously ill patients are admitted to an intensive care unit. Their fragile state of health (either from critical illness or severe injuries), the effects of various medication, plus long periods of immobility, can lead to Intensive Care Unit-acquired Weakness (ICUAW). A common problem in ICUs, especially for patients requiring mechanical ventilation, ICUAW consists of loss of muscle size and strength in the limbs and in those associated with breathing. Currently, there are limited treatment interventions available to prevent this serious complication. Read More.
---
IMHA community news
CIHR-IMHA On the Move! strives to connect its community of stakeholders by sharing news. Please send your community's news to the Institute Communications Project Officer.
About Face
About Face raised just over $50,000 over the 2016 – 2017 holiday season to help support Camp Trailblazers. In the New Year, Executive Director Anna Pileggi announced her retirement. Please visit the AboutFace website for more news.
Arthritis Consumer Experts (ACE)
Arthritis Consumer Experts Recognizes Canada's best workplaces for employees living with arthritis
Based on workplace insights shared by employees and company managers, ACE is awarding the City of Ottawa and Aboriginal Peoples Television Network for their arthritis awareness, prevention and benefits practices in the workplace.  "Research by senior research scientists at Arthritis Research Canada shows that workers with arthritis who have more flexible work arrangements, more autonomy on how they do their job and organize their schedule, and who have received job accommodations, are more productive at work and less likely to become work disabled," said Cheryl Koehn, Founder and President, Arthritis Consumer Experts. To learn more about this year's award, see the JointHealth website.
Canadian Arthritis Patient Alliance (CAPA)
Patients present at the Canadian Rheumatology Association (CRA) meeting
The CAPA Board of Directors attended this year's Canadian Rheumatology Association (CRA) meeting in chilly Ottawa and we were proud to have been accepted for two poster presentations. The first poster highlighted the results of the Methotrexate survey and the second poster focused on the CAPA-developed resource on pregnancy and parenting with arthritis. Become a CAPA Member - Become more involved in CAPA by signing up to become a member on our website.

Canadian Institute for Military and Veteran Health Research (CIMVHR)
The Canadian Institute for Military and Veteran Health Research (CIMVHR) announces its 8th annual research Forum, taking place September 25 – 27, 2017 in Toronto, ON, the foremost national conference focused on research related to the health needs of military personnel, Veterans and their families.
Call for Abstracts – Deadline: March 15, 2017
Abstracts for oral or poster presentations may be submitted in one of the nine areas of interest related to this year's Forum themes, and must reflect research that has been or is being conducted:
Mental health research and rehabilitation in active duty personnel, Veterans or families;
Physical health research and rehabilitation in active duty personnel, Veterans or families;
Social health and well-being of active duty personnel, Veterans or families;
Advances in primary and trauma care;
Novel health technologies relevant to:

military service, with a focus on protection;
working in an austere environment (e.g., telemedicine, auto-diagnosis, etc.);
distance medicine and health care (e.g., hand-held devices, robots etc.);
transition from military to civilian life.

Occupational Health, including, exposure, standards of care etc.;
The ethics of health care and the healing of moral injury as it relates to service;
Gender differences in health.
Canadian Orthopaedic Foundation
The Canadian Orthopaedic Foundation (COF) and Bone and Joint Canada are pleased to announce the national launch of GLA:D™Canada on March 3rd. GLA:D® is an exercise and education program proven to relieve symptoms of hip and knee osteoarthritis. The COF is proud to be the only organization outside of Denmark, where GLA:D® was developed, to deliver the program. Please visit the GLA:D® website for more information about the program.
Cochrane Canada
Cochrane Canada is accepting abstracts for this year's symposium, which will take place May 11 – 12, 2017 in Hamilton, ON. Deadline for submissions is March 20, 2017. Please see the Cochrane Canada website for more information.
Institute of Work and Health (IWH)
Health-care providers face workers' compensation challenges when dealing with complex injuries: IWH study
Most health-care providers, when treating acute and visible injuries, find the workers' compensation system and return-to-work process relatively straightforward. But when treating patients with gradual onset, invisible or complex conditions, the challenges can be many. A new study by the Institute for Work & Health (IWH) examines the challenges from the perspectives of health-care providers and case managers in four provinces. Dr. Agnieszka Kosny shared the findings at a recent plenary and in an At Work article, now online.
Work safer with CRE-MSD position papers
Centre of Research Expertise for the Prevention of Musculoskeletal Disorders (CRE-MSD) position papers are summaries of the best available evidence on topics important to MSD prevention activities. They have immediate relevance for workplace practitioners and other stakeholders. Read about aging and MSDs, factors affecting operator exposure to whole-body vibration, the use of stability balls instead of office chairs, or glove selection to minimize effort and MSD risk, among others. Have a topic idea for a position paper? E-mail your suggestions to cre-msd@uwaterloo.ca
Network for Canadian Oral Health Research (NCOHR)
The Network for Canadian Oral Health Research (NCOHR) is seeking Expressions of Interest from individuals interested in joining a working group in the area of oral health research. Candidates are required to demonstrate their understanding of the importance of oral health research and ability to work collaboratively in and with a group. Applicants are asked to submit an Expression of Interest letter (that includes a statement of the applicant's relevant experience, expertise, previous participation in NCOHR activities, vision for the working group and potential strategies to enable moving towards that vision), and a recent Curriculum Vitae. For more information and to submit applications, please contact info@ncohr-rcrsb.ca
Deadline to Apply: March 14, 2017.
The Arthritis Society (TAS)
The Arthritis Society and Beth Shalom Synagogue present The Joint Affair gala in Honour of Dr. Anthony S. Russell, March 27, 2017 in Edmonton, Alberta. The gala will recognize and honour Dr. Anthony S. Russell, who has been a leader in his professional field of Rheumatology for almost 50 years. This event is about coming together to honour the rich history of Dr. Russell's career, while profiling the advancements of arthritis research and celebrating the power of community. Tickets are available on The Joint Affair website.
The Arthritis Society Walk to Fight Arthritis will take place on Saturday, June 3, 2017 in Quebec, and Sunday, June 4, 2017 in other locations across Canada. Please visit the Walk to Fight Arthritis webpage for more information about getting involved and different location events.
---
Meetings of interest
2017 Sports Medicine Winter Summit
March 8-12, 2017 Park City, Utah, USA
Pacific Dental Conference
March 9 – 11, Vancouver, BC
Endocrinology and Rheumatology: The Most Useful Topics from Two Specialities
March 13-17, 2017 Sarasota, Florida, USA
American Association of Orthopaedic Surgeons Annual Meeting
March 14-18, 2017 San Diego, California
Orthopaedic Research Society Annual Meeting
March 19 – 22, 2017 San Diego, California
World Congress on Osteoporosis, Osteoarthritis and Musculoskeletal Diseases 2017
March 23 – 26, 2017 Florence, Italy
12th International Congress on Systemic Lupus Erythematosus LUPUS 2017
March 26 – 29, 2017 Melbourne, Australia
OARSI 2017 World Congress (Osteoarthritis Research Society International)
April 27- 30, 2017 Las Vegas, United States
EPOSNA 2017 (Pediatric Orthopaedic Society of North America AGM)
May 3-6, 2017 Barcelona, Spain
Cochrane Canada Symposium 2017
May 11 – 12, 2017 Hamilton, ON (Deadline for submitting abstracts March 20, 2017)
Canadian Pain Society 38th Annual Scientific Meeting 2017
May 23 – 26, 2017, Halifax, NS
Canadian Orthopaedic Association Annual Meeting
June 15-18, 2017 Ottawa, Ontario
Canadian Association of Occupational Therapists Conference 2017
June 21 – 24, 2017 Charlottetown, PEI
Complex Regional Pain Syndrome (CRPS) Congress
August 30 – September 1, 2017 Cork, Ireland
Canadian Institute for Military and Veteran Health Research (CIMVHR) 8th annual research Forum
September 25 – 27, 2017 Toronto, ON (Deadline for submitting abstracts March 15, 2017)
Canadian Society for Exercise Physiology (CSEP) 2017 50th Annual General Meeting
October 25 – 28, 2017 Winnipeg, MB
2017 Inaugural Canadian Physiotherapists Association (CPA) Leadership Forum
November 2 – 4, 2017 Ottawa, ON
Photo gallery: Inflammation in Chronic Disease Workshop
The Inflammation in Chronic Disease CIHR Signature Initiative is co-led by the CIHR Institutes of Infection and Immunity and Musculoskeletal Health and Arthritis. The second Networking Workshop for this Initiative was held February 2 – 3, 2017 in Quebec City. A success story in community building, the Workshop brought together researchers, patients, trainees, mentors and government decision makers.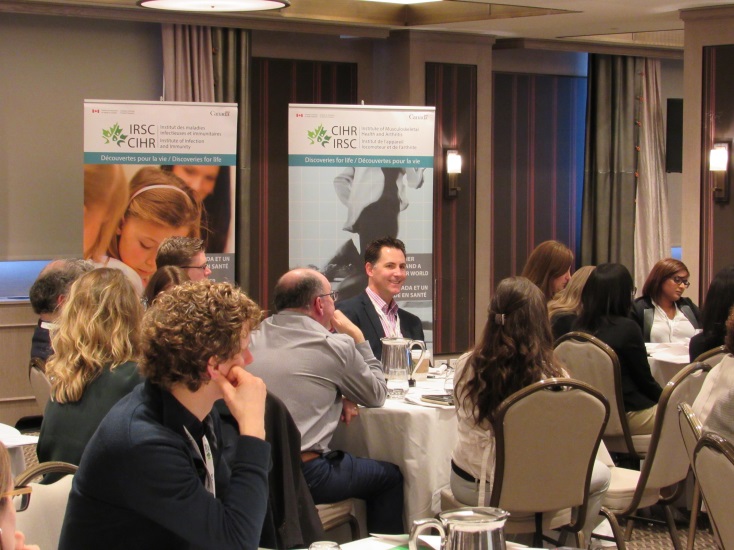 CIHR – III and CIHR - IMHA banners flank the plenary room.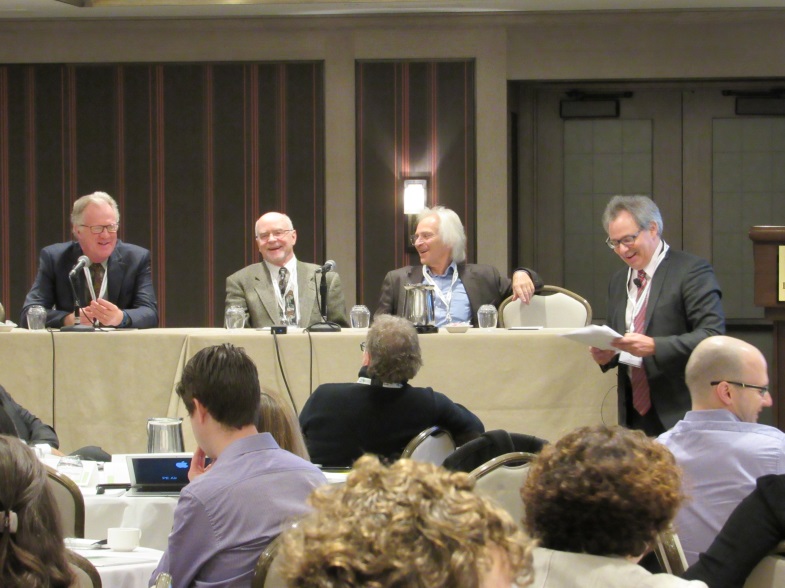 Dr. Marc Ouellette, Scientific Director of CIHR – III, kept proceedings moving jovially as MC. International Advisors Drs. Peter Ernst, John O'Shea and Sir Marc Feldmann catch the mood.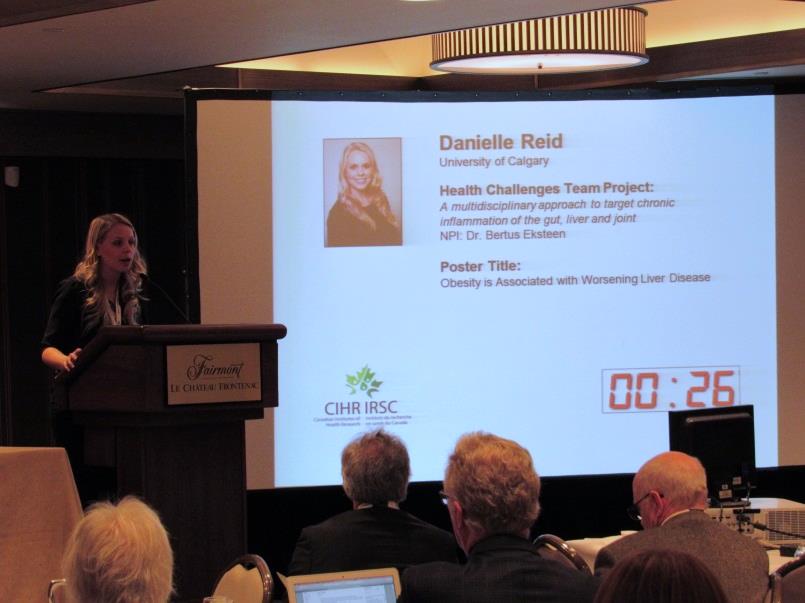 Trainees took part in a one-minute timed elevator pitch exercise to explain their posters in under one minute.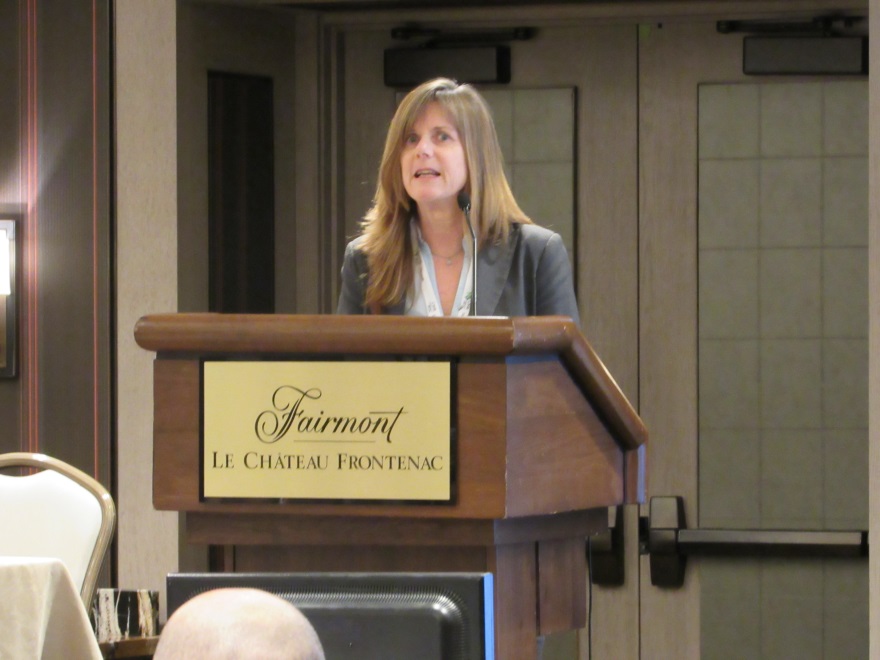 Helen Loughrey, CIHR's Executive-in-Residence, Life Sciences Industry division, spoke on getting research from bench to patient.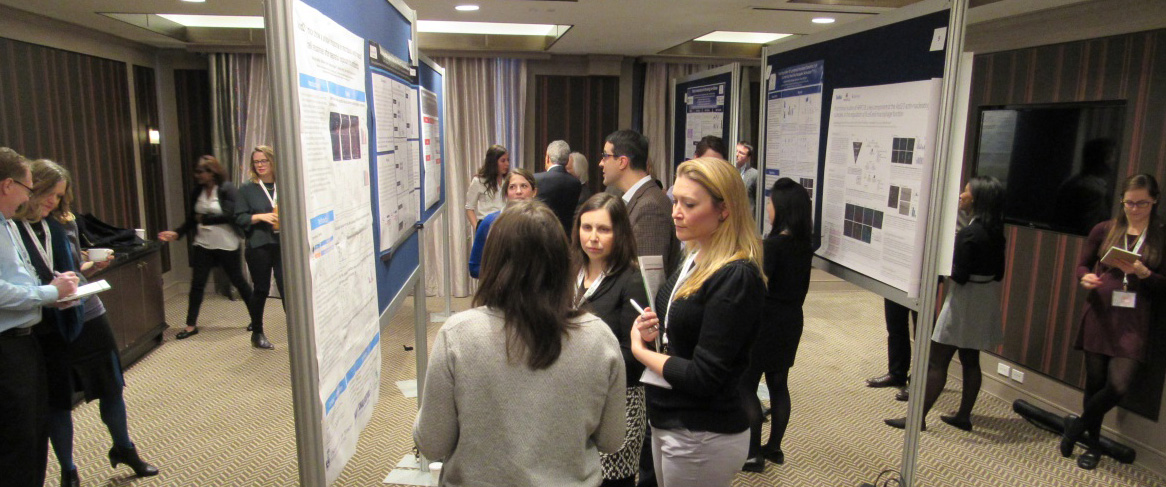 Trainee posters were judged by the International Advisors and representatives of the co-lead Institutes. Additionally, they were prepared to explain their work in plain language to patient representatives.
Date modified: