Nature, nurture and our health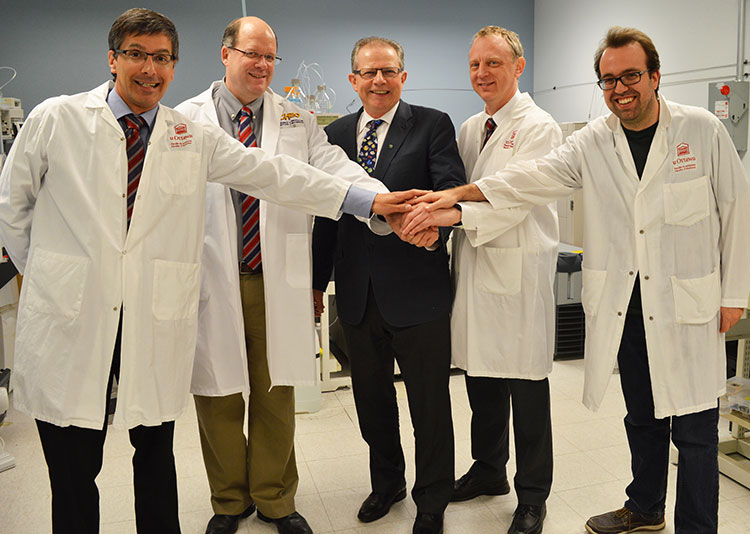 Left-to-right: Dr. Daniel Figeys, University of Ottawa; Dr. David Mack, CHEO Research Institute; Dr. Philip Sherman, CIHR; Dr. Alain Stintzi, University of Ottawa; Dr. James Butcher, University of Ottawa
CIHR-funded research is exploring the interaction between genetics, environments and chronic diseases
January 17-18, 2017
One-third of Canadians have at least one chronic condition, such as obesity, diabetes or asthma. The management and prevention of these problems can cost Canada's health-care system nearly $90 billion each year.
In order to stop chronic conditions, their causes must first be understood. Because existing research indicates that these causes can be both complex and multifaceted, it is also important to explore the internal and external factors that can contribute to them.
On May 2, 2016, the Honourable Jane Philpott, Minister of Health, announced an investment of $16M over five years to support research that examines how environmental and genetic factors play a role in the development of various chronic conditions. Dr. Philip Sherman explains how CIHR is contributing to this important area of investigation.
Dr. Philip Sherman is the Scientific Director of the CIHR Institute of Nutrition, Metabolism and Diabetes (CIHR-INMD), a Gastroenterologist at the Hospital for Sick Children and a Professor of Pediatrics at the University of Toronto.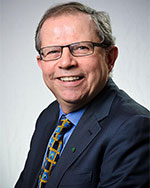 Audio – Interview with Dr. Philip M. Sherman
Transcript

Dr. Philip Sherman: So chronic non-communicable diseases, like obesity and diabetes, are leading causes of illnesses in Canada. In most cases, we still do not understand the underlying causes of these conditions. These chronic diseases place a huge burden on affected patients, their caregivers and on the Canadian health care system.

For example, the prevalence of these chronic diseases is going to increase as our population ages. The World Health Organization estimates that more than 400 million people in the world currently have diabetes, including more than two-and-a-half million people living in Canada.

Most of these chronic conditions involve multiple genes in complex interactions with environmental influences.

It's interesting that new technologies have emerged that provide researchers with greater understanding of the genome, the epigenome, the microbiome and the metabolome.

Together these new advances in technology will provide greater understanding of mechanisms underlying chronic disease, thereby offering new hope and new insights for disease prevention and treatment.
Associated links
Date modified: