INMD Connections – November 2016
Inside this issue:
---
Message from Philip Sherman, INMD Scientific Director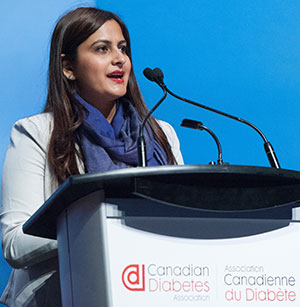 Parliamentary Secretary, Kamal Khera.
On behalf of the Minister of Health, the Parliamentary Secretary Kamal Khera, RN, welcomed attendees to the 19th Annual Professional Conference and Annual Meetings of the Canadian Diabetes Association (CDA) and the Canadian Society of Endocrinology and Metabolism (CSEM) held in Ottawa, October 27-29, 2016. Ms. Khera highlighted the importance of national research networks in chronic kidney disease and in diabetes and related complications that were recently funded by CIHR and partners through the Strategy on Patient Oriented Research (SPOR). 
Together with the CDA, CIHR-INMD sponsored a symposium entitled "Bariatric Care Research in Perspective" which highlighted the progress of three national research teams funded through the CIHR-INMD Bariatric Care Team Grants. The symposium also included a presentation by Dr. Anita Courcoulas (Univ. Pittsburgh), who is active in clinical outcomes research and led the NIH/ NIDDK-sponsored Longitudinal Assessment of Bariatric Surgery and several other related ancillary studies that are evaluating various outcomes following weight loss surgery. She spoke about future prospects for advances in bariatric care, with a focus on identifying predictors of individual responses to bariatric surgery and mechanisms underlying the acute and the long-term impacts of various surgical procedures, such as the durability of diabetes remission.
I wish to congratulate the CDA-CIHR INMD Young Scientist Award recipient, Jim Johnson (featured in this newsletter) and Dr. Lawrence A. Leiter (St. Michael's Hospital, Univ. Toronto) who was honoured with both the 2016 CDA Lifetime Achievement Award and the 2016 CSEM-Dr. Robert Volpe Distinguished Service Award.
Congratulations, Jim and Larry!
Philip M. Sherman, MD, FRCPC
Scientific Director, INMD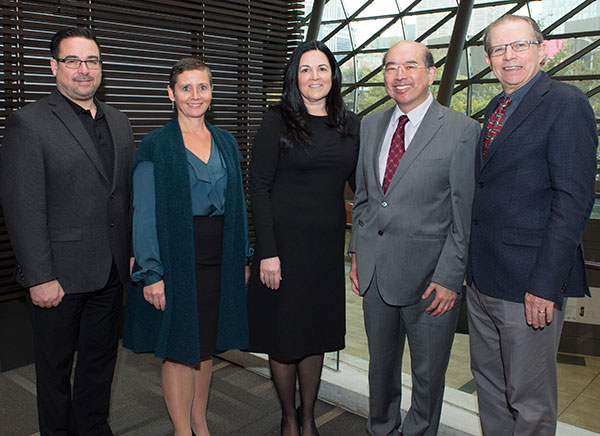 Symposium speakers (from left): Drs. André Tchernof, Katherine Morrison, Anita [Courcoulas, Herb Gaisano and Phil Sherman.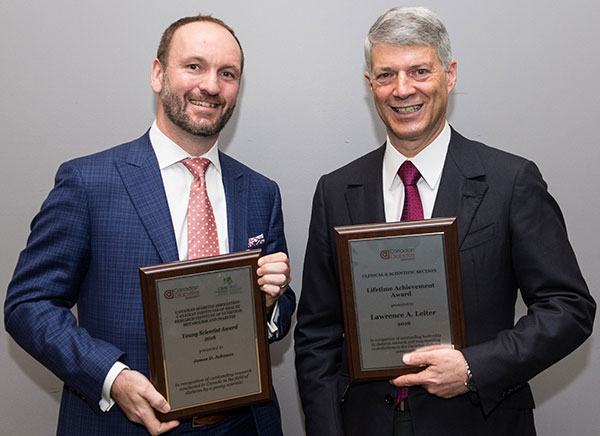 Award winners: Drs. Jim Johnson and Lawrence Leiter.
Researcher Profile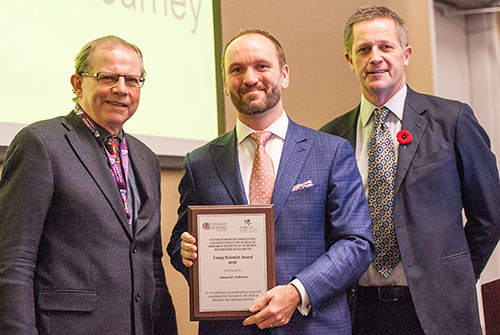 From left: Drs. Phil Sherman, Jim Johnson and Bruce Verchere.
James D. Johnson, Ph.D.
2016 Canadian Diabetes Association (CDA) Young Investigator Award Recipient
Jim Johnson is currently Professor in the Depts. of Cellular & Physiological Sciences and Surgery at Univ. British Columbia, and Leader of the Life Sciences Institute Diabetes Research Group. Jim joined the faculty in 2004 after completing a post-doctoral fellowship on islet cell biology with Ken Polonsky and Stan Misler at Washington Univ. in St. Louis, and PhD training on pituitary physiology with John Chang at Univ. Alberta. His research focuses on mechanisms regulating beta-cell function and fate, and on the roles of insulin signaling throughout the body. His work has been published in highly cited peer reviewed journals including PNAS, Cell Metabolism, Nature Communications, Diabetes, and Diabetologia. His laboratory's work is funded by CIHR, CDA and JDRF. Jim is actively involved in outreach on Twitter @JimJohnsonSci. Dr. Bruce Verchere (Univ. British Columbia) introduced Jim as the YIA recipient at this year's 2016 CDA/CSEM meeting.
Congratulations to Successful Applicants:
Biomarkers for Nutrition & Health
In February 2016, the Joint Programme Initiative, A Healthy Diet for a Healthy Life (JPI HDHL) together with the European Commission, launched a joint transnational call for research proposals: Biomarkers for Nutrition and Health (BioNH) using the ERA-NET Cofund instrument. The transnational call focused on the identification and validation of biomarkers that are modulated by diet and that indicate a change in health status and/or the risk of developing diet-related diseases. Congratulations to the successful INMD-funded Canadian investigators listed below:
Consultation on Canada's Food Guide
The Honourable Jane Philpott, Minister of Health, announced that Health Canada will be revising Canada's Food Guide into a suite of products to provide Canadians with up-to-date advice on eating well. The revision of Canada's Food Guide is part of a multi-year Healthy Eating Strategy, which is part of the Government of Canada's Vision for a Healthy Canada. The first online consultation on Canada's Food Guide revision is now live. Should you have questions, please email Health Canada. For more information or to participate in future consultation opportunities, please register with CSIMS.
CIHR Funding Opportunity: Operating Grants in Sugar and Health
INMD and Health Canada have launched Operating Grants in Sugar and Health. The aim of this funding opportunity is to support research to examine sugars and health outcomes as well as population level approaches that contribute to reduced consumption of free sugars. The intent is to generate evidence that will inform nutrition policies and programs aimed at reducing dietary free sugar consumption to improve the health of the Canadian population. The application deadline is January 17, 2017. For more information, please visit ResearchNet. Interested applicants are invited to participate in a webinar on December 2, 2016 (French 2-3pm ET; English 3:30-4:30pm ET). To register, email INMD Comms. Only registered participants will be sent a WebEx invite a week prior to the webinar.
Feedback on the INMD Newsletter
INMD welcomes researchers, partners and other stakeholders to share news stories that relate to areas of our mandate. If you have interesting research results or developments, are organizing a conference or workshop, or wish to report on a past event, we would like to feature them in our newsletter or other communication materials.
Have a comment? Please share it with us! You can also write to subscribe or unsubscribe to our Newsletter. Simply send us an e-mail at: inmd.comms@sickkids.ca.
Date modified: