Brightest Minds 2014 – Biographies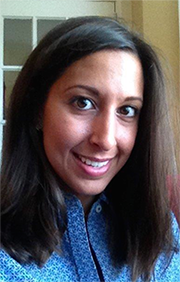 Dr. Kirsten Bell
McMaster University
Anne Martin-Matthews Doctoral Research Prize of Excellence in Research on Aging
Adjunctive nutritional strategies to overcome sarcopenic muscle loss in aging
Kirsten completed her undergraduate degree in biology at McMaster University. Although she enjoyed learning about all aspects of the biological sciences, she was most interested in human physiology, nutrition and exercise. This prompted her to complete a Masters degree at the University of Waterloo, under the supervision of Dr. Marina Mourtzakis. Kirsten's M.Sc. thesis explored the relationship between glucose metabolism and body composition in recently diagnosed breast cancer patients, and piqued her interest in changes in energy metabolism that affect specialized populations. She is currently completing a Ph.D. at McMaster University with Dr. Stuart Phillips, a world-renowned researcher in the field of muscle protein metabolism. Kirsten's Ph.D. work investigates adjunctive nutritional strategies to combat muscle loss in older men.
---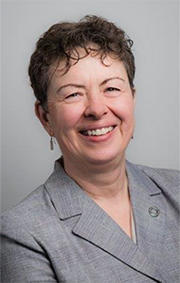 Dr. Carole Anne Estabrooks
Faculty of Nursing,
University of Alberta
Betty Havens Prize for Knowledge Translation in Aging
Dr. Estabrooks is a Professor in the Faculty of Nursing, at the University of Alberta where she also holds a Tier 1 Canada Research Chair in Knowledge Translation. She is a fellow in the Canadian Academy of Health Sciences and in the American Academy of Nursing. She is Scientific Director of the Knowledge Utilization Studies Program and the pan-Canadian Translating Research in Elder Care (or TREC) research program.
Dr. Estabrooks' applied health services research program focuses on the influence of organizational context on the use of knowledge and its effects on staff and patient or resident outcomes. Her work is primarily situated in the residential long term care sector and focuses increasingly on quality improvement and the spread and scale-up of innovations to improve care and quality of life at the end of life.
Dr. Estabrooks is a past member and vice-chair of CIHR's Institute of Aging Advisory Board. She is appointed in the University of Alberta's School of Public Health, affiliated with the University of Toronto's Nursing Health Services Research Unit, and was a co-investigator and member of two CIHR funded national teams – the Canadian Dementia Knowledge Translation Network and KT Canada. She is a co-investigator on numerous national and international research projects. She teaches in the doctoral program and supervises graduate students and postdoctoral fellows. She has developed and continues to evaluate the Alberta Context Tool (ACT) currently in use in ten countries and six languages.
---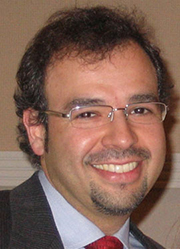 Dr. Mario Masellis
University of Toronto
Dr. Mario Masellis obtained his M.Sc. in Pharmacology (1997), M.D. at the University of Toronto (2001) and F.R.C.P.(C) in Neurology (2006). He completed a clinical fellowship in Cognitive Neurology under Professor Sandra Black and a Ph.D. in Clinical Neurosciences. He is a clinician scientist and cognitive neurologist in the Division of Neurology at Sunnybrook Health Sciences Centre and assistant professor at the University of Toronto. His clinical expertise is in the diagnosis and management of Parkinson's/Lewy body disorders, frontotemporal dementia (FTD), and Alzheimer's disease. His research expertise is in understanding the genetic causes of neurodegenerative diseases and how these may impact brain imaging and response to therapies.
Dr. Masellis is the Canadian principal investigator of the Genetic Frontotemporal Dementia Initiative (GENFI), an international collaborative study that investigates the earliest brain changes in pre-symptomatic individuals harbouring mutations known to cause FTD.
Funded initially by a Centres of Excellence in Neurodegeneration (CoEN) catalyst grant to institutions in the UK, Canada, and Italy, the first phase of GENFI has established a large pre-symptomatic cohort of individuals at risk of FTD. This cohort has been studied uniformly using standardized MRI, clinical, and cognitive assessments.
The success of this project has spawned a Canadian-lead study headed by Dr. Masellis and recently funded by CIHR focusing on genomic-imaging analysis of GENFI data. The goal will be to identify genomic factors that determine variability in FTD presentation, such as variable age of onset, specific clinical diagnosis (e.g., behavioural variant vs. primary progressive aphasia), and progression rate. It will leverage the family-based nature of this cohort and wealth of available neuroimaging data to evaluate how genomic factors contribute to observed neuroimaging changes in mutation carriers. The GENFI cohort has great potential to serve as a clinical trials platform to assess promising disease-modifying agents in the drug development pipeline.
---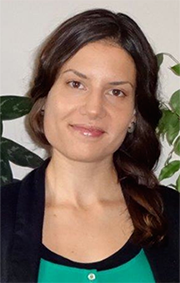 Dr. Hannah O'Rourke
Faculty of Nursing,
University of Alberta
Fellowship Prize of Excellence in Research on Aging
Developing an intervention to enhance social connectedness and improve quality of life for people with dementia in long-term care
Ms. O'Rourke is a Ph.D. candidate in Nursing (University of Alberta). Her research explores how quality of life can be maintained for people with dementia. In doctoral studies, O'Rourke identified priority areas to enhance quality of life from the perspective of people with dementia. Findings highlighted that relationships characterized by kindness, closeness, love, or reciprocity improved quality of life. Such relationships resulted in social connectedness: the perception of a close linkage to others. In post-doctoral training (Ryerson University), O'Rourke will design and pilot test an intervention to promote social connectedness for people with dementia in long-term care. Findings will form the foundation for a future clinical trial to test whether the social connectedness intervention is effective to improve quality of life for people with dementia.
---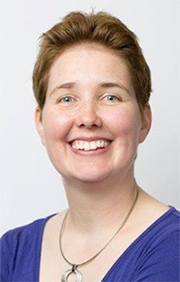 Dr. Martine Puts
Lawrence Bloomberg Faculty of Nursing,
University of Toronto
New Investigator Prize of Excellence in Research on Aging
Improving care for older adults with cancer
Martine Puts RN PhD has completed her BaN, Master in Health Sciences and PhD in epidemiology/Gerontology in the Netherlands. She has completed a postdoctoral fellowship (2006-2009) with the Solidage Research Group on Frailty and Aging Jewish General Hospital and the Department of Epidemiology, Biostatistics and Occupational Health at McGill University, Montreal, Quebec. Since July 2009 Martine has been an assistant professor at the Lawrence S. Bloomberg Faculty of Nursing. Her research interests are the health and well-being of older adults with cancer, in particular to examineif the use of geriatric assessment for older adults with cancer can improve patient outcomes such as quality of life, and to better understand the impact of frailty and multimorbidity on cancer treatment decision-making for older adults with cancer.
---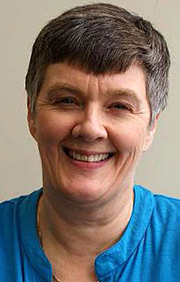 Dr. Christina Wolfson
Research Institute of the McGill University Health Centre
McGill University
When the vision for the Canadian Longitudinal Study on Aging (CLSA) was presented to the research community in 2001, it was in response to a critical need for high-quality data on the aging population. Since then, a team of more than 160 researchers and collaborators worked together to develop and launch the CLSA. In June 2014, the first data from the study became available for researchers.
One researcher who has provided leadership throughout all the stages of study implementation is Dr. Christina Wolfson, a McGill University professor and medical scientist at the Research Institute of the McGill University Health Centre.
Trained as a biostatistician and epidemiologist, Dr. Wolfson is a fellow of the American College of Epidemiology. Her research interests lie in the epidemiology of neurodegenerative disorders including: dementia, multiple sclerosis, amyotrophic lateral sclerosis, Parkinson's disease and epilepsy.
Dr. Wolfson also maintains a methodological and statistical research program, the goals of which are to improve the design and analysis of epidemiological studies. She is a CLSA co-principal investigator and leads CLSA initiatives on neurological conditions and veterans' health. She is also the director of the Statistical Analysis Centre (SAC) and chair of the Data and Sample Access Committee. As SAC director, Dr. Wolfson oversaw the development of the CLSA DataPreview Portal, which provides researchers with the information they need to understand the data and apply for data access. Her team at the SAC are responsible for ensuring the data collected in the CLSA are cleaned, prepared for analysis and distributed to approved researchers.
"It is essential that the CLSA data be made available to the research community as soon as it is feasible while protecting participant confidentiality. The entire CLSA team are working hard to meet that goal," Dr. Wolfson said.
Date modified: