Dr. Earl Nowgesic – Indigenous Red Ribbon Storytelling Study
The keys to keeping Indigenous peoples in HIV therapy?
Trust, respect and compassion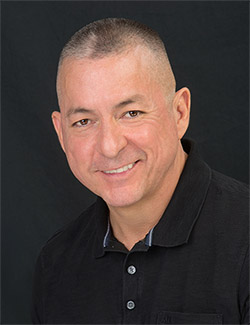 Thanks to advances in health research, testing positive for HIV is no longer a death sentence. People living with HIV can take antiretroviral therapy (ART), a combination of pills that keeps the virus from replicating in the body. But this approach only works if patients can access and stick with the life-saving therapy.  
Research shows that Indigenous peoples, who account for a disproportionately high number of new HIV infections in Canada, are less likely than non-Indigenous people to access and adhere to ART. One CIHR-funded researcher, Dr. Earl Nowgesic, an assistant professor at the Dalla Lana School of Public Health at the University of Toronto, set out to understand why with a project called the Indigenous Red Ribbon Storytelling Study. This past summer, he presented his findings to an audience which included Canada's Minister of Health at the 6th International Indigenous Pre-conference on HIV & AIDS, an affiliated independent event of the 21st International AIDS Conference in Durban, South Africa.
Dr. Nowgesic conducted the study in Saskatoon and Prince Albert, Saskatchewan. He and the study partners chose these cities because the HIV diagnosis rate in Saskatchewan is almost twice the national average, driven in large part by new HIV cases among Indigenous peoples, many of whom contract the virus by sharing needles to inject drugs.
For the study, Dr. Nowgesic conducted one-on-one interviews and Indigenous sharing circles with 20 Indigenous participants, the majority of whom had drug or alcohol use disorders and had taken or were taking ART, to better understand their experiences related to the therapy.
What he discovered is that many participants felt judged, disrespected or misunderstood by the health service providers in charge of prescribing and dispensing ART. Some participants reported that physicians had refused to provide them with ART when they admitted to currently using drugs, while others said they felt coerced into using ART as a condition for accessing the methadone they needed to help alleviate their withdrawal symptoms related to opioid dependence.
"What I heard was that some physicians and pharmacists were not taking into account the larger environment – all that comes with being an Indigenous person living with HIV and a substance use disorder, and the Indigenous social determinants of health: discrimination, cultural oppression and the challenges of reconciliation," says Dr. Nowgesic.
The participants reported that health service providers were unable to see substance use disorders as a chronic condition, where relapses could be expected. "It's sort of like diabetes in this regard.  A diabetic, after a tough day, may seek comfort in buying a box of cookies and eating the whole thing. They know it's not consistent with the diabetic diet, but with chronic diseases, you can have relapses."
"I had participants coming to me and saying, 'Earl, you're decent. You're treating me like a person. You're looking at me for who I am, and not as a drug addict and someone you disapprove of.'"
Dr. Nowgesic says that an important lesson learned from the study is that health providers need to establish trust with their HIV patients, especially Indigenous patients who have a mistrust of institutions and authority figures because of experiences of racial discrimination. He says one way to do that is to approach HIV treatment for Indigenous peoples more holistically, with ART as one component of a healing strategy that also focuses on interventions to improve emotional, mental and spiritual health – practices like Indigenous sweat lodges, counselling provided by Indigenous Elders, Indigenous talking circles and other traditional healing practices that promote self-respect.
"In order to live a good life, the emotional, mental, spiritual and physical aspects of your health need to be balanced," he says. "A pill, or a combination of pills, is not going to resolve all the problems interfering with Indigenous peoples' ability to live a balanced life; it is not a panacea."
Associated links
Date modified: