IMAGINE a future without digestive disease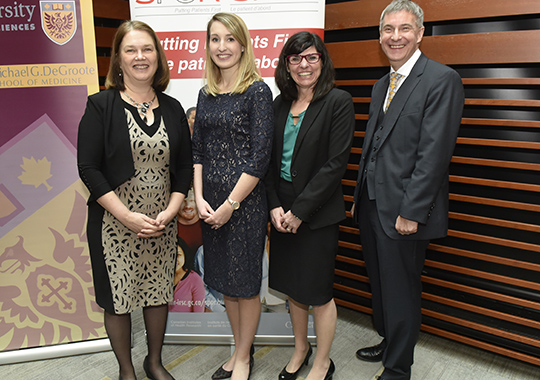 The Honorable Jane Philpott, Megan Henry, Filomena Tassi and Dr. Paul Moayyedi at the SPOR IMAGINE Network announcement.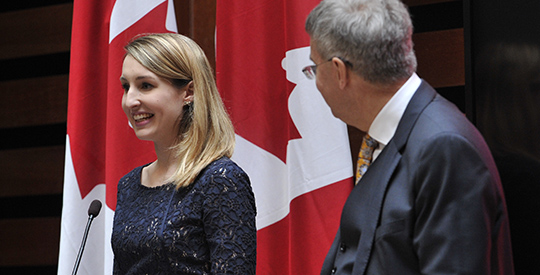 Megan Henry and Dr. Paul Moayyedi speaking at the SPOR IMAGINE Network Announcement.
The revolutionary SPOR IMAGINE Network could herald the end of digestive conditions like IBD and IBS
August 31, 2016
Megan Henry's digestive health journey began when she was 16 years old. Her life became dominated by severe abdominal pain and frequent trips to the bathroom, leading to feelings of isolation and embarrassment. Megan didn't understand what was happening in her body, until she was finally diagnosed with Crohn's disease and irritable bowel syndrome (IBS). 
Inflammatory bowel disease (IBD) is comprised of two similar but distinct conditions, Crohn's disease and ulcerative colitis. Patients with Crohn's disease suffer from inflammation in the gastrointestinal tract, which causes many debilitating symptoms, including severe abdominal pain. This inflammation is visible to doctors during tests. With ulcerative colitis, the apparent inflammation is limited to the large bowel and the main symptom is a change in bowel habits. In contrast, IBS is a functional disorder where there is no detectable inflammation and all tests have normal results. It presents similar symptoms to Crohn's, including abdominal pain and a change in habitual bowel movements, but without visible inflammation, IBS is harder to diagnose.
Canada has one of the highest rates of these two bowel disorders in the world. 1 in 150 Canadians suffer from IBD, making it about as common as type 1 diabetes or epilepsy. Similarly, 5 million Canadians suffer from IBS and 120,000 develop the condition each year.
Sources: Crohn's and Colitis Canada and The Canadian Digestive Health Foundation.
Megan's feelings of isolation upon receiving her diagnosis led her to begin searching for advice online. There she discovered a community of gastrointestinal bloggers. Inspired by this community of fellow patients, Megan started her own blog, The Gut Gazette, which quickly became popular in the health blogging community. Megan described the experience of using her blog to connect with other patients as being, "a light-bulb moment". "I suddenly didn't feel so alone. There were other people out there who were blogging about the exact same experiences as me," said Megan.
As her blog grew in popularity, Megan continued to learn more about digestive health and was amazed by the amount of people who were suffering from the same conditions. This led Megan to start a digestive health support group while in her second year at the University of Guelph.
A few years later, a series of events would lead Megan to represent other patients with IBD and IBS as a patient advocate at a proposal grant meeting. It was at this meeting that Megan met Dr. Paul Moayyedi, a CIHR-funded researcher, gastroenterologist at McMaster University and one of the lead researchers of the SPOR IMAGINE Network. Later, he would invite Megan to become one of the SPOR IMAGINE Network's patient leads.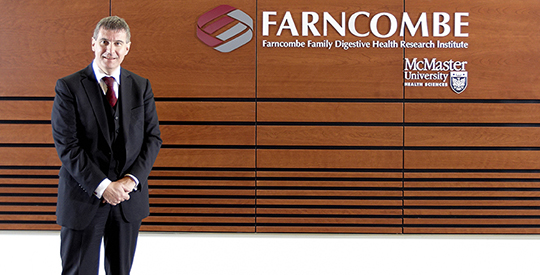 Dr. Paul Moayyedi at the Farncombe Family Digestive Health Research Institute. Photo courtesy of McMaster University.
The SPOR IMAGINE Network
IMAGINE is the acronym for the Inflammation, Microbiome and Alimentation: Gastro-Intestinal and Neuropsychiatric Effects Network. It is one of five chronic disease research networks funded under Canada's Strategy for Patient-Oriented Research (SPOR).
Dr. Moayyedi is currently working with researchers, clinical specialists and patients from across the country to study the link between diet, gut bacteria and chronic bowel conditions like IBD and IBS. These disorders have been linked to high rates of anxiety and depression, so the SPOR IMAGINE Network will also focus on the mental health issues associated with these diseases.
The study will involve 8,000 Canadian adults and children: 2,000 with Crohn's, 2,000 with ulcerative colitis, 2,000 with IBS and 2,000 healthy volunteers. Over the next five years, the research team will examine how each person's diet and gut bacteria changes, and how these changes relate to digestive flare-ups.
Patient Involvement
Another important role within the SPOR IMAGINE Network is being played by patient leads like Megan. Dr. Moayyedi describes the patient leads' role as being, "A breath of fresh air, and the patient representatives have really helped to shape the research and will continue to do so. They bring their own perspective, which is different from ours as researchers but is very important. The patient leads help us to conduct the best research so that we get answers that are meaningful for patients."
When the study finishes, the researchers hope to have a better understanding of what causes IBD and IBS, leading to better treatments and someday a cure for these conditions affecting millions of Canadians.
Megan's role as a patient lead allows her to use her testimony to influence the research being produced by the SPOR IMAGINE Network. Megan says that, "To be working with Dr. Moayyedi and all of the other well-known gastroenterologists and to be given the opportunity to represent other patients, it's an amazing experience."
Associated links
Date modified: