IAB on Health Innovation – Biographies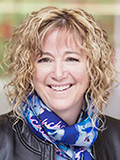 Pamela Valentine, Chair
Chief Executive Officer (Interim)
Alberta Innovates Health Solutions
In April, 2016, Dr. Valentine was appointed by the Government of Alberta as Transition CEO of the new Alberta Innovates organization. Her role is to manage the consolidation of four organizations and 700 staff into one research and innovation entity for the province.
Prior to the Transition CEO role, Dr. Valentine was Chief Executive Officer (Interim) for Alberta Innovates – Health Solutions (AIHS), a position she held since March 2015. She was recruited to AIHS in 2007 and held successively senior positions before taking the organization's helm.
Before joining AIHS, Dr. Valentine was an adjunct assistant professor in the Department of Clinical Neurosciences at the University of Calgary and a member of the Epilepsy and Brain Circuits Program at the Hotchkiss Brain Institute. Her research focused on neural plasticity. She received many awards and scholarships while she attained her PhD, MSc, and BSc in psychology, all from the University of Calgary.
She is on the board of international, national and provincial not-for-profit health and health research-focused organizations including the Scientific Advisory Council of the International Alliance of Mental Health Research Funders, the Canadian Cancer Research Alliance, National Alliance of Provincial Health Research Funding Organizations, the National Advisory Group to the Canadian Clinical Trials Coordinating Centre, National Committee for Strategy for Patient Oriented Research, Institute of Health Economics, Knight's Cabin and Wellspring Edmonton.
---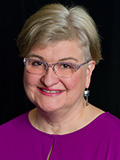 Nicole Buckley
Chief Scientist
International Space Station and Life Sciences
Canadian Space Agency
Nicole Buckley was born in Ottawa and grew up on military bases across Canada. She received her Bachelor's of Science (honours) and Master's in Science (Microbiology) from the University of Saskatchewan. Dr. Buckley was awarded her doctorate in Oral Biology from the University of Manitoba. She pursued postdoctoral studies in molecular biology at the University of Texas Health Science Center in San Antonio and the Université Laval in Quebec City. Dr. Buckley's past research interests include the development of probiotics for use on Earth and in space.
Dr. Buckley joined the Canadian Space Agency in January 2002 as Program Scientist for Space Life Sciences. Dr. Buckley was named Director of Life and Physical Sciences in July 2004. In 2009, Dr. Buckley was named Chief Scientist, International Space Station and Life Sciences. In this capacity, she is responsible for programming activities for the Canadian allocation of ISS and for developing and leading a robust life sciences program. Communicating the benefits of science in general and the benefits of space science for all Canadians is one of Dr. Buckley's favourite responsibilities. Dr. Buckley has participated in over a dozen space missions on various space platforms including the International Space Station, and is working with her team to plan a full complement of activities for the future.
---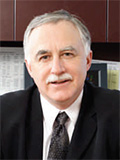 John Conly, MD
Co-Director, Snyder Institute for Chronic Diseases
University of Calgary
Medical Director, W21C
A graduate of the University of Saskatchewan (Distinction), John Conly is medically trained in internal medicine and infectious diseases and is Board certified in both Canada and the United States. He is the past Chairman of the Department of Medicine, University of Calgary and Alberta Health Services, past President of the Canadian Infectious Diseases Society, past Board Chairman for the Canadian Committee on Antibiotic Resistance, the inaugural Vice Chair for the Canadian Expert Drug Advisory Committee and founding Co-Chair for the Canadian Hospital Epidemiology Committee which in collaboration with the Public Health Agency of Canada established the current Canadian Nosocomial Infection Surveillance Program. He is currently the Co-Director for the Snyder Institute for Chronic Diseases at the University of Calgary, the Medical Director for the W21C, a research and innovation initiative within Alberta Health Services and the University of Calgary, the Editor-in-Chief for the Journal of the Association of Infectious Diseases and Medical Microbiology, an Academic Editor for PLoS One, a member of the WHO Global Infection Prevention and Control Network and a member of the WHO Advisory Group on Integrated Surveillance of Antimicrobial Resistance. He has published over 300 papers and has received multiple career honours in teaching, research, mentorship, innovation and service. He was the recipient of the Ronald Christie Award in 2012 from the Canadian Association of Professors of Medicine which is awarded to a former Chair of a Canadian Department of Medicine who has made outstanding contributions to academic medicine in Canada. He continues as an active consultant in clinical infectious diseases and his current interests focus on patient safety and innovations in healthcare and antimicrobial resistance.
---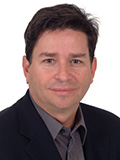 Jacques Corbeil, PhD
Canada Research Chair in Medical Genomics Tier 1
Professor of Medicine
Department of Molecular Medicine
Big Data Research Centre
Laval University
Dr. Jacques Corbeil focuses on using the latest techniques in bioinformatics and machine learning to assist diagnostics, to facilitate prognostics and to optimize the response to treatment. Modern genomic techniques generate a deluge of data that need to be interpreted using novel bioinformatics approaches. Dr. Corbeil is using state-of-the-art instrumentation and big data analytics to facilitate the interpretation of complex phenotypic data. Dr. Corbeil's research includes investigating how infectious microorganisms interact with their hosts, examining the effects of antibiotics on our microbial flora, exploring how to design small molecules and drugs to interfere with specific microbial functions and integrating omic data. Dr. Corbeil operates at the interface of computer and omic sciences.
Dr. Corbeil performed his undergraduate work at Laval University. He obtained his Ph.D. from the University of New South Wales, Sydney, Australia, and received postdoctoral training at the University of California San Diego continuing on the faculty, rising to the rank of Associate Professor until his return to Canada as the holder of the Tier 1 Canada Research Chair in Medical Genomics.
---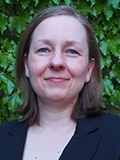 Gillian Crozier
Canada Research Chair in Environment, Culture and Values
Associate Professor of Philosophy
Laurentian University
Gillian K. D. Crozier is a Canada Research Chair in Environment, Culture and Values, and an Associate Professor of Philosophy, at Laurentian University in Sudbury, Ontario. Her interdisciplinary research on the philosophy of the life sciences (including the philosophy of biology, bioethics, and the ethics of ecological research) has appeared in a range of high-profile journals, including Evolutionary Applications, the British Journal for the Philosophy of Science, Science and Engineering Ethics, the Kennedy Institute of Ethics Journal, the Hastings Center Report, and Biology and Philosophy. She is one of two ethics scholars serving on the Canadian Council on Animal Care's (CCAC's) Animal Data Working Group, and she is leading a multidisciplinary team to develop an ethics code for the Canadian Society for Ecology and Evolution (CSEE – the main professional organization for ecological researchers in Canada).
In 2013, she co-founded the Centre for Evolutionary Ecology and Ethical Conservation (CEEEC, pronounced 'seek') – a research group committed to bridging disciplinary boundaries to address pressing questions concerning the ethics and science of biodiversity and species conservation, as well as other issues arising from interactions between human and non-human animals. This centre has been awarded grants from all three Tri-Council agencies (CIHR, NSERC, and SSHRC). Under Dr. Schulte-Hostedde's leadership, this group was recently awarded an NSERC CREATE grant to fund the project "ReNewZoo: Training conservation professionals for the zoo/aquarium of the 21st century".
---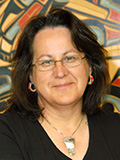 Dr. Margo Greenwood
Academic Leader
National Collaborating Centre for Aboriginal Health
Dr. Margo Greenwood is the Academic Leader of the National Collaborating Centre for Aboriginal Health, is an Indigenous scholar of Cree ancestry with years of experience focused on the health and well-being of Indigenous children, families and communities. She is also Vice-President of Aboriginal Health for the Northern Health Authority in British Columbia and Professor in both the First Nations Studies and Education programs at the University of Northern British Columbia. While her academic work crosses disciplines and sectors, she is particularly recognized regionally, provincially, nationally and internationally for her work in early childhood care and education of Indigenous children and for public health. Margo has served on numerous national and provincial federations, committees and assemblies, and has undertaken work with UNICEF, the United Nations, the Canadian Council on Social Determinants of Health, Public Health Network of Canada, and the Canadian Institute of Health Research, specifically, the Institute for Aboriginal Peoples' Health. In 2010, she was named 'Academic of the Year' by the Confederation of University Faculty Associations of British Columbia, and in the following year, she was honoured with the National Aboriginal Achievement Award for Education.
---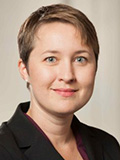 Josette-Renée Landry
Vice-President
Business Development
Mitacs
Josette-Renée Landry is the Vice President, Business Development for Mitacs, a not-for-profit private research organization. Since joining Mitacs in 2010, Josette's focus has been to facilitate partnerships between university researchers, industry, and the public sector. Through collaborations with other research funding organizations, she also helps to promote innovation across Canada and beyond.
During her graduate studies, Josette co-founded a consulting firm providing bioinformatics services to the Vancouver biotechnology sector. She received her PhD in Genetics from the Terry Fox Labs at the University of British Columbia in 2003, followed by postdoctoral training at the University of Cambridge. Josette also holds an MBA from HEC Montréal and has served on a diverse roster of academic, industry, and research committees.
---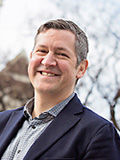 Carlo Marra
Dean and Professor
School of Pharmacy
University of Otago
Carlo Marra holds a bachelor of science (pharmacy), a doctor of pharmacy, and a PhD in health care and epidemiology from the University of British Columbia. He has previously held a Tier II Canada Research Chair (CRC) in Pharmaceutical Outcomes while a professor at the University of British Columbia. He is currently Dean and Professor at the School of Pharmacy at the University of Otago in New Zealand.
Dr. Marra's research has mainly focused on health economics, quality of life research and pharmacoepidemiology. Over the past few years, he has been particularly interested in evaluating the impact of advanced roles of pharmacists on health and cost outcomes. He has published over 200 peer-reviewed articles.
---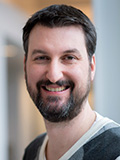 Alex Mihailidis, PhD, P.Eng.
Barbara G. Stymiest Research Chair in Rehabilitation Technology
University of Toronto and Toronto Rehab
Scientific Director
AGE-WELL Network of Centres of Excellence
Alex Mihailidis is the Barbara G. Stymiest Research Chair in Rehabilitation Technology at the University of Toronto and Toronto Rehab Institute. He is also the Scientific Director of the AGE-WELL Network of Centres of Excellence, which focuses on the development of new technologies and services for older adults. He is an Associate Professor in the Department of Occupational Science and Occupational Therapy (U of T) and in the Institute of Biomaterials and Biomedical Engineering (U of T), with a cross appointment in the Department of Computer Science (U of T). He has been conducting research in the field of pervasive computing and intelligent systems in health for the past 15 years, having published over 150 journal papers, conference papers, and abstracts in this field. He has specifically focused on the development of intelligent home systems for elder care and wellness, technology for children with autism, and adaptive tools for nurses and clinical applications. He currently holds several major research grants from internationally recognized funding agencies to support this work (including the Canadian and American Alzheimer Associations, NSERC, and CIHR). His research has been completed through collaborations with other researchers in this field from Canada, the United Kingdom, and the United States, and with various industrial partners. Dr. Mihailidis has also co-edited two books: one from CRC Press entitled Pervasive Computing in Healthcare and the other from IOS Press entitled Technology and Aging, which resulted from him being the conference chair for the 2nd International Conference on Technology and Aging. Dr. Mihailidis is also very active in the rehabilitation engineering profession, currently as the Immediate Past-President for RESNA (Rehabilitation Engineering and Assistive Technology Society of North America). He was also named a Fellow of RESNA in 2014, which is one of the highest honours within this field of research and practice.
---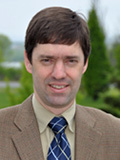 Marcel Saulnier, MSc
Associate Assistant Deputy Minister
Strategic Policy Branch
Health Canada
Marcel Saulnier is the Associate Assistant Deputy Minister of the Strategic Policy Branch at Health Canada. He has held other senior positions at Health Canada, including as Director General of Health Care Strategies, and Director General of Policy Coordination and Planning. He played a key role in supporting the work of the federal Advisory Panel on Healthcare Innovation which released its report in June 2015. Marcel's career has included policy leadership positions at the Canadian Medical Association, the Prime Minister's Office, Finance Canada, the National Forum on Health, and Health and Welfare Canada. He is currently a member of the Board of Directors of the Canadian Patient Safety Institute and sits on the National Steering Committee for Canada's Strategy on Patient-Oriented Research. Marcel has a master's degree in Economics from l'Université de Montreal, and a Bachelor's in Economics from the University of Ottawa.
---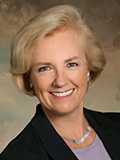 Anne Snowdon
Professor, Strategy and Entrepreneurship
Chair, World Health Innovation Network (WIN)
University of Windsor
Odette School of Business
Dr. Anne Snowdon is a Professor of Strategy and Entrepreneurship and the Chair of the World Health Innovation Network (WIN), at the University of Windsor, Odette School of Business. Dr. Snowdon leads the work of the first Canadian health innovation centre with formal ties to the U.S., building collaborative partnerships between the two countries to advance the health of populations, accelerate health system innovation in both countries to achieve sustainability, economic value and productivity by providing support for innovators and entrepreneurs to successfully bring their discoveries to the Canadian, US and world markets.
Currently, Dr. Snowdon is leading over 15 innovation research initiatives across seven Canadian provinces that collaborate with government, health professionals, private industry, foundations and families. She is a member of the Ontario Health Innovation Council and former Chair of the Institute Advisory Board for the Institute for Human Development, Child and Youth Health, of the Canadian Institutes for Health Research (CIHR). She has also been appointed to the President's Advisory Committee on Digital Health Innovation at CIHR and was appointed by the Alberta Government to serve on the Board of Directors for the newly created Alberta Innovates Corporation.
She is also an Associate Professor to the adjunct academic staff of the School of Rehabilitation Therapy at Queen's University, Adjunct Faculty at the Department of Computer Science at the University of Windsor, and Adjunct Faculty at the School of Nursing at Dalhousie University.
Dr. Snowdon has published more than 100 research articles, papers and cases, has received over $15 million in research funding, holds patents, and has commercialized a highly successful booster seat product for children traveling in vehicles. She holds a PhD in Nursing from the University of Michigan. She is a Fulbright Scholar and received the CIHR Partnership Award for her partnership with the automotive industry focused on injury prevention for children.
---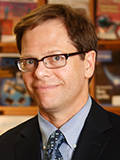 George Tolomiczenko, PhD, M.P.H., M.B.A.
Administrative Director
Health, Technology and Engineering Program
University of Southern California HTE@USC
Dr. Tolomiczenko's experience as a clinician, researcher, teacher and administrator helps him in his Administrative Director role to guide and run the Health, Technology and Engineering program at the University of Southern California (HTE@USC). After an interdisciplinary undergraduate degree at Caltech, he earned a doctorate in Clinical Psychology at Boston University. As both a scientist and clinician working at medical institutions affiliated with Harvard University, his focus shifted to public health and policy issues involving homelessness and mental illness. His Master's in Public Health from Harvard University covered healthcare management and improvement. He then moved home to Toronto, where he earned an M.B.A. to inform his efforts to create and fund programs and partnerships enabling disease-focused basic research, knowledge translation and adapting chronic disease models. Since returning to California in 2010, he has served as a CIHR reviewer and committee member for knowledge translation and commercialization. He continues to develop USC's interdisciplinary collaborative strengths applied to medical device and process innovation. He teaches courses designed to form and train teams linking engineering and medicine to create innovative and licensed technology and start-up companies. In addition to his HTE@USC work, he serves as adjunct faculty on the NSF I-Corps USC Node.
---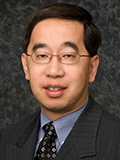 Jack Tu
Canada Research Chair in Health Services Research
Sunnybrook Schulich Heart Centre
University of Toronto
Institute for Clinical Evaluative Sciences
Dr. Jack V. Tu is a clinician-scientist and Professor of Medicine at the University of Toronto and an attending physician in the Division of Cardiology, Sunnybrook Schulich Heart Centre. He is Program Lead for the Cardiovascular Research program at the Institute for Clinical Evaluative Sciences (ICES), and also a Senior Scientist at ICES and the Sunnybrook Research Institute (SRI). He holds cross-appointments to the Institute of Health Policy, Management, and Evaluation (IHPME), and the Institute of Medical Sciences (IMS). Dr. Tu is an internationally-recognized researcher, who has published over 350 peer-reviewed journal articles, including multiple first-authored articles in the New England Journal of Medicine, Journal of the American Medical Association, and other leading medical journals. He has held over $15 million dollars in peer-reviewed grants as a principal investigator from the Canadian Institutes of Health Research, Heart and Stroke Foundation, and other funding agencies. He has trained over 60 students at all levels over the course of his career. He is supported by a Tier 1 Canada Research Chair in Health Services Research and an Eaton Scholar Award from the Department of Medicine at the University of Toronto.
Dr. Tu's current research is focused on measuring and improving the quality of cardiovascular care in Canada with a focus on geographical and ethnic disparities in the incidence of cardiovascular disease. He is currently the team leader of the ICRH/CIHR-funded "Cardiovascular Health in Ambulatory Care Research Team", big data initiative. Previously, he was the team leader of the CIHR-funded Canadian Cardiovascular Outcomes Research Team from 2001 to 2011. Dr. Tu's major research studies include being the lead editor for the CCORT Canadian Cardiovascular Atlas series and the Principal Investigator for Enhanced Feedback for Effective Cardiac Treatment (EFFECT) study, the world's first clinical trial of cardiac report cards for improving clinical care. He has received multiple research awards including the CIHR National/International Award for Excellence in Knowledge Translation.
---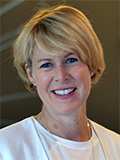 Dr. Christine Williams, PhD
Deputy Director and Vice-President, Outreach
Ontario Institute for Cancer Research (OICR)
Dr. Christine Williams is Deputy Director and Vice-President, Outreach of the Ontario Institute for Cancer Research (OICR), which focuses on translational research in prevention, detection, diagnosis and treatment of cancer. Dr. Williams works with OICR's program and platform leaders to determine strategic directions and priorities of the Institute's research programs. Dr. Williams is also responsible for developing and maintaining productive relationships with cancer research stakeholders including partner organizations, collaborative clinical trials groups, Cancer Care Ontario, biotechnology and pharmaceutical companies, research institutes and academic institutions.
Dr. Williams received an undergraduate degree in Life Sciences from Queen's University and a PhD in Immunology from the University of Toronto. She received postdoctoral training at Massachusetts General Hospital where she studied the molecular pathways involved in the development of leukemia and lymphoma in children.
Dr. Williams returned to Toronto in 2005 to take a position as the Assistant Director of Research at the National Cancer Institute of Canada (NCIC) and Director of the Canadian Prostate Cancer Research Initiative. In February 2009, the Canadian Cancer Society (CCS) and the NCIC formally integrated operations to become a single organization and Dr. Williams was appointed the inaugural Director of Research for the Canadian Cancer Society Research Institute (CCSRI). CCSRI has a budget of approximately $40 million/year to support peer-reviewed research grants, personnel training awards and specific research initiatives in cancer prevention, basic biomedical and translational research, clinical trials, quality of life and health services research.
In 2012, Dr. Williams became the national Vice-President, Research responsible for overall leadership of research programs and initiatives to meet the CCS's strategic goals of reducing cancer incidence and mortality, and improving quality of life. Since that time she has held several expanded roles with the CCS, most recently as its Chief Mission Officer & Scientific Director, responsible for program delivery, information, policy, advocacy and research activities nationwide.
In addition to her role as Deputy Director and Vice-President, Outreach, Dr. Williams is involved in many boards and advisory committees, including as past chair of the Canadian Cancer Research Alliance.
Date modified: