IMHA On The Move! - Summer 2016
Table of contents
A Message from the Scientific Director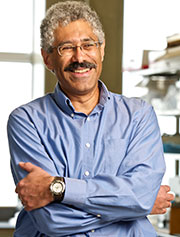 In the midst of the current controversies around the reforms to CIHR's peer review system for the open competitions (see Project Scheme and Foundation Scheme), it is important to highlight the momentum in CIHR's strategic funding programs. As you will see highlighted in this newsletter, IMHA has launched a number of funding opportunities that are particularly focused on capacity building. Please see the Funding Opportunities listed below for more details.
Strategy for Patient Oriented Research (SPOR): SPOR is now truly coming of age, with the establishment of five major networks in chronic disease to complement two other existing networks, and a full suite of SUPPORT units encompassing every province in Canada. We are delighted that after stiff competition from multiple chronic disease areas, one of the newly funded networks will focus on chronic pain. This area, which is near and dear to the hearts of many IMHA stakeholders, will be highlighted in a pain research summit to be held on Sept 19-20, 2016 in Toronto. This forward-thinking summit will bring together not only the leadership of the SPOR Chronic Pain Network, but also a wide spectrum of pain research stakeholders, both nationally and internationally. As the lead Institute, along with co-leads from INMHA, ICR, and IGH, IMHA hopes that this summit will define an actionable Canadian pain research strategy that builds on existing strengths, while addressing key gaps in knowledge translation and implementation.
The SPOR program is also launching a number of new funding opportunities in the Innovative Clinical Trials (iCT) initiative. These include catalyst grants, Chairs, and multiyear funding opportunities designed to enhance Canada's research capacity in clinical trials. The focus will be on comparative effectiveness trials, pragmatic and adaptive trials, and other innovative real-world designs that would complement, or even replace, the traditional RCT designs.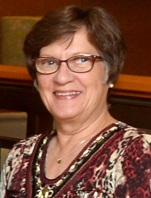 Finally, I would like to highlight and acknowledge the huge contributions that Elizabeth Robson has made to IMHA, and to CIHR as a whole. As many of you know, Elizabeth has been with IMHA since its inception, and has worked in the area of stakeholder relations with all four of its Scientific Directors to date: Cy Frank, Jane Aubin, Phil Gardiner, and myself. She has organized multiple consensus conferences, workshops, and Institute Advisory Board meetings. Elizabeth decided to retire from IMHA in June to spend more time with family, particularly her active, growing grandchildren. We will very much miss her, and wish her the best of luck in her retirement.
I appreciate hearing from our stakeholder community members. Please send any questions or comments to IMHA@umanitoba.ca, and please also follow me on Twitter @HaniElgabalawy.
Sincerely,
Hani El-Gabalawy MD FRCPC, FCAHS
Scientific Director
CIHR Institute of Musculoskeletal Health and Arthritis
Funding Opportunities and News
CIHR – IMHA Institute-Specific Funding Opportunities
Planning and Dissemination Grants – Institute/Initiative Community Support (Summer 2016 Competition)
Application Deadline, August 16, 2016
Catalyst Grant: Analysis of Canadian Longitudinal Study in Aging (CLSA) Data
CIHR - IMHA will provide funding for applications that are determined to be relevant to the following strategic priorities: Chronic Pain and Fatigue, Inflammation and Tissue Repair, and Disability, Mobility and Health.
Registration Deadline: August 16, 2016
Application Deadline: August 30, 2016
New Investigator Salary Award: Clinical Rehabilitation
Application Deadline: September 13, 2016

Pathways to Health Equity for Aboriginal People – Implementation Research Team Grants - Component 2
Phase 1: Letter of Intent is now CLOSED
Phase 2: Full Application Deadline: October 4, 2016
Canada-Netherlands Personalized Medicine in Immune Mediated Inflammatory Musculoskeletal Disease Network
Phase 1: Letter of Intent is now CLOSED
Phase 2: Full Application Deadline: October 18, 2016
CIHR Funding Opportunities – Highlights
For a full listing of CIHR funding opportunities, please visit the ResearchNet website.
Fellowship: Banting Postdoctoral Fellowships Program (2016-2017)
Application Deadline: September 21, 2016
Catalyst Grant : SPOR Innovative Clinical Trials
Application Deadline: September 27, 2016
Operating Grant: Collaborative Health Research Projects (NSERC Partnered) (2016-2017)
This Collaborative Health Research Projects (CHRP) Initiative funding opportunity is offered by CIHR in partnership with the Natural Sciences and Engineering Research Council (NSERC).
Phase 1: Letter of Intent is now CLOSED
Phase 2: Application Deadline: October 4, 2016
Operating Grant: SPOR Innovative Clinical Trial Multi-Year Grant
Application Deadline: October 25, 2016
Doctoral Research Award: Vanier Canada Graduate Scholarships (2016-2017)
Application Deadline: November 2, 2016
CIHR - IMHA NEWS
Engage in Patient Engagement: CIHR – IMHA Seeks New Research Ambassadors

Get involved in health research! Apply to be a research ambassador. For more information, please contact IMHA@umanitoba.ca or read the full Expression of Interest online.
News from CIHR – Institute of Gender and Health

Your research could be featured in an upcoming IGH/IMHA publication
Did you know?
Preclinical research on male mice is not generalizable to females;
Participants' self-reported data may change depending on the gender of the researcher; and
There are at least three different ways of analyzing gender independent of sex in large datasets.
Including sex- and gender-based analysis in health research is crucial to science that is rigorous and applicable to everyone. What sex or gender discoveries are making waves in your discipline? What do you do to integrate sex and gender considerations in your research?
The Institute of Gender and Health is reaching out to the IMHA community to learn what health researchers in musculoskeletal health and arthritis have found when research takes sex and/or gender into account—whether it's by disaggregating clinical data by sex or incorporating concepts of gender into pain research.
Send information about discoveries, strategies and interesting sex and/or gender research to rachel.macneill@criugm.qc.ca.
Selected research will be highlighted in an upcoming IGH/IMHA publication. If you would like to learn more about how sex and gender might lead to new discoveries in your research, check out our new interactive online competency modules.
Have you considered the possibilities?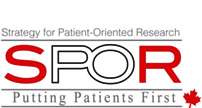 As part of its commitment to support clinical research and strengthen the environment for clinical trials in Canada, CIHR is launching a new initiative under Canada's Strategy for Patient-Oriented Research (SPOR). The initiative will support the development and adoption of innovative methods for carrying out clinical trials. The first funding opportunities will support catalyst grants, multi-year grants and mentorship chairs.
CIHR and the research community agree on concrete solutions to strengthen peer review process
CIHR and members of Canada's health research community arrived at a consensus on concrete solutions that CIHR will implement over the coming months to further strengthen the peer review process. At the July 13 meeting, the group agreed to the immediate implementation of the following:
Face-to-face discussions will be restored and virtual discussions will no longer be needed;
Teams of Virtual Chairs and Scientific Officers will be organized to oversee a group of applications throughout the process;
A complementary iterative process will be implemented for Indigenous-focused research;
A working group will be created to further refine the recommendations moving forward.
Please note that the changes will be implemented before the launch of the next Project and Foundation competitions. CIHR will share additional details about these funding opportunities— including target dates—as soon as they are available.
As a follow-up to the outcomes of the July 13 Working Meeting to discuss CIHR's peer review processes, a Peer Review Working Group has been established under the leadership of Dr. Paul Kubes as Executive Chair of the College of Reviewers. This group, which includes representatives from the Working Meeting, will advise CIHR on the implementation of peer review changes before the launch of the next Project Grant and Foundation Grant competitions. Once again, CIHR would like to thank each participant of the July 13 Working Meeting sincerely for their creativity and solutions-oriented focus.
On July 5, CIHR announced that we intended to maintain the original application deadline dates for the Project Grant and Foundation Grant competitions. In order to give the Peer Review Working Group adequate time to meet, however, and given the changes to the peer review process outlined in the Outcomes Statement, these dates will be changed. CIHR is currently examining the anticipated impacts on competition timelines.
We will share additional details concerning the revised launch dates and deadlines as soon as possible, but we can confirm at this time that registration will not open before September 1, 2016 for either competition.
Congratulations to the 2016 Foundation Grant and Project Grant recipients
Congratulations to the grant recipients for both the Foundation and Project competitions and many thanks to the 2,000+ peer reviewers who made these competitions possible.
Healthy and Productive Work: Partnership Development Grant Results
The results of the Partnership Development Grant (PDG) competition (Phase 1) are now available. A total of 20 projects have been supported across a range of topics including: aging workforce; return to work/workplace accommodation; chronic disease; and, physical and mental health disabilities. Information on the funded projects can be found in ResearchNet's Funding Decisions Database. These 20 teams have been funded for a two-year period to further build their partnerships and research project development in preparation for the next Phase – Partnership Grants. Partnership Grants will provide larger, longer grants to support development, implementation, evaluation and scale-up of evidence-informed interventions.
IMHA Community News
In keeping with CIHR-IMHA's mandate of supporting ethical and impactful research to enhance active living, mobility and oral health and to address the wide range of conditions related to bones, joints, muscles, connective tissue, skin and teeth, IMHA On the Move! strives to connect its community of stakeholders by sharing news. Please send your community's news to the Institute Communications Project Officer.
About Face
AboutFace is excited to announce its first annual Fashion Show and Gala Dinner which aims to promote beauty through diversity, uniqueness and confidence. "Light Up the Night", taking place on Friday, October 28, 2016, will help build awareness about facial differences, but more importantly, it will create a forum for individuals with facial differences to share their confidence and beauty with the public. If you are inspired to help us make a difference with this event, become a community investor. Please see the above "Light Up the Night" link or contact Anna Pileggi for more details.
Arthritis Alliance of Canada
The Alliance was invited to participate in an "invite only" Federal Government consultation on flexible work arrangements, in both Toronto and Vancouver. A discussion paper on "Flexible Work Arrangements" initiated by Employment and Social Development Canada's Labour Program in May 2016, set the stage for the discussion.
The Toronto roundtable discussion on June 17 focused on three areas:
What forms of flexibility can be recommended from participants' experience?
Views on mandating a "right to request" workplace flexibility; and
Implementation and enforcement.
Arthritis Consumer Experts (ACE)
Two researchers from ACE's scientific advisory body, Arthritis Research Canada (ARC), have won CIHR Knowledge to Action grants: Dr. Deborah Marshall's research, "Building Partnerships to Improve Care of Early Knee Osteoarthritis Patients: Co-developing a Risk Management Tool," and Dr. Paul Fortin's research, "Dissemination of the Lupus Interactive Navigator (LIN) – Measuring its Uptake and Impact on Global Health and Self-Care." Other ARC researchers recently receiving awards include: Dr. Glen Hazlewood (CIHR New Investigator Award), and Dr. Cheryl Barnabe (University of Calgary O'Brien Institute Emerging Leader Award).
Network for Canadian Oral Health and Research (NCOHR)
NCOHR is offering a Summer Research Institute on the Life Course Approach to Oral Health Research. The workshop will take place from August 18-20, 2016 and will be hosted by the UBC Faculty of Dentistry. To register, please contact Dr. Mario Brondani at brondani@dentistry.ubc.ca or Dr. Arwa Gazzaz at arwa.gazzaz@alumni.ubc.ca. For more details on this summer research institute, view the program.
NCOHR has funds available to support oral health researchers to prepare research grant submissions: Grant Development (Open Call).
CIHR – IMHA Community Building
This spring and summer, CIHR – IMHA staff have been busy representing the Institute's research mandate at a number of conferences.
1st National Knowledge Translation Conference in Rehabilitation
CIHR – IMHA Assistant Director, Nicole Szajcz-Keller spoke on behalf of CIHR regarding its Knowledge Translation programs, policies and resources. The conference's numerous speakers revealed an impressive growth in the field of Knowledge Translation research in the clinical rehabilitation field.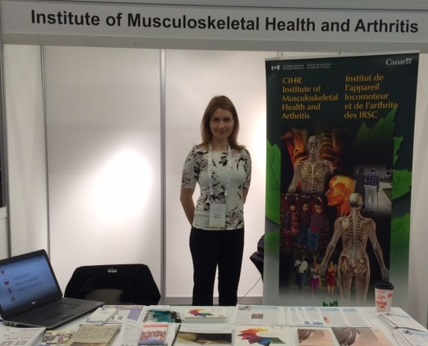 Nicole Mardis, CIHR – IMHA Project Officer, stands ready to answer questions at the WBC 2016.
World Biomaterials Congress 2016
CIHR – IMHA was a proud sponsor of the 10th World Biomaterials Congress held in Montreal, May 17 – 22, 2016. Institute staff who attended the Congress spoke to many international researchers and stakeholders about how health research funding works in Canada, in return learning about funding in other countries. The Congress offered excellent networking and knowledge exchange opportunities for organizations and individuals engaged in biomaterials health research across the world. The 11th World Biomaterials Congress will be held in Glasgow, Scotland, May 19 – 24, 2020.
Canadian Pain Society 37th Annual Scientific Program 2016
With an important Canadian Pain Research Summit on the horizon this fall, CIHR – IMHA made it a priority to send representation to the Canadian Pain Society's 37th Annual Scientific Program that took place May 24 – 27, 2016 in Vancouver, BC. Dr. Hance Clarke made an impact as the Early Career Award Keynote speaker discussing Transitional Pain Medicine, while Dr. Norm Buckley, Lead of the Strategy for Patient Oriented Research (SPOR) Chronic Pain Network filled a room to standing room only with an introductory meeting for the Network. CIHR – IMHA staff came face-to-face with many interesting individuals engaged in pain research. The next Canadian Pain Society conference will take place May 23 – 27, 2017 in Halifax, NS.
PREMUS Abstracts Online
CIHR – IMHA was pleased to support and attend the 9th International Scientific Conference on the Prevention of Work-Related Musculoskeletal Disorders (PREMUS) this year. Nearly 400 researchers and practitioners from around the world gathered in Toronto for four days in June to discuss their findings, share strategies and brainstorm on future collaborations. For those unable to attend, please see the Storify of the #PREMUS2016 hashtag for some highlights, and read about the research presented in the PREMUS 2016 book of abstracts.
Pathways Annual Gathering
CIHR – IMHA is the lead of the Oral Health exemplar for the CIHR Signature Initiative, Pathways to Health Equity for Aboriginal Peoples. As such, Institute staff were honoured to attend the second Pathways Annual Gathering held June 19 – 21, 2016 in Saskatoon, SK. The Gathering brought together researchers and Indigenous community partners to discuss research progress in the initiative's four priority areas ofsuicide prevention, tuberculosis, diabetes/obesity, and oral health.
Meetings of Interest
16th World Congress on Pain
September 26 – 30, 2016 Yokohama, Japan
10th European Lupus Meeting 2016
October 5 – 8, 2016 Venice, Italy
7th Global Orthopedicians Annual Meeting
October 13 – 15, 2016 Kuala Lumpur, Malaysia
International Genetic Epidemiology Society Annual Meeting (IGES 2016)
October 24 – 26, 2016 Toronto, ON
Arthritis Alliance of Canada Annual Meeting
October 27 – 28, 2016 Montreal, QC
American College of Rheumatology Annual Meeting
(CRA Canada Night in Washington: November 14)
November 11 – 16, 2016 Washington, DC
7th Annual Military and Veteran Health Research Forum
November 21 – 23, 2016 Vancouver, BC
2017 CRA Annual Scientific Meeting & AHPA Annual Meeting
February 8 – 11, 2017 Ottawa, ON
World Congress on Osteoporosis, Osteoarthritis and Musculoskeletal Diseases 2017
March 23 – 26, 2017 Florence, Italy
12th International Congress on Systemic Lupus Erythematosus LUPUS 2017
March 26 – 29, 2017 Melbourne, Australia
European League Against Rheumatism (EULAR) 2017
June 14 – 17, 2017 Madrid, Spain
Keep Up With The News
In this age of social media, it is important for researchers, health policy decision makers, academics, patient advocates, and patients to stay knowledgeable about their health topics in the news. At CIHR-IMHA, we have been collecting news bytes relevant to our areas of research focus. If you would like to receive a bi-monthly mail-out of these "Google Alerts," please email the Institute.
Date modified: