Finding relief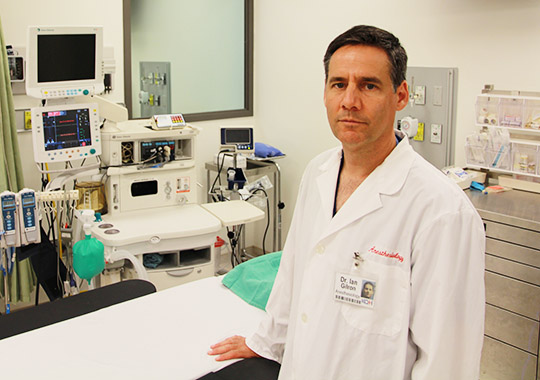 Dr. Ian Gilron, Queen's University
Photo courtesy of Dr. Ian Gilron, Queen's University.
Combination therapy eases chronic pain
July 29, 2016
Researchers at Queen's University are at the forefront of efforts to find relief for Canadians living with chronic pain.
This work is led by CIHR-funded researcher, Dr. Ian Gilron, an anesthesiologist and the Director of Clinical Pain Research at Queen's. Dr. Gilron and his team are focused on understanding how to better treat the chronic pain resulting from injuries, nerve damage, or conditions such as fibromyalgia in ways that provide the greatest relief for patients while minimizing adverse effects.
The team's latest published study investigated the treatment of fibromyalgia, a medical condition characterized by chronic widespread pain typically accompanied by fatigue, as well as sleep, mood, and memory problems.
While fibromyalgia was initially thought to be a musculoskeletal disorder, research suggests it's a disorder of the central nervous system – the brain and spinal cord. Researchers believe that fibromyalgia amplifies painful sensations by affecting the level and activity of brain chemicals responsible for processing pain signals. 
The condition affects about 1.5 % of Canadians – more than twice as many women as men. It can have a devastating effect on the lives of patients and their families.
"Current treatments for fibromyalgia are either ineffective or intolerable for many patients," says Dr. Gilron.
Symptoms can be managed to a limited extent with over-the-counter and prescription medications. Patients can also benefit from self-management approaches, including exercise, stress reduction, yoga, and massage therapy.
The study carried out by Dr. Gilron and his team examined the effectiveness of using two drugs in combination to treat chronic pain due to fibromyalgia. The two drugs were pregabalin, an anti-seizure drug, and duloxetine, an antidepressant. Both drugs are currently used individually to treat fibromyalgia pain. However, they provide only limited relief to patients by themselves.
The results of the trial, recently published in the journal PAIN, suggest that combining pregabalin with duloxetine can safely improve outcomes in fibromyalgia, including not only pain relief, but also physical function and overall quality of life.
"Previous evidence supports added benefits with some drug combinations in fibromyalgia," says, Dr. Gilron. "We are very excited to present the first evidence demonstrating superiority of a duloxetine-pregabalin combination over either drug alone."
As a result, this research will help refine treatment guidelines for fibromyalgia and give patients reason to hope for a pain-free future.   
This study is the latest in a series of clinical trials that Dr. Gilron and his colleagues have conducted on combination therapies for chronic pain conditions. By identifying and studying promising drug combinations, their research is showing how we can make the best use of current treatments available to patients.
"The value of combination approaches is they typically involve drugs that have been extensively studied and well known to healthcare providers," says Dr. Gilron. 
Dr. Gilron and colleagues at Queen's are members of a national research network on chronic pain funded under Canada's Strategy for Patient-Oriented Research (SPOR). The SPOR Network will direct new research, train researchers and clinicians, increase access to care for chronic pain sufferers, and speed up the translation of the most recent research into the reality of care.
Associated links
Date modified: