IMHA On The Move! - Spring 2016
Table of contents
A Message from the Scientific Director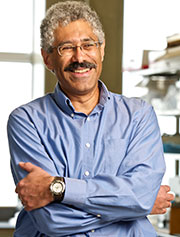 Greetings from all of us at CIHR - IMHA. We've had several extremely busy months with much happening at the Institute. I'm very pleased to share some major news with you:
Canada-Netherlands Personalized Medicine Network Partnership
Paving a way for international partnerships, CIHR and Dutch health research funding bodies ZonMw and Reumafonds (the Dutch equivalent of The Arthritis Society), are supporting an Immune Mediated Inflammatory Musculoskeletal Disease (IMIMD) network to be comprised of Dutch and Canadian researchers. Several members of the CIHR - IMHA team and I were pleased to meet with our partner representatives and the researchers intending to submit full applications for the initiative, for a strengthening workshop in Toronto at the end of May. The workshop was a great opportunity to stimulate international collaboration. I look forward to some excellent research being generated for the improvement of patient health outcomes across the globe. Please read the full news story about the Canada – Netherlands partnership on CIHR – IMHA's news page.
SPOR Chronic Pain Network
Congratulations to the hard-working team of collaborators led by Dr. Norman Buckley that was awarded funding to form the SPOR Chronic Pain Network. The team consisting of patients, researchers, health care professionals, educators and government policy advisors, was one of the five CIHR SPOR Chronic Disease Networks announced March 31st by the Honourable Jane Philpott, Federal Minister of Health. Chronic pain has long been a part of CIHR – IMHA's mandate, and was included under one of CIHR – IMHA's three Strategic Priority Areas in its 2014 – 2018 Strategic Plan. Please read more about the CIHR SPOR Chronic Disease Networks below.
I appreciate hearing from our stakeholder community members. Please send any questions or comments to IMHA@umanitoba.ca, and please also follow me on Twitter @HaniElgabalawy.
Sincerely,
Hani El-Gabalawy MD FRCPC, FCAHS
Scientific Director
CIHR Institute of Musculoskeletal Health and Arthritis
Funding Opportunities and News
For a full listing of CIHR funding opportunities, please visit the ResearchNet website.
Team Grant - Pathways Implementation Research Team – Component 2 (2016)
Full Application Deadline: October 3, 2016
Other - Personalized Medicine in Inflammation Network
Full Application Deadline: October 18, 2016
Operating Grant: Collaborative Health Research Projects (NSERC Partnered) (2016-2017)
This Collaborative Health Research Projects (CHRP) Initiative funding opportunity is offered by CIHR in partnership with the Natural Sciences and Engineering Research Council (NSERC).
Phase 1: Letter of Intent is now CLOSED.
Phase 2: Application Deadline: October 4, 2016.
NEW: Researchers invited to analyze Canadian Longitudinal Study on Aging (CLSA) data
Canadian researchers are invited to submit health research projects which make use of available CLSA data. The selected projects will help find ways to improve the health of Canadians by better understanding the aging process and the factors that shape the way we age. Read more and watch the video.
Catalyst Grant : Analysis of CLSA Data
Sponsors: The CIHR Institutes of Aging, Population and Public Health, Circulatory and Respiratory Health, Gender and Health, and Musculoskeletal Health and Arthritis in partnership with the Réseau québécois de recherche sur le vieillissement (RQRV).
Registration Deadline: August 16, 2016
Application Deadline: August 30, 2016
Funds Available
The total amount available for this funding opportunity is $1,205,000, enough to fund approximately 17 grants. This amount may increase if additional funding partners participate. The maximum amount per grant is $70,000 for up to 1 year. Of this $1,205,000:
$140,000 is available to fund applications relevant to the mandate of the Institute of Circulatory and Respiratory Health's (ICRH) and its research priority to "Enhance opportunities for clinical, population health and health services research through cohort linkage and data".
$140,000 is available to fund applications relevant to the mandate of the Institute of Musculoskeletal Health and Arthritis (IMHA) which supports research to enhance active living, mobility and movement, and oral health; and addresses causes, prevention, screening, diagnosis, treatment, support systems, and palliation for a wide range of conditions related to bones, joints, muscles, connective, skin and teeth. IMHA will provide funding for applications that are determined to be relevant to the following strategic priorities: Chronic Pain and Fatigue, Inflammation and Tissue Repair, and Disability, Mobility and Health.
$15,000 is available as a top-up to the highest ranked fundable application in the province of Quebec from the Réseau québécois de recherche sur le vieillissement (RQRV) in the general area of aging within the themes of cognitive and mental health, mobility, continuum of health care and services.
$910,000 is available to fund remaining applications in in any health-related area in rank order as far as the remaining budget will allow.
CIHR STAGE (Strategic Training for Advanced Genetic Epidemiology)
Call for applications for PhD students, post-doctoral or clinical fellows with interests in Quantitative Methods; Genetics and Biology; or Population Health. Deadline for applications extended to June 10, 2016. Read more.
CIHR - IMHA NEWS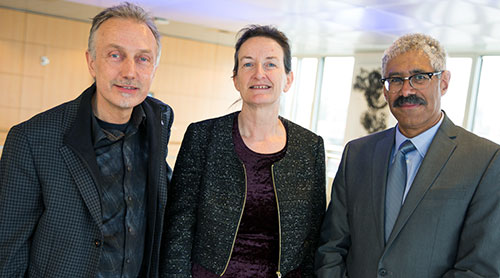 From left to right: Henk Smid (Director, ZonMw), Ingrid Lether (Manager of Research and Innovation, Reumafonds) and Hani El-Gabalawy (CIHR-IMHA)
Canada and the Netherlands have joined forces in a new $8 million CAD international partnership. The two countries are putting the money toward supporting a network to bring together Dutch and Canadian researchers to explore ways to personalize therapies in the fight against a wide range of debilitating inflammatory musculoskeletal diseases, which encompass such chronic illnesses as Rheumatoid Arthritis, Lupus, and Psoriatic diseases.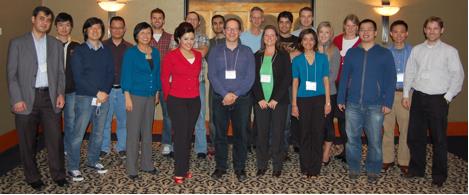 The Honourable Jane Philpott, Minister of Health announced a major investment in research that will strive to make life better for Canadians living with chronic illnesses. Through the Strategy for Patient-Oriented Research (SPOR), the Government of Canada is providing $62.25 million to support five new pan-Canadian research networks in chronic disease. These networks will connect researchers, health professionals, policy makers and patients across the country to improve the health of Canadians living with chronic diseases. What makes these networks so unique is that patients have been involved from the beginning, working in collaboration with researchers to ensure that the focus of this research aligns with what really matters to them.

CIHR announced the appointment of five new Institutes Advisory Boards (IABs) chairs: Dr. Gustavo Turecki, Research Excellence, Policy and Ethics; Mr. Jeffrey Cyr, Indigenous Peoples' Health; Dr. Eva Grunfeld, Chronic Conditions; Dr. David Buckeridge, Health Promotion and Prevention and Dr. Pamela Valentine, Health Innovation. "With these appointments, we are fostering a spirit of collaboration and evidence-based practice among Institutes. By having access to a broad scope of advice, the Institutes will be in a unique position to respond to the major, cross-cutting health opportunities and challenges facing Canada today and in the future," said CIHR President, Dr. Alain Beaudet.
On May 20, 2016, CIHR President, Alain Beaudet, announced that CIHR would commission an independent panel of external peer review experts in 2017. The review will look at the quality and efficiency of CIHR's new peer review processes.
The announcement was made as CIHR released the report of the inaugural Foundation Grant pilot competition which provided an overview of the competition results as well as a summary of survey feedback. The report highlighted positive feedback on many aspects of the competition. It also pointed to areas for improvements identified by respondents which have already led to a number of course corrections to the second competition now underway. CIHR thanks all the applicants, peer reviewers and research administrators who responded to the surveys.
The 2014 Foundation Grant "live pilot" competition marks a major milestone in the transition to the new Investigator Initiated Programs and peer review processes. CIHR took a measured approach to piloting the new funding program, peer review processes and enabling systems to ensure we could monitor outcomes in an evidence-informed fashion and make adjustments and refinements to the design, as needed.
In Budget 2016, the Government of Canada provided CIHR with an additional $30 million per year. This sends a strong signal that the new Government is firmly committed to supporting health research, and specifically investigator-initiated research, including basic science.
In a recent open letter to Canada's health researchers, CIHR President announced that this new investment will be entirely dedicated to the ongoing and future Project Grant competitions with a focus on early career investigators.
Featured Foundation Grant Recipients
Canada boasts some of the world's top health researchers. These brightest minds have made significant discoveries that have improved health, strengthened health care and advanced health research. With the right support, these research leaders will continue to drive innovation and find new ways to improve lives. The Foundation grants program provides long-term support to leaders across the full health research spectrum, ranging from biomedical scientists to population and public health experts. Learn more about some of the inaugural Foundation grant recipients in the profiles on the CIHR website.

CIHR is proud to announce its new suite of prizes, the CIHR Gold Leaf Prizes, which are among the highest honours that can be bestowed on an individual or team for excellence in health research and its translation into benefits for Canadians. These prizes cover achievements across all pillars of research (biomedical, clinical, health services and policy, and population and public health) and will be awarded every two years to a researcher in each of the following categories: Impact, Discovery, Outstanding Achievements by an Early Career Investigator and Transformation. Nominations close September 6, 2016.
According to the Canadian Organization for Rare Disorders, one in 12 Canadians have a rare disease. Indeed, it is estimated that there are around 6,000-8,000 rare diseases. Through CIHR, the Government of Canada is supporting research in this area and is playing a leadership role, joining important international research initiatives. For example, CIHR supported the development of Orphanet-Canada and is playing a leading role in the International Rare Diseases Research Consortium and is engaged in ERA-Net for Research Programmes on Rare Diseases, comprises 25 institutions across the globe, including CIHR Institute of Genetics. Furthermore, Canadian researchers are collaborating on an international scale to develop diagnostic tools and therapies for people affected by rare diseases in the following nine JTC 2015 research projects.
Many Canadians are turning to complementary therapies to meet their health needs. The most popular complementary practice in North America is Spinal Manipulation Therapy (SMT), a regulated treatment that is commonly provided by chiropractors. Back and neck pain often lead people to seek SMT, and recent estimates suggest that as many as 50% of Canadians have received SMT at least once in their lives. SafetyNET's goal is to develop, pilot, evaluate, and support a culture of patient safety for regulated health care practitioners who provide spinal manipulation therapy.
We've all heard it—and we've probably all said it—before: Accidents happen. They're unfortunate, they can be devastating when someone gets hurt, and they're a fact of life. Or are they? "Accidents don't need to happen," says Dr. Ian Pike, Associate Professor in the Department of Pediatrics at the University of British Columbia and co-leader of the CIHR Team in Child and Youth Injury Prevention (CYIP Team). "The tragedy is that the vast majority of injury events are actually predictable and preventable."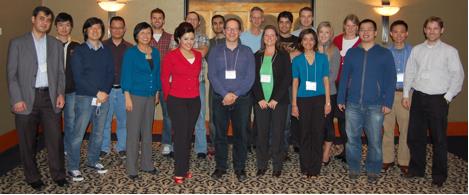 Falls are the leading cause of injury and injury-related death in older adults. Hip fractures are particularly devastating, as approximately 20% of hip fracture patients die within one year and 50% do not return to their pre-fracture level of independence. Sustaining a fall-related injury is easier than it sounds, too: it takes only about one-twentieth of the energy produced by a fall to fracture the hip, or cause a severe brain injury. The Technology for Injury Prevention in Seniors (TIPS) program, is working to develop innovative technologies to prevent hip fractures and fall-related brain injuries in older adults.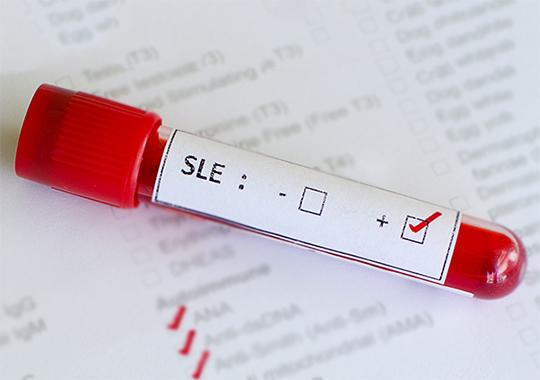 After bouncing around from one specialist to another, Sharan Rai finally received the news that would change her life: she was diagnosed with lupus at age 20. Systemic Lupus Erythematosus (SLE) is a chronic illness. Her medical team developed a comprehensive treatment plan and her battle to recovery had begun. In 2012, Sharan joined Arthritis Research Canada's (ARC) Arthritis Patient Advisory Board, where she began a new journey as a patient-research partner and advocate. Since then, Sharan has given a clear voice to the patient's perspective, articulating their needs to the research community. "CIHR plays an important role in allocating funds to the study of lupus and other systemic autoimmune rheumatic diseases. But more work remains to be done, particularly research that aims to improve patient education and decision-making, access to care, and quality of life."
Messages about physical activity—and our collective need to do more of it—are everywhere. Dr. Tanya Berry, the Canada Research Chair in Physical Activity Promotion and a professor in the Faculty of Physical Activity and Recreation at the University of Alberta, is studying how people process all of these health messages and why the messages frequently fail to lead to the desired action. Without the right support, any number of barriers can get in the way of an exercise routine—and none of them have to do with willpower. Some of the best public health messaging has come from organizations that build these supports into their campaigns, such as ParticipACTION, and provide tools for people to develop personal plans, reach their goals and could help make sure that more Canadians get active.
IMHA Community News
In keeping with CIHR-IMHA's mandate of supporting ethical and impactful research to enhance active living, mobility and oral health and to address the wide range of conditions related to bones, joints, muscles, connective tissue, skin and teeth, IMHA On the Move! strives to connect its community of stakeholders by sharing news. Please send your community's news to the Institute Communications Project Officer.
Arthritis Alliance of Canada
The Arthritis Alliance of Canada's Annual Meeting will take place October 27–28, 2016 at the InterContinental Hotel in Montreal, Quebec. The meeting is presented in partnership with The Arthritis Society and CIHR – IMHA.
Awards in Honour of Dr. Cy Frank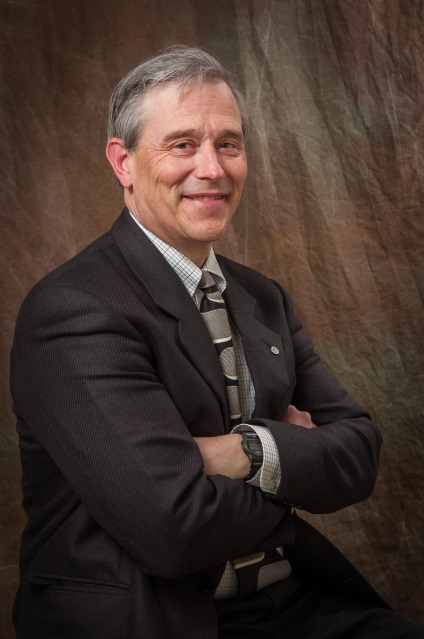 For a little more than a year, we have been mourning the unexpected passing of our colleague, mentor, scientist, surgeon and dear friend Dr. Cy Frank (August 3, 1949 – March 5, 2015). Dr. Frank was a strategic genius and innovator, with an unsurpassed commitment to improving health care, for the benefit of patients. His relentless enthusiasm, tireless efforts and remarkable contributions to the Alliance and the MSK community are responsible for the robust network that exists today. The following memorial funding awards were set up in legacy of the late Dr. Cy Frank by Alberta Innovates Health Solutions (AIHS) and the University of Calgary:
Arthritis Consumer Experts (ACE)
Arthritis Medications Report Card - The JointHealth™ Arthritis Medications Report Card is designed to help Canadians evaluate how their province measures up in terms of providing reimbursement access to medications approved for autoimmune (like rheumatoid arthritis) arthritis treatment.
Cassie & Friends
Join Team Cassie & Friends for a family friendly 5K or Half Marathon and help raise funds for kids with rheumatic diseases and their families. Free Kid Registration & Prizes! Sunday June 26, 2016, Stanley Park, Vancouver, BC. Register: canadianrunningseries.com Charity Code: 16VCASSIE
International Association of Gerontology and Geriatrics - Global Aging Research Network (IAGG-GARN)
The "White Book on Frailty", endorsed by the International Association on Gerontology and Geriatrics
(IAGG) / Global Aging Research Network (GARN), aims to promote preventive interventions against disability and to provide information on how to adequately implement frailty into everyday clinical practice. To this effect, it highlights current knowledge on the identification of target population, the assessment of frail old adult, and the development of tailored intervention programs. We now know that early detection and intervention is critical to addressing frailty at home, in the community and in hospital settings. Links to the "White Book on Frailty" in open access for general consultation in English, French and Chinese are available on the GARN website as are links to "Frailty," a video recently edited by GARN under the auspices of the IAGG, available in 11 different languages on Youtube.
Network for Canadian Oral Health and Research (NCOHR)
NCOHR's next Student Trainee Workshop, Creating and Sustaining Successful Interdisciplinary Research Teams: A Theory into Practice Approach will take place June 16-17, 2016. The workshop will be hosted by McGill University, Faculty of Dentistry. NCOHR will sponsor two (2) graduate students from each Canadian dental school. If interested in attending, please contact Dr. Richard Hovey and Nicolas Drolet. For more information, view the invitation.
Meetings of Interest
2016 Canadian Orthopaedic Association (COA) Annual Meeting
June 16 – 19, 2016 Québec City, QC
9th International Scientific Conference on the Prevention of Work-Related Musculoskeletal Disorders (PREMUS2016)
June 20 – 23, 2016 Toronto, ON
Canadian Dermatology Association's 91st Annual Conference
June 22 – 25, 2016 Saskatoon, SK
16th World Congress on Pain
September 26 – 30, 2016 Yokohama, Japan
International Genetic Epidemiology Society Annual Meeting (IGES 2016)
October 24 – 26, 2016 Toronto, ON
Arthritis Alliance of Canada Annual Meeting
October 27 – 28, 2016 Montreal, QC
Keep Up With The News
In this age of social media, it is important for researchers, health policy decision makers, academics, patient advocates, and patients to stay knowledgeable about their health topics in the news. At CIHR-IMHA, we have been collecting news bytes relevant to our areas of research focus. If you would like to receive a bi-monthly mail-out of these "Google Alerts," please email the Institute.
Date modified: