CIHR supports the Canadian Public Health Association conference – Public Health 2016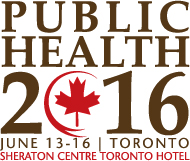 Public Health 2016 is the national public health forum where people come together to strengthen efforts to improve health and well-being, to share the latest research and information, to promote best practices and to advocate for public health issues and policies grounded in research.
The conference is much more than its plenary and scientific sessions. It is a meeting place where long-time colleagues have the chance to reconnect and where new connections are made. It is the largest annual public health gathering in Canada and a key knowledge exchange event.
CIHR has been a proud partner of the Canadian Public Health Association (CPHA) Annual Conference since 2004. Our Institutes participating in Public Health 2016 include: the Institute of Population and Public Health (IPPH), the Institute of Aboriginal Peoples' Health (IAPH), the Institute of Infection and Immunity (III), and the Institute of Nutrition, Metabolism and Diabetes (INMD).
Date modified: