CIHR Canadian National Brain Bee 2016 Participants
Waterloo student wins best brain in Canada!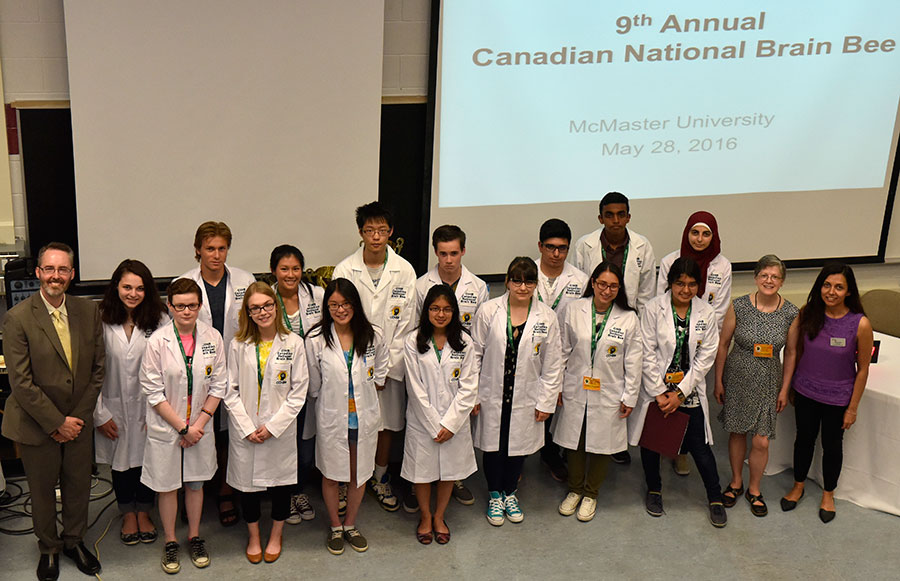 Photo: Hamilton, Ontario – May 28, 2016 – Top left: Dr. Eric Marcotte (CIHR Institute of Neurosciences, Mental Health and Addiction), Rebekah Hall (Edmonton Brain Bee), Adam Sunavsky (Hamilton Brain Bee), Celine Tsai (Vancouver Brain Bee), Daniel Zhou (Saskatchewan Brain Bee), Liam King (Victoria Brain Bee), Berk Rasheed (London Brain Bee), Deween Piyasena (Toronto Brain Bee), Nooran AbuMazen (Waterloo Brain Bee)
Bottom left: Steph Swanson (Guelph Brain Bee), Olivia Barrett (Newfoundland Brain Bee), Ling Yang (Ottawa Brain Bee), Avanti Karkhanis (Calgary Brain Bee), Tia Headworth (Winnipeg Brain Bee), Valeria Hernandez (Montreal Brain Bee), Carolina Cadena (Kingston Brain Bee), Dr. Judith Shedden (Chair CCNBB), Dr. Ayesha Khan
Congratulations to our top three winners!
Nooran AbuMazen, Waterloo Collegiate Institute, Waterloo
Steph Swanson, John. F. Ross CVI, Guelph
Ling Yang, Colonel By Secondary School, Ottawa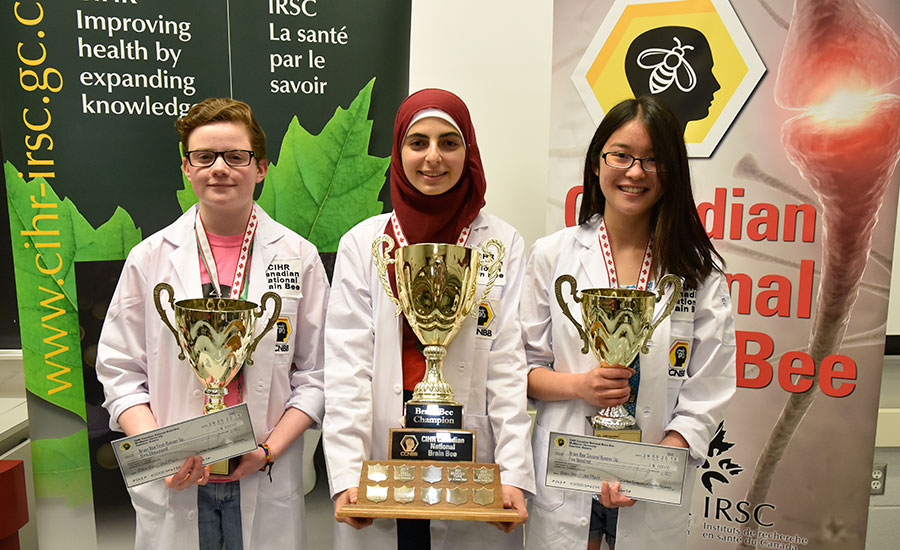 Photo: Hamilton, Ontario – May 28th 2016 – 2nd place winner Steph Swanson of Guelph (left), 1st place winner Nooran AbuMazen of Waterloo (center), and 3rd place winner Ling Yang of Ottawa (right)
On May 28th 2016, fifteen "brainy" high school students from across Canada competed in the 9th annual Brain Bee hosted at McMaster University in Hamilton, Ontario. The competition tests the participants' knowledge of neuroscience and the brain using a variety of different challenges. The first place winner Nooran AbuMazen from Waterloo Collegiate Institute, Waterloo, Ontario earned the title of Canada's "best brain" by answering questions about memory, sleep, intelligence, emotion, perception, stress, aging, brain-imaging, neurology, neurotransmitters, genetics and brain disease.
The top three winners of the competition took home personal trophies and scholarship prizes of $1,500, $1,000 and $500 respectively. Nooran, the first place winner, was also awarded a trophy that will be displayed in her school for one year in addition to the opportunity to work as a summer intern in a Canadian neuroscience laboratory.
Nooran will represent Canada at the International Brain Bee championship, hosted in Copenhagen, Denmark, on June 30 to July 4 2016.
Interview with Canada's winner
CIHR Canadian National Brain Bee
The CIHR Canadian National Brain Bee (CCNBB) is an event bringing together brilliant high school students from across the country to test their knowledge of neuroscience and brain research. The winner represents Canada at the International Brain Bee, an annual event held since 1998.
Brain Bee hosts a series of challenges to see which high school student is the "brainiest" on topics such as intelligence, memory, emotions, stress, brain imaging, sleep and neurological disease. In the competition, the students are required to visually identify parts of the brain via dissection and diagnose professionally trained actors portraying patients with neurological disorders. The competition then wraps up with thrilling oral elimination rounds which follow the same rules as spelling bees.
To learn more about the CIHR Canadian National Brain Bee, please visit the official competition website.
To view more photos from the event, please visit our photo gallery.
Date modified: