Sweet deal: Maple syrup nurtures young scientists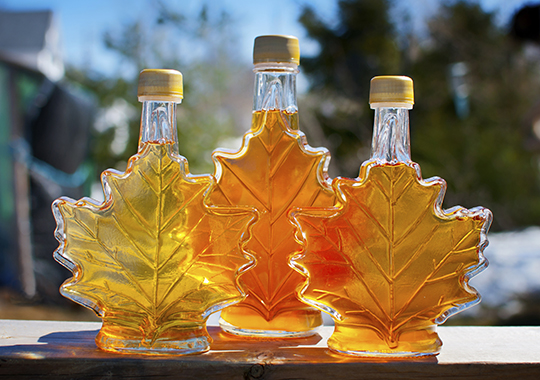 Young scientists demonstrate how maple syrup may slow neurodegenerative diseases
May 25, 2016
Dr. J. Alex Parker, Associate Professor with the Department of Neuroscience at the University of Montreal Hospital Research Centre (CRCHUM) is a CIHR-funded researcher that specializes in age-dependent neurodegenerative diseases.
Using simple animal models (such as worms), he explores how neurological disorders progress and seeks to find new ways to slow or prevent them.
Two young Montrealers, Catherine Aaron and Gabrielle Beaudry, were 17-year-old students at Collège Jean-de-Brébeuf in need of a mentor for an extra-curricular research project that they were working on.
Inspired by Dr. Parker's discovery of the role of sugar in preventing the progression of Amyotrophic lateral sclerosis (ALS), Catherine and Gabrielle approached him with an idea: Why not try the same experiment with maple syrup? Long known for its anti-oxidants, maple syrup might also have a preventative effect on diseases like ALS, Alzheimer's and Parkinson's.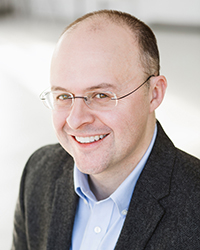 Dr. J. Alex Parker
Photo courtesy of Nadia Zheng.
Impressed with their enthusiasm, Dr. Parker agreed.
He welcomed the two young scientists into his lab, and with the help of his team, mentored them as they pursued their research project.
Building on Dr. Parker's work, Catherine and Gabrielle fed maple syrup to worms with ALS, to determine whether it protects neurons from this disease.
The results were promising.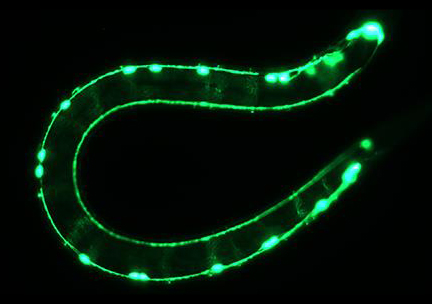 C. elegans
Photo courtesy of Parker Laboratory.
A large number of the worms (C. elegans) containing  ALS genes were able to ward off the disease's advance.
What this means for humans is not yet known, but it is a promising discovery.
Dr. Parker is quick to point out; however, that we should not start drowning our food in maple syrup!  The equivalent dosage of maple syrup in humans would create a risk over time, as the dangers of a glucose-enriched diet are well-known (cardiovascular disease, type-2 diabetes).
Still, the study provided important information, most notably regarding maple syrup's neuro-protective abilities. It is hoped that this finding will eventually lead to trials on more advanced animal models, like mice.
In 2014, Catherine and Gabrielle were awarded the People's Choice Award (Quebec Section) from Sanofi Biogenius Canada for their work on the Maple Syrup Project.
These junior scientists are now 19-years-old. Catherine is in her first year as a medical student at University of Montreal while Gabrielle is studying psychology at University of Sherbrooke.
Meanwhile, Dr. Parker and his team are still hard at work, advancing our knowledge of neurodegenerative diseases, with the help of C. elegans.
On April 20, 2016, the prestigious Journal of Agricultural and Food Chemistry published their study, "Maple syrup decreases TDP-43 proteotoxicity in a C. elegans model of ALS" – an impressive achievement for all involved.
Associated links
Date modified: