It's possible to live well with lupus: One day at a time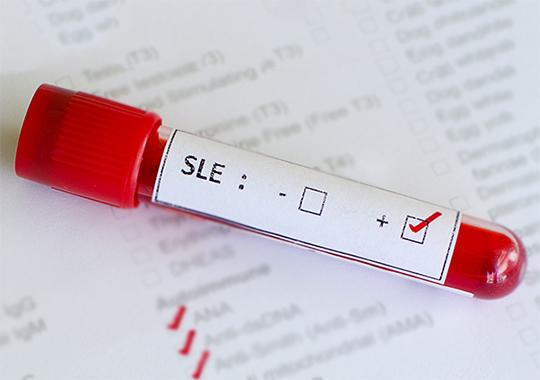 From patient to research assistant: A lupus patient shares her story
May 10, 2016
After bouncing around from one specialist to another, with a spattering of trips to the local emergency ward added to the mix, Sharan Rai finally received the news that would change her life: she was diagnosed with lupus.
She had just turned 20.
Systemic Lupus Erythematosus (SLE) is a chronic illness. Triggered by a misfiring of the body's immune system, it begins to attack healthy tissue, increasing the risk of organ damage and causing a cascade of other symptoms including extreme fatigue, painful joint inflammation, headaches, rashes and fever.
Sharan's health continued to deteriorate to the point that it was impossible for her to carry out day-to-day activities. She developed extensive neurological symptoms and her ability to function both mentally and physically were greatly diminished. Her vision was severely affected, she could no longer stand unsupported and was in agonizing pain. Desperate for help, her worried parents rushed her to Vancouver General Hospital.
It was there that her medical team, including leading rheumatological and neurological specialists, developed a comprehensive treatment plan that included high-dose corticosteroids and a five-week stay in an inpatient rehabilitation facility. Sharan spent her 21st birthday celebrating the end of a six-month round of chemotherapy treatment.  
Her battle to recovery had begun.
"Lupus is a devastating disease that disproportionately affects women during their prime reproductive and working years. Not only should research strive for a cure, but also for ways to improve the quality of life and access to care for those affected by the disease."
An amazing journey
In 2012, Sharan joined Arthritis Research Canada's (ARC) Arthritis Patient Advisory Board, where she began a new journey as a patient-research partner and advocate.  Since then, Sharan has given a clear voice to the patient's perspective, articulating their needs to the research community. 
"I think that both patients and physicians bring important expertise to the table. Patients know their own priorities and physicians bring years of medical and specialty training plus their practical experience. Thus, the best treatment decisions are those that are made together."
ARC was so impressed with this young champion that it invited Sharan to join their team as a research assistant and trainee. Among many other projects, Sharan can be found working alongside Dr. Mary De Vera (Assistant Professor, University of British Columbia and Research Scientist, ARC) on a qualitative research study, INFORMED, that is focused on better understanding the perspective of patients when it comes to taking medication. This is an important issue, as non-adherence to prescribed treatment plans among patients with inflammatory arthritis can reduce the chance of a successful outcome. Determined to make a difference, Sharan is busy helping to develop effective, new strategies to target this phenomenon.
Today, Sharan now pursues life with a renewed passion. With her lupus in remission, she is continuing her studies, and will soon be graduating with a Master of Science from the University of British Columbia, with a focus on arthritis research. 
Sharan's personal experiences have convinced her of the benefits of taking her medications as prescribed.  Through her work as an emerging researcher, she hopes to encourage others to do the same, so they too can take control of their lupus and of their lives.
"CIHR plays an important role in allocating funds to the study of lupus and other systemic autoimmune rheumatic diseases. But more work remains to be done, particularly research that aims to improve patient education and decision-making, access to care, and quality of life."
Associated links
Date modified: