Youth and mental health: developing a brighter future

A five-year research project aims to improve care for young Canadians aged 11 to 25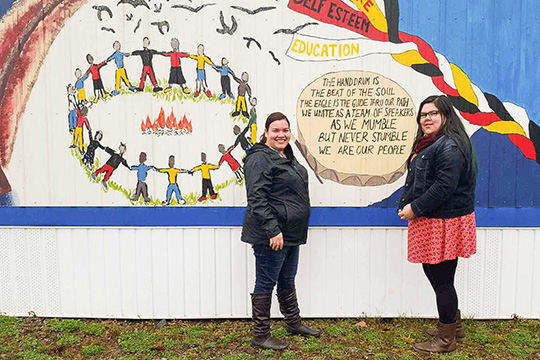 Hannah Battiste (right) with Jeannine Paul, a youth support worker at Eskasoni Mental Health.
It is not unusual to look into the mirror and, at times, not like what we see. But for 18-year-old Hannah Battiste, facing her reflection used to be deeply distressing. "I was the type of girl who didn't put on makeup, I wore my brother's clothes, and I'm bigger, so kids were making fun of me," she says. "It happened for so long that I started to believe what they were saying."
Issues stemming from a difficult childhood, marked by loss, on the Mi'kmaq reserve of Eskasoni, in Nova Scotia, further compounded the impact of the bullying. Hannah began to feel as though her thoughts "were ganging up" on her. Spiraling deeper into depression, she tried to end her life at least two dozen times. 
In time, the teenager gradually found relief from her anguish through regular meetings with a counselor at the Youth Resource Centre that the band set up in 2009 after a number of young people in the community committed suicide—among them, her own brother. Hannah credits poetry writing, medication, and the support she continues to receive at the facility for giving her a new outlook. "I have a good life, so much more self-confidence now," she says proudly.
Stigma-Free One-Stop Shop
The services offered at the centre are novel in that they were designed specifically for young people and "grouped with sports and recreational activities," Hannah explains. Many young people are still embarrassed to seek help "so if a person is in crisis at a community event, they can consult a mental health professional and no one will know."
Some of the principles that governed the response in Eskasoni also serve as the basis for ACCESS Open Minds, an ambitious, country-wide research Network funded by the Canadian Institutes of Health Research and the Graham Boeckh Foundation, through the Canada's Strategy for Patient-Oriented Research (SPOR). Its goal is to transform mental health care so that children, Adolescents and young adults aged 11 to 25 are Connected with Community-driven, Early, Strengths-based and Stigma-free Services.
The Key: Early Intervention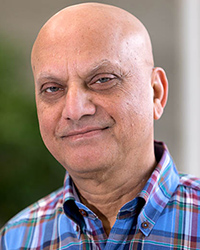 Dr. Ashok Malla
According to the Mental Health Commission of Canada, nearly one quarter of young Canadians aged 9 to 19 experienced some kind of mental health issue in 2011.  And yet, it is estimated that only 20 to 25% of youth ever receive the help they need. "The system doesn't work for the age group we're targeting," says principal researcher Dr. Ashok Malla, of the Douglas Mental Health University Institute. "The way services are currently organized is for younger children or older adults," adds the professor and Canada Research chair in Early Psychosis at McGill University.
To address these shortcomings in the system, Dr. Malla's team is developing and testing a model of care at 12 sites in six provinces and one territory. And it is doing so with input from key stakeholders such as youth and their families, as well as service providers and policy makers. The urban and remote sites, which include Eskasoni and other indigenous communities, reflect a range of socioeconomic and cultural environments. ACCESS Open Mind's strategy is to fundamentally change how services are provided—in a way that makes sense at each location—so that youth have easy and rapid access to assessment and tailored treatment. This will be achieved by making use of existing resources and adding more as required. Dr. Malla says it has been shown scientifically that early intervention produces "very good results for young people experiencing a serious mental illness such as a first episode of psychosis". He adds that researchers feel "it's now time to apply this approach to more than one mental health problem."
In the context of the project, it means that a specially trained, dedicated clinician at evaluation sites will:
assess youth, with no referral required, in less than 72 hours;
direct them to age-appropriate services;
check up on them as needed; and
ensure that if they still require care beyond the age of 18, it is not interrupted by the transition to the adult health system.
For healthy communities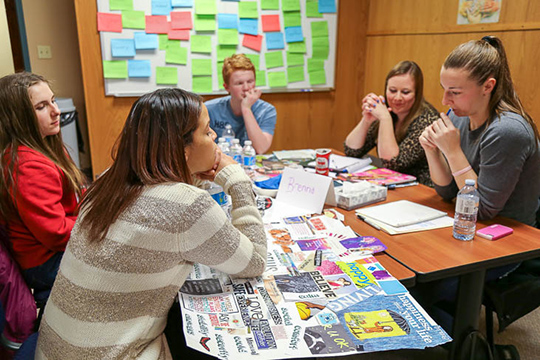 Youth at the Chatham-Kent site reflecting on what ACCESS means to them.
The hope is to produce different outcomes for youth, like 25-year-old Vincent SmithFootnote *, who suffers from schizophrenia. After severely wounding himself during a psychotic episode in 2014, the young Montrealer was sent to live at a rehabilitation residence for three years of court-ordered treatment. "Right now he's being very well taken care of, but he costs the state a fortune," says his mother HelenFootnote *, who believes the situation could have been prevented. 
Vincent was under the care of a psychiatrist for many years to keep his attention deficit disorder in check; however Helen says the doctor refused to continue seeing him when he reached the age of majority. And she reports that "no one followed up" when he was discharged from a hospital emergency department in the wake of a first psychotic episode, in 2011.
Left untreated, mental health issues can not only affect a young person's future success, but they can take a heavy financial and emotional toll on families. Perhaps nowhere are the consequences more apparent than in indigenous communities. Clifford Ballantyne saw no other way to deal with his anxiety and depression than to leave the Sturgeon Lake Cree Nation reserve when he was just a teenager. The 25-year-old member of ACCESS' Youth Council says, "as a result of residential schools, cultural genocide, and other long-standing problems, there is a lot of pain in my community. It's been passed down through the generations because people are unable to cope with these difficulties. If we could help youth at a younger age, we could start building a community again."
Dr. Malla stresses that the way care is provided through ACCESS Open Minds "will not cure all problems for everybody", but researchers aspire to demonstrate that the changes proposed could have far-reaching positive repercussions. The project will generate evidence of what works in various contexts. Federal/provincial/territorial policy makers will therefore be better equipped to design integrated services for young people in need of appropriate and adequate mental health care.
ACCESS Open Minds research and demonstration sites
Ulukhaktok, Inuvialuit Settlement Region (NT)
Edmonton (AB)
University of Alberta, Edmonton (AB)
Sturgeon Lake First Nation, (SK)
Chatham-Kent (ON)
Puvirnituq, Nunavik (QC)
Mistissini (QC)
Dorval-Lachine-LaSalle (QC)
Parc-Extension (QC)
Réseau d'intervention de proximité auprès des jeunes de la rue (RIPAJ)-Montreal Homeless Youth Network (QC)
Province of New Brunswick
Eskasoni First Nation (NS)