INMD Connections – April 2016
Inside this issue:
---
Message from INMD Scientific Director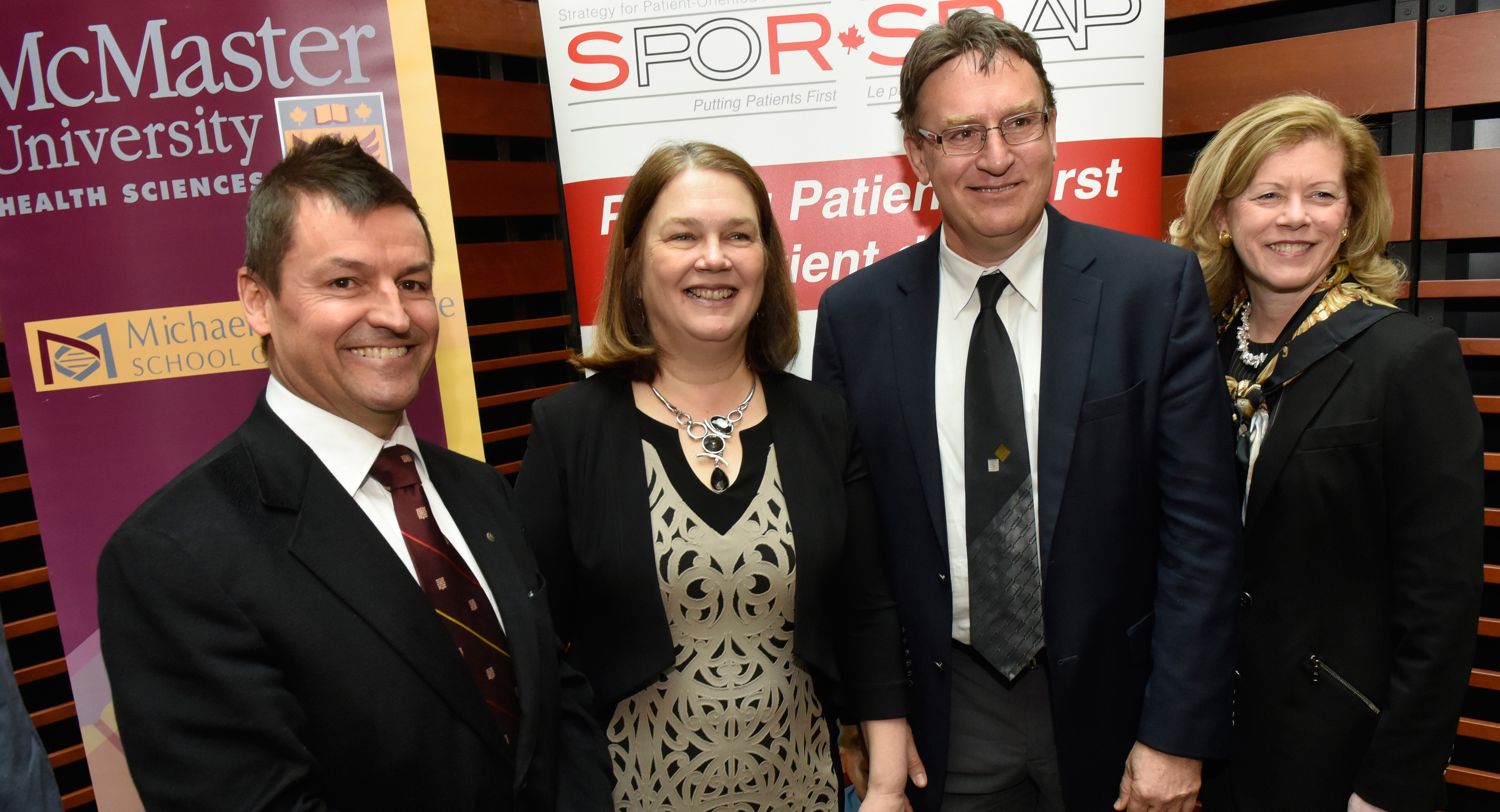 On March 31, 2016 it was my great pleasure to attend the announcement of the five successful CIHR Strategy for Patient-Oriented Research (SPOR) Networks in Chronic Disease. The Honourable Jane Philpott, Minister of Health, pictured above with the SPOR Network in Diabetes and Related Complications leadership team, made this announcement at McMaster University Health Science Centre in Hamilton. CIHR President, Dr. Alain Beaudet, stated that these networks will produce innovations that improve the health of Canadians and position Canada as a global leader in research on these chronic diseases. He also thanked all the partners supporting these networks for their strong commitment and generous contributions, including Crohn's and Colitis Canada, the Canadian Digestive Health Foundation, JDRF and Merck Canada, who were present at the announcement. Nominated Principal Investigators (NPIs) Dr. Paul Moayyedi of the IMAGINE-SPOR Network and Dr. David Buckley of the Chronic Pain Network, were featured at this event. I wish to personally congratulate all of the ambitious Network grant recipients and their teams, and I look forward to learning about their future research successes.
Philip M. Sherman, MD, FRCPC
Scientific Director, INMD
---
2017 Networks of Centres of Excellence of Canada International Knowledge Translation Platforms (NCE-IKTP) Initiative Competition
The goal of the NCE-IKTP initiative is to support international collaborations between networks, centres, consortia and their partners to accelerate knowledge translation in areas of mutual strategic interest. For more information, please consult the NCE Website.
---
SPOR Networks in Chronic Disease
---
20th Canadian Digestive Diseases Week (CDDW)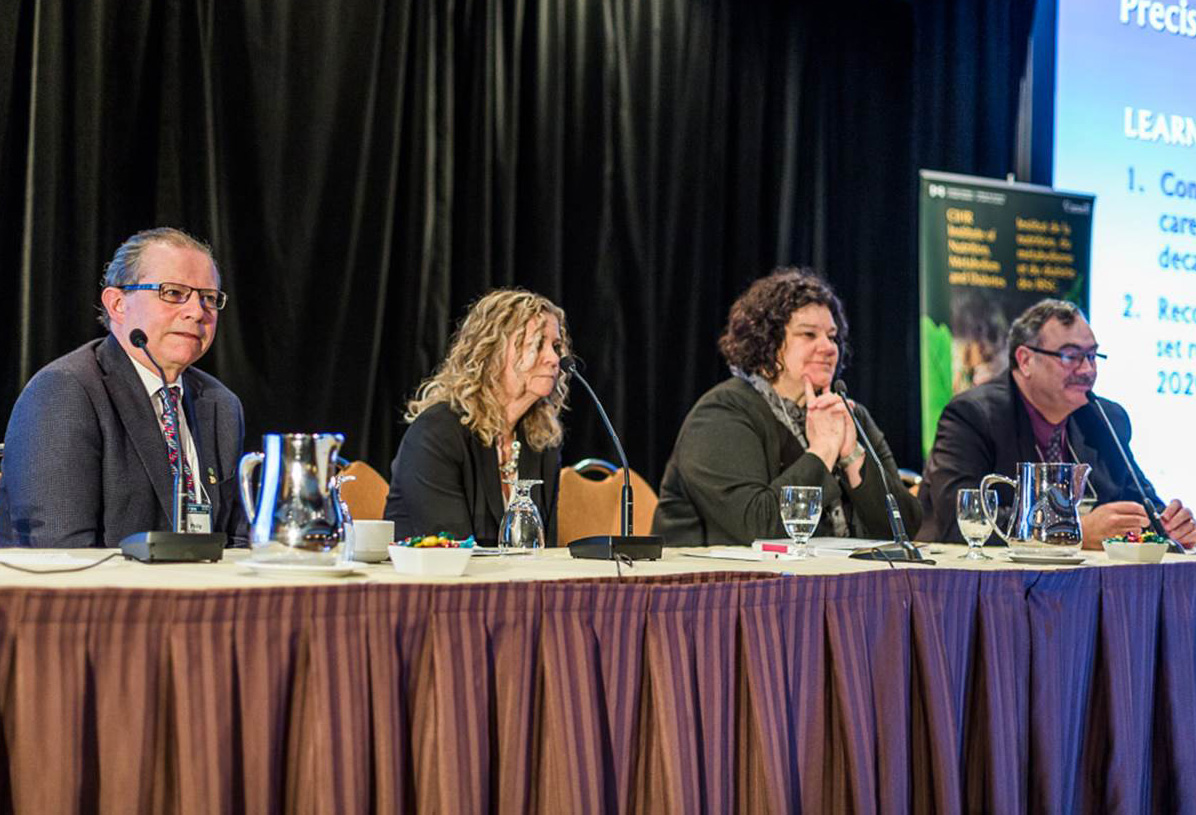 The 20th Canadian Digestive Diseases Week (CDDW) was held in Montreal, QC on February 26-29.  The CDDW is an annual scientific conference of the Canadian Association of Gastroenterology (CAG) and the Canadian Association for the Study of the Liver (CASL) offering clinical and basic science sessions, research symposia, poster sessions, and many interesting and informative lectureships. This year, I was delighted to have Drs. Jane Aubin (Chief Science Officer at CIHR), Dean Jon Meddings (Univ. Calgary), and Nicola Jones (Sick Kids, Toronto), join me in presenting a symposium on Precision Medicine as an Emerging Tool in Gastroenterology.  CIHR-INMD was also pleased to support the CIHR-CAG Symposium, The Role of Nutrition in Gastroenterology with speakers Peter Gibson (Monash Univ., Australia), Jean-Claude Moubarac (Univ. Montreal), Leah Gramlich (Univ. Alberta), and Khursheed Jeejeebhoy (Univ. Toronto). The CIHR-CAG Young Investigator Award Lecture was given by François-Michel Boisvert (Univ. Sherbrooke; profiled in the March 2016 INMD Newsletter). Among the many excellent lectures, were the CAG Research Excellence Award Lecture given by Bruce Vallance (Univ. British Columbia); the CASL-Canadian Liver Foundation (CLF) Gold Medal Lecture for outstanding contribution to the field of Hepatology given by Morris Sherman (Univ. Toronto) and the Hinda Kopelman memorial lectureship presented by Dr. Anne Griffiths (Sick Kids, Toronto). The R.D. McKenna Memorial Lecture, recognizing significant lifetime contributions to gastroenterology, was presented by Johan D. Söderholm, who trained in Canada and is now Dean of Medicine at Univ. Linköping (Sweden).
The CLF announced sobering statistics on the increasing burden of liver disease in Canada.  New statistics indicate that nearly 1 in 4 Canadians may be affected by liver disease, driven by an increasing incidence of non-alcoholic fatty liver disease (NAFLD). CLF has released a short promotional video to help get this message to the public.
---
World Health Day
April 7, 2016 was World Health Day, marking the birth of the World Health Organization (WHO).  Diabetes—one of several non-communicable diseases that present a major burden and threat to the global population - is the theme of World Health Day. The WHO estimates that 422 million people in the world currently have diabetes, including 2.4 million people in Canada. To learn more, please visit the CIHR website.
---
Feedback on the INMD Newsletter
INMD welcomes researchers, partners and other stakeholders to share news stories that relate to areas of our mandate. If you have interesting research results or developments, are organizing a conference or workshop, or wish to report on a past event, we would like to feature them in our newsletter or other communication materials.
Have a comment? Please share it with us! You can also write to subscribe or unsubscribe to our Newsletter. Simply send us an email.
---
Date modified: