CIHR Investment in Autism Spectrum Disorder Pays Huge Dividends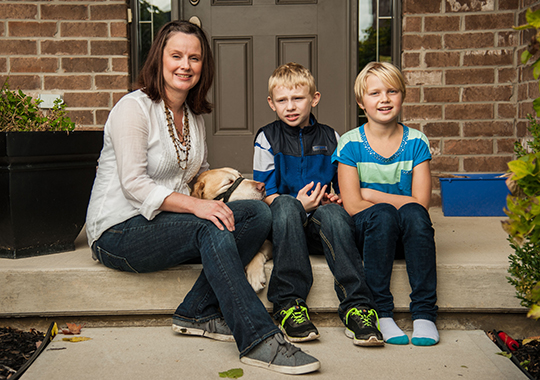 A very special, high-stakes study
April 29, 2016
Based on CIHR-supported research into new methods for early detection of autism, Alex Wright of London, Ontario, received a firm diagnosis of autism when he was just 18 months old.
Since then, Alex and his younger sister, Olivia (who took part in a CIHR-supported research project studying the siblings of children with autism) have been involved in another research project studying the susceptibility of children with autism spectrum disorder to genetic-based disorders such as Huntington's disease.
At a fork in the road
When Alex's parents, Judy and Rob, first met Dr. Lonnie Zwaigenbaum in 2004, he was working with Dr. Susan Bryson. Both were part of a CIHR-funded team of researchers that had developed a unique tool for detecting autism at an early age.
Alex was just a year old at the time, but it was a meeting that would change the course of his young life.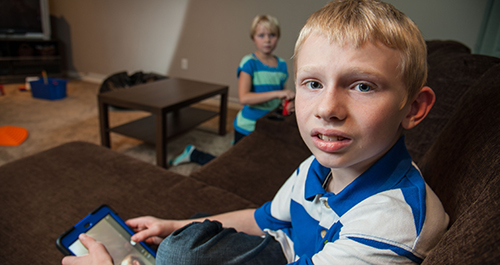 Judy, who had long suspected that her son may have autism spectrum disorder, recounts Dr. Zwaigenbaum's diagnosis. "Lonnie saw him and said he was at a fork in the road. He could improve, or he could get worse."
A firm diagnosis of autism resulted from a second visit with Dr. Zwaigenbaum. Alex was now 18 months old. With Dr. Zwaigenbaum's help, Alex was allocated a spot in the Thames Valley Children's Centre's treatment program when he was 2 years old that allowed him to receive much-needed services like in-home Intensive Behavioural Intervention therapy. This pivotal event in Alex's life also made him the Centre's youngest client ever.
Early and intensive therapy provided significant assistance to Alex and his family with critical tasks such as helping Alex to communicate.
"Entering research gives you knowledge, but you need to be open to it. We need to know if we are going to need to put supports in place for Alex down the road to deal with these challenges," says Alex's mother, Judy Wright.
A bright future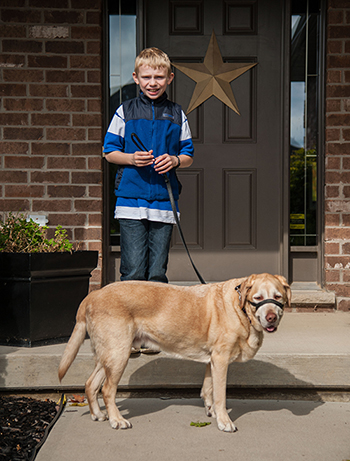 Now 13, Alex has continued to reach new developmental milestones.
Alex attends a specialized class in a regular school, full time with an autism service dog from National Service Dogs. The dog, which he received when he was 7, aids Alex to manage his often crippling anxiety, a condition which prevented him from becoming involved in community activities and participating fully in school.
A developmental delay diagnosis, received in 2009, allowed Alex to be moved to a small class of 10 children and 3 staff. The move has enabled Alex to work better on academic goals that are set at his level.
Although he still has many challenges in his life, because of early diagnosis and early treatment, Alex learned to read, write, imitate, offer eye contact, and to communicate. All of which are the building blocks he uses to develop life skills like independence, self-help, and caring for others.
The future is bright as Alex continues to grow and to become a contributing member of his community.
A grateful mother tells us that a lot of the credit goes to CIHR-funded researcher, Dr. Lonnie Zwaigenbaum: "I would walk the Earth for that man!"
Associated links
Date modified: