Out of the classroom and into the lab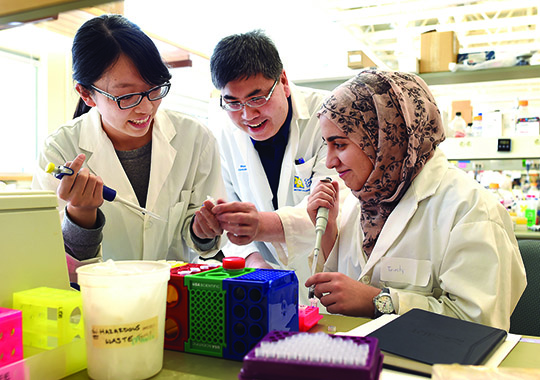 Left-to-right: Delphine Ji, Dr. Chow Lee, Zeynab Asadi Lari.
Photo courtesy of the Prince George Citizen.
Young students get first-hand experience in gene research
April 12, 2016
Source: Federal grant for mushroom research at UNBC, Christine Hinzmann, Prince George Citizen. This article was modified and republished with permission from the Prince George Citizen and author Christine Hinzmann.
As the University of Northern British Columbia (UNBC)'s Dr. Chow Lee and his team of researchers got a federal grant of almost $400,000 for equipment to further studies of local mushrooms as potential cancer and diabetes fighters, the professor welcomed two keen students into the lab.
The student program, Gene Researcher for a Week, is provided by the Canadian Gene Cure Foundation with financial support from CIHR's Institute of Genetics to encourage Grade 11 and 12 students who show interest in science, human genetics, and human genetics research to gain first-hand experience. Students are then placed in labs of influential scientists for one week during spring break.
Dr. Lee hosted two students, Delphine Ji from Victoria and Zeynab Asadi Lari from Vancouver, who were in the lab during the week of March 14.
Dr. Lee's co-principal investigators are chemistry professor Dr. Kerry Reimer, ecosystem science, management professors Drs. Keith Egger and Hugues Massicotte, and chemistry senior laboratory instructor Dr. Tina Bott.
The researchers are looking for mushroom compounds that either block cancer cell growth on their own or help stimulate the immune system and act as a catalyst to help the body fight the cancer.
"The CFI (Canadian Foundation for Innovation) infrastructure funding grants (equipment only) to be set up will significantly boost our quest to find new medicinal compounds that can be potentially used for the treatment or prevention of two chronic diseases - cancer and diabetes," said Lee, who is the principal investigator of the research. "The infrastructure includes equipment for chemical extraction of mushrooms, equipment for purifying and identifying bio-active compounds, equipment for biological analysis (various types of microscopes and a cell sorter), and fridge/freezers for storing mushroom extracts and bio-active compounds."
The funding for the lab equipment is provided to UNBC as part of a CFI-supported federal government program to help Canadian universities attract and retain the best and brightest researchers from around the world.
The federal government is investing $23 million for 95 projects in 26 universities in Canada, as announced by Minister of Science, Kirsty Duncan, on March 14, 2016.
As the students come into the lab they will explore certain components of the mushroom and then research cancer cells.
"They are bright kids," said Dr. Lee of Ji and Asadi Lari.
"So basically the students will attend class and then have a hands-on experience as they extract DNA from mushrooms and then amplify specific samples of DNA. We are going to send it out for sequencing to verify the species of the mushroom and then the students will extract genome DNA from cancer cells from a Petri dish just to expose them to research and get them excited about science. It's great to have a program like this in British Columbia. We just want to pass on our knowledge and inspire them."
The Canadian Institutes of Health Research is proud to support the Gene Researcher for a Week program.
Associated links
Date modified: