Canada-Netherlands Research Network to explore personalized treatment of inflammatory diseases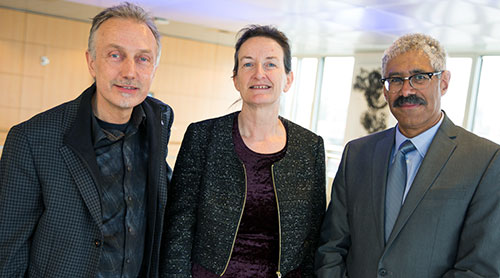 From left to right: Henk Smid (Director, ZonMw), Ingrid Lether (Manager of Research and Innovation, Reumafonds) and Hani El-Gabalawy (CIHR-IMHA)
Canada and the Netherlands have joined forces in a new $8 million Canadian dollar international partnership. The two countries are putting the money toward supporting a network to bring together Dutch and Canadian researchers to explore ways to personalize therapies in the fight against a wide range of debilitating inflammatory musculoskeletal diseases, which encompass such chronic illnesses as Rheumatoid Arthritis, Lupus, and Psoriatic diseases.
IMIMDs
Known as immune mediated inflammatory musculoskeletal diseases (IMIMDs), these chronic illnesses affect over 5% of both the Netherlands and Canada's respective populations. The partnering countries' respective health research funding bodies, consist of the Canadian Institutes of Health Research (CIHR), its Dutch counterpart ZonMw and Reumafonds (the Dutch arthritis foundation). The Canadian and the Dutch organization representatives anticipate that over the next few years (2016‑2022), researchers will work together to merge and harmonize the two countries' existing cohorts of patients living with rheumatoid arthritis, lupus or other chronic inflammatory diseases. As a result of this network, it is expected that researchers will be better positioned to expand and strengthen their clinical cohort base, while giving a significant boost to overall research efforts.
"We are delighted to launch this unique research funding opportunity that will allow Canadian and Dutch researchers to work together seamlessly towards the development of new approaches to the treatment of debilitating chronic diseases," said Dr. Hani El-Gabalawy, Scientific Director of the CIHR Institute of Musculoskeletal Health and Arthritis. "The outstanding scientific leadership and research excellence in both countries will be harnessed and built upon, and the new partnerships that are being established will be the foundation for collaboration and innovation for years to come."
Personalized Medicine
CIHR: just over $5 million ($5,080,000) 2016‑2022
ZonMw (The Netherlands Organisation for Health Research and Development): $1.5 million Canadian dollars
Reumafonds (The Dutch Arthritis Society): $1.5 million Canadian dollars
This novel collaboration will help in answering research questions regarding the use of particular therapies for certain patient groups. Researchers will be looking into customized solutions rather than a 'one size fits all' approach. Patients will be involved in the network, alongside clinicians and basic scientists.
"Rheumatologists in both The Netherlands and Canada are doing breakthrough research on a daily basis in their quest to cure patients," said Henk Smid, Director of ZonMw. "Combining their knowledge, techniques, cohorts and ideas will lead to more innovative research that will shape the way we'll treat patients in the future. ZonMw, Reumafonds and CIHR have always stimulated innovative research and will continue to do so on our path towards more personalized medicine."
An important goal would be the ability to better predict the outcomes of patient treatment. This information could potentially be used by both clinicians and policy makers to tailor-make, or personalize ways to treat each person's disease. Instead of a trial and error approach to expensive targeted therapies, medications that are deemed to be the most effective for a particular individual, based on their unique biological profile, would be used.
"Reumafonds is very pleased with this large scale collaboration that will boost innovation and accelerate development," said Lodewijk Ridderbos, Chief Executive Officer of Reumafonds. "In the end, the most important result however will be a faster diagnosis and better treatment of arthritis patients, giving them a better quality of life."
The Canadian and Dutch partners are optimistic that such a network will lead to research that helps alleviate pain, leads to better and more cost effective disease management, and better quality of life in the future.
Date modified: