IMHA On The Move! - March 2016
Table of contents
A Message from the Scientific Director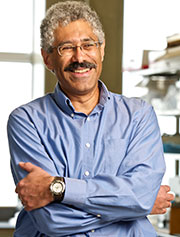 Greetings!
This month I would like to bring to our community's attention, an aspect of the CIHR Institute of Musculoskeletal Health and Arthritis that makes it stand out from all the other CIHR institutes. Patient engagement has been an integral part of CIHR – IMHA since its earliest years under the wise direction of our late colleague, Dr. Cy Frank. As a clinician, he understood that patients lived the conditions for which the Institutes were mandated to fund research to address.
In its Health Research Roadmap II strategic plan 2014-15 – 2018-19, CIHR recognizes the importance of patient engagement in its priorities to ensure that patients receive the right treatments at the right time. This is manifested by the Strategy for Patient Oriented Research (SPOR), a goal of which is to encourage and enable patients, researchers, health care providers and decision-makers to collaborate to work toward a "sustainable, accessible and equitable health care system" (SPOR Patient Engagement webpage). CIHR's Patient Engagement Framework sets out its guiding principles and core areas for engagement.
For its part, beginning in 2003, CIHR – IMHA brought together patients, patient advocates and a balance of other members of its stakeholder community to form its Knowledge Exchange Task Force (KETF). Now known as Research Ambassadors (RAs), the group members gather twice per year to share knowledge and experience with CIHR – IMHA and engage in selecting recipients for the Research Ambassadors Knowledge Translation (KT) Award. Through the KT Award, RAs seek to encourage researchers applying for CIHR grants to improve the practice of writing lay language abstracts and communicate their work to a general audience.
Beyond the RA group, CIHR – IMHA makes a point of including patients in other activities. Recent examples are last February's Inflammation in Chronic Disease networking meeting and our Young Investigator (YI) Forum held last October where guest patient representatives welcomed participants and encouraged them to remember the role that patients can play in research. Unique to CIHR – IMHA is our Partners in Knowledge Translation (PKT) committee, comprised of patients, representatives from patient advocate groups, clinicians and researchers. The PKT committee meetings allow for an exchange of information and ideas between CIHR – IMHA and its stakeholders and keep the institute staff informed of areas of need, success, and challenges in the community.
Currently, CIHR – IMHA is undertaking a major initiative with a James Lind Alliance Priority Setting Partnership wherein we are bringing clinicians, patients and caregivers together to determine the most pressing gaps in research affecting adult fibromyalgia. Also, we will be consulting with our Research Ambassadors this spring on potential new directions in developing funding opportunities that will directly benefit patients in the area of knowledge translation.
To expanding the institute's ability to connect with the community, we have hired a new Project Manager, Nicole Mardis, who will be the institute's ambassador at more conferences and events in the coming year. Nicole is from Winnipeg, but comes to us from McGill University where she is completing her PhD dissertation in Sociology. Her area of research focus is on organizations and work, with a particular interest in the influence of technology on work design, innovation, and labour market activity. She has investigated these topics in health care, exploring the policy and practice implications of pursuing widespread semantic interoperability of health information systems. Her doctoral research is on the experiences of workers on cloud labour platforms (e.g., the Ubers, Mechanical Turks, and Innocentives of the world), and the regulatory challenges presented by this way of engaging labour. Nicole has worked as a government analyst of employment programming, a coordinator of digital projects, and served as a Research Scholar at IBM's Accelerated Discover Lab in California where her work focused on improving work design and matching in organizational crowdwork systems. Nicole loves cycling, all things digital, and the Winnipeg arts scene.
I appreciate hearing from our stakeholder community members. Please send any questions or comments to IMHA@umanitoba.ca, and please also follow me on Twitter @HaniElgabalawy.
Sincerely,
Hani El-Gabalawy MD FRCPC, FCAHS
Scientific Director
CIHR Institute of Musculoskeletal Health and Arthritis
Funding Opportunities and News
Funding Opportunities
For a full listing of CIHR funding opportunities, please visit the ResearchNet website.
Catalyst Grant - Musculoskeletal Rehabilitation and Myalgic Encephalomyelopathy/Chronic Fatigue Syndrome Network Grant
Application Deadline: May 3, 2016
Team Grant - Pathways Implementation Research Team – Component 2 (2016)
Full Application Deadline: October 3, 2016
Other - Personalized Medicine in Inflammation Network
Full Application Deadline: October 18, 2016
Other Funding Opportunities
Active and Assisted Living Programme
The Active and Assisted Living (AAL) Programme is a common funding activity of member states of the AAL Association, with the financial support of the European Commission, based on article 185 of the Treaty on the Functioning of the European Union. The AAL Programme calls are complementary to the Horizon 2020 calls related to Active and Healthy Ageing under Societal Challenge 1.
Network for Canadian Oral Health Research Graduate Student/Postdoctoral Travel Award
Deadline: April 15, 2016
The Network for Canadian Oral Health Research is providing a Travel Award for graduate students and postdoctoral researchers at a Canadian dental school to attend an event (such as a conference or summer course) that will strengthen their current research and foster their interest to pursue a career in oral health research. For more information, see NCOHR's funding opportunities.
Research News
Congratulations to Oral Health Researcher Grant Recipients
Dr. Elham Emami (Université de Montréal) and Dr. Robert Schroth (University of Manitoba) received operating grants for the Population Health Intervention Research program under the Pathways Signature Initiative, for which CIHR – IMHA leads the Oral Health exemplar. Dr. Emami's team is looking at "Oral Health Integrated into Primary Care: Participatory Evaluation of Implementation and Performance in Quebec Cree Communities," and Dr. Schroth's team will focus on the question, "A mixed methods evaluation of Health Canada's Children's Oral Health Initiative (COHI). Does it lead to improved oral health for young First Nations and Inuit children?" Dr. Emami was featured in IMHA On the Move! in April 2015. Please see the 2016 Funding Decisions Notifications webpage for more funding results.
Update on 2016 Project Grant competition
The application process to submit to the 2016 Project Grant Pilot competition closed on March 1st . In this competition, CIHR received approximately 3,820 full applications. Over the coming weeks and months CIHR will work collaboratively with an expert, qualified cadre of approximately 140 Competition Chairs (Virtual Chairs) to enable assignment of high quality peer reviewers for all applications within this large competition.
Update from the CIHR Standing Committee on Ethics
It has been a year and a half since the new Standing Committee on Ethics (SCE) first met. CIHR's Vice-President of Research, Knowledge Translation and Ethics, Dr. Jane Aubin, provides an update about the committee's productive first year, and plans for 2016.
Job Opportunity at CIHR: Scientific Director, CIHR Institute of Population and Public Health
Deadline Date for Application: April 11, 2016.
Please see the CIHR Careers webpage.
Canadian Longitudinal Study on Aging (CLSA) Webinar
Thursday, March 24, 2016 at 1:00 PM (ET)
How can research help shape policy and practice on aging: Lessons from Newfoundland and Labrador.  A presentation by Dr. Stephen Bornstein, a professor in the Department of Political Science and in the Division of Community Health and Humanities at Memorial University and director of the Newfoundland and Labrador Centre for Applied Health Research.
Pump it up!  Resistance training is key to combatting osteoporosis
Pumping iron is not usually an image associated with senior citizens, but if Saskatchewan-based researchers, Drs. Darren Candow, University of Regina and Phil Chilibeck, University of Saskatchewan, have their way, it soon will be. These CIHR-funded researchers are enthusiastic about the results of their studies showing that weight training, combined with creatine supplement intake, is a great way to combat osteoporosis -- especially for post-menopausal women and seniors.  Both are united in their belief that improving muscle and bone health will be very beneficial for seniors, increasing their ability to perform daily activities and enjoy a better quality of life, while reducing the costs to the health care system.
"Smart soles" in shoes to help patients recover from a broken hip
McGill University Health Centre (MUHC) researchers have developed a rehabilitation and e-learning program for hip fracture patients using a "smart" shoe sole which connects to a tablet to provide remote monitoring and coaching. This technology will guide patients and their families through the recovery period at home.
Research Ambassador Knowledge Translation Award
The "IMHA Research Ambassadors Knowledge Translation Award" was introduced in 2009-2010 in order to encourage CIHR applicants to write excellent lay abstracts. This award is given to Principal Investigators who submit a superior lay abstract for an IMHA-funded grant or award, and was created to assist with an overall goal of CIHR, which is to foster knowledge translation from scientific research into improved health for Canadians, more effective health services and products, and a strengthened health care system. It is important that researchers be able to communicate their work to a general audience and a variety of stakeholders. IMHA hopes that this award will encourage success in this area, and looks forward to continuing to acknowledge excellent lay abstracts in the upcoming years.
CIHR – IMHA would like to announce the winners of the 2015 award and includes links to the winning abstracts here:
IMHA Community News
In keeping with CIHR-IMHA's mandate of supporting ethical and impactful research to enhance active living, mobility and oral health and to address the wide range of conditions related to bones, joints, muscles, connective tissue, skin and teeth, IMHA On the Move! strives to connect its community of stakeholders by sharing news. Please send your community's news to the Institute Communications Project Officer.

Arthritis Alliance of Canada
The Arthritis Alliance of Canada's Annual Meeting will take place October 27 – 28, 2016 at the InterContinental Hotel in Montreal, Quebec.

Arthritis Consumer Experts
Simon Fraser University has won the ACE's Best Workplace for Employees Living with Arthritis award.

Arthritis Research Canada
Arthritis Research Canada is hosting its fourth annual ARThritis Soirée at The Vancouver Club on Thursday, May 26th 2016 at 7:00 pm. The ARThritis Soirée is an evening intended to bring together business and community leaders, philanthropists, doctors, scientists, health care professionals, donors, and others who share a passion and appreciation of art and a desire to support arthritis research. Please contact Kevin Allen, Marketing and Communications – Arthritis Research Canada (ARC) 604-207-4010 or kallen@arthritisresearch.ca.
Cassie & Friends
BC-based Cassie & Friends continues to be a champion for kids with rheumatic diseases
Cassie & Friends Society keeps driving forward to expand the awareness, care and community available to kids and families affected by Juvenile Arthritis and other rheumatic diseases. Their annual Family Day continues to grow, with over 200 attendees coming together in 2015, and last year, they launched a Parent-to-Parent Mentorship Program at BC Children's Hospital, successfully matching ten families through times of new diagnosis, disease flares and other challenges. 2016 looks to promise even more as Cassie & Friends prepares for their second Juvenile Arthritis Awareness Night with the Vancouver Canucks, an expansion of their Kids on the Block school program to the Kamloops-region and a multi-year funding commitment to fuel Basic Science Research and technology innovation in the Division of Pediatric Rheumatology at BC Children's Hospital. Stay tuned for more news at facebook.com/CassieandFriends/.
Cochrane Canada
The latest Oral health evidence is now available on the Cochrane Oral Health group website. Studies of interest include:
Institute for Work and Health
DASH Initiative
2016 marks the 20th anniversary of the Disabilities of the Arm, Shoulder and Hand (DASH) Outcome MeasureTM, and the Institute for Work & Health (IWH) is celebrating. IWH is hosting DASHBash – a series of events taking place throughout the year to mark the achievements of this "little tool that grew." Please see the DASH website for the latest updates on the initiative.
Unanswered calls, unrealistic work orders among issues employers have with doctors
Good communication between employers, injured workers and their treating physicians is one of the key pillars of successful return to work. But a new Institute for Work & Health (IWH) study of employers' perceptions in the Australian state of Victoria finds the relationship between employers and physicians can be marred by mistrust and lack of communication. Read about it in At Work.
How working women with fibromyalgia manage disclosure: plenary slidecast
Four out of 10 Canadians with fibromyalgia manage to stay in the labour force, despite considerable challenges. How do they do it? A study by Dr. Margaret Oldfield examines the strategies used by women with this invisible condition to make decisions around divulging their illnesses at work. In a recent IWH plenary, Oldfield shared those strategies and discussed implications they have on the use of work supports and accommodation. This plenary is now available as a slidecast on IWH's YouTube channel. Watch the slidecast.
The Arthritis Society
To acknowledge Childhood Arthritis Month, The Arthritis Society is raising awareness by sharing a series of stories on its website.
Meetings of Interest
10th International Congress on Autoimmunity
April 6-10, 2016, Leipzig, Germany
Canadian Bone and Joint Conference
April 8-9, 2016, London, ON
5th Annual Canadian Human and Statistical Genetics Meeting
April 16-19, 2016, Halifax, NS
Canadian Association of Occupational Therapists (CAOT) Conference 2016
April 19-22, 2016 Banff, AB
Sparking Population Health Solutions: Research for a Healthier Future – An International Summit
April 25-28, 2016, Ottawa, ON
2016 Spondyloarthritis Patient Forum
April 30, 2016, Vancouver, BC
10th World Biomaterials Congress 2016
May 17-22, 2016, Montreal, QC
8th World Congress of the World Institute of Pain
May 20-23, 2016, New York, New York, USA
Canadian Pain Society Annual Scientific Program
May 24-27, 2016, Vancouver, BC
12th International Conference on Brain Energy Metabolism (ICBEM)
May 25-28, 2016, Hong Kong
AllerGen's 8th International Allergy and Asthma Research Conference
May 29-June 1, 2016 Vancouver, BC
22nd Canadian Connective Tissue Conference 2016
June 1-3, 2016, Hamilton, ON
Canadian Student Health Research Forum
June 7-9, 2016, Winnipeg, MB
2016 Canadian Orthopaedic Association (COA) Annual Meeting
June 16-19, 2016, Québec City, QC
9th International Scientific Conference on the Prevention of Work-Related Musculoskeletal Disorders (PREMUS2016)
June 20-23, 2016, Toronto, ON
16th World Congress on Pain
September 26-30, 2016, Yokohama, Japan
Date modified: