Preventing strokes at the source
A groundbreaking global initiative aims to improve heart surgeries and save lives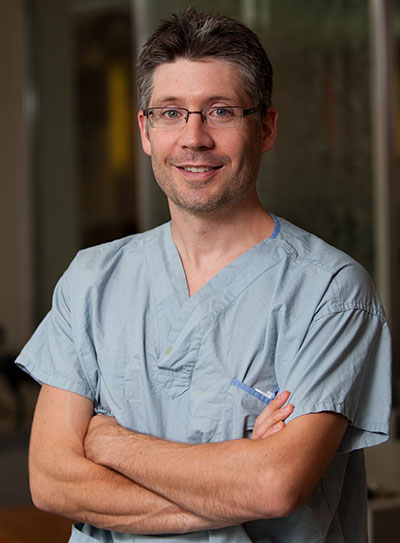 Issue
Atrial fibrillation (AF) is the most common type of arrhythmia (heart rhythm disorder) and according to the Heart and Stroke Foundation, it affects approximately 350,000 Canadians. Individuals with AF are three to five times more likely to have a stroke. In fact, it is estimated that up to fifteen percent of all strokes are caused by AF.
But how does AF lead to strokes? In AF patients, blood can become trapped in the left atrial appendage, a structure on the upper chamber of the heart, and start to clot. These clots could enter the blood stream and if they reach the brain, cause a stroke. Blood thinners are the current primary prevention method for strokes among AF patients but are limited by the risk of serious bleeding and patients not sticking to their medications.
Approach
Dr. Richard Whitlock from McMaster University and the Population Health Research Institute is investigating a new way to prevent strokes in AF patients: removing the left atrial appendage altogether. This is a hotly-debated method of stroke prevention performed during cardiac surgery because the value of the procedure has never been properly evaluated in a randomized trial. Until now.
The Left Atrial Appendage Occlusion Study III (LAAOS III) is a Canadian-led and CIHR-funded international study that will investigate the effectiveness of the safe, simple and cost-effective procedure on 4,700 patients of open-heart surgeries who have AF. One hundred and twenty sites in more than 30 countries are taking part in this initiative to determine if removing the left atrial appendage can reduce stroke and other complications on top of usual therapy.
Impact
LAAOS III has the potential to change the way heart surgery is performed on AF patients and prevent hundreds of strokes per year in Canada alone. Furthermore, this study will promote further research on this method that could be applied beyond AF patients undergoing heart surgery.
"The question around left atrial appendage occlusion is a very important one – the evidence so far is promising but not yet conclusive. If LAAOS III proves this method prevents stroke, it has potential to make a dramatic impact on the lives of cardiac surgical patients around the world."
Date modified: