Dr. Sowmya Viswanathan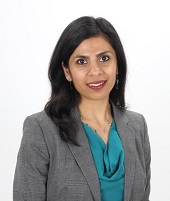 Affiliation
Affiliate Scientist at the Krembil Research Institute, University Health Network, and an Assistant Professor at the Institute of Biomaterials and Biomedical Engineering, University of Toronto
Committee membership
Stem Cell Oversight Committee
Biography
Dr. Viswanathan is an Affiliate Scientist at the Krembil Research Institute, University Health Network, and an Assistant Professor at the Institute of Biomaterials and Biomedical Engineering, University of Toronto. Her research interest is focused on understanding the biology of mesenchymal stromal cells (MSCs) in modulating inflammatory responses in the context of osteoarthritis (OA), and translating these findings into clinical investigations. Dr. Viswanathan is a co-Principal Investigator of a recently approved trial using autologous MSCS to treat OA patients, a North American first. Dr. Viswanathan is the recipient of a Young Investigator's Operational grant from The Arthritis Society (2015).
As a translational scientist, Dr. Viswanathan serves as a national regulatory and cell manufacturing consultant for projects across Canada. Dr. Viswanathan chairs the Cell Therapy Stakeholder Group, a bilateral group that engages Health Canada on cell therapy related policy issues. Dr. Viswanathan is a member of the Stem Cell Oversight Committee that advises the Governing Council of CIHR. Dr. Viswanathan is a founding member, and team leader of the Manufacturing Committee of a network of Pan-Canadian cell manufacturing facilities called CellCAN. Dr. Viswanathan is leading international efforts to standardize MSC nomenclature and create reference material(s) for MSC research; she sits on the Standard Council of Canada's Mirror Committee for International Organization for Standardization (ISO TC276) on Analytical Methods and Bioprocessing. Dr. Viswanathan is a co-editor of a translational book on MSCs "Mesenchymal Stromal Cells: Translational Pathways towards Clinical Adoption."
At the Cell Therapy Program at the University Health Network, Dr. Viswanathan has overseen clinical translation of over 10 cell-based therapies ranging from cardiac disease, immunotherapy treatments for cancers, lysosomal storage disorders to acute kidney failure into Health Canada/FDA-approved clinical investigations. She leads a multidisciplinary team specializing in clinical-grade cell processing and manufacturing, regulatory and ethics submissions, and implementation of clinical trials for investigator- and industry-led initiatives.
Date modified: