Major-General Jean-Robert Bernier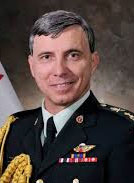 Affiliation
Chairman, Committee of the Chiefs of Military Medical Services, North Atlantic Treaty Organization
Committee membership
Governing Council
Biography
Originally from Sarnia, Major-General Bernier graduated from the Royal Military College in 1982 and served in Princess Patricia's Canadian Light Infantry before studying medicine at McMaster University and in Toronto. He received additional training in medical nuclear, biological, and chemical defence as well as environmental and public health.
Over the past 30 years, Major-General Bernier has served in numerous command and leadership roles in the Canadian Armed Forces and the North Atlantic Treaty Organization (NATO). As the Forces' Director of Health Services Operations, he chaired the multi-national steering group coordinating NATO health resources in southern Afghanistan and was responsible for support to all Canadian missions, including the combat hospital in Kandahar for which Canada received NATO's highest honour for medical support. As Deputy Surgeon General, he chaired the Health, Medicine, and Protection research committee of NATO's Science and Technology Organization, the world's largest research network.
In 2012, Major-General Bernier was appointed Surgeon General, Honorary Physician to Her Majesty the Queen, Head of the Royal Canadian Medical Service, and Commander of the Canadian Forces Health Services Group. In these roles, he expanded military mental and operational health capabilities led the organization of health services support for several humanitarian, development, and combat missions. He was the first person from outside continental Europe to be elected chief medical adviser to the North Atlantic Alliance as chair of the committee of Surgeons General of NATO and partner nations (COMEDS) beginning in November 2015.
Major-General Bernier is an Officer of the Order of Military Merit, a Knight of Malta, an Honorary Fellow of the Royal College of Physicians and Surgeons, an elect of the US National Honor Society in Public Health, and an Honorary Graduate of the US Interagency Institute for Healthcare Executives. He represents the western alliance's medical community on the NATO Science and Technology Board.
Date modified: