Just an Ordinary Superstar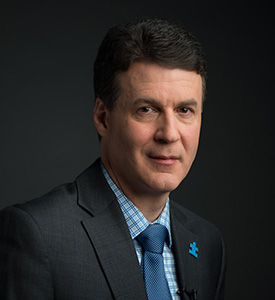 CIHR Foundation Grant Recipient
Dr. Stephen Scherer
Professor, Department of Molecular Genetics
Director, McLaughlin Centre
University of Toronto
Senior Scientist and Director, Centre for Applied Genomics
The Hospital for Sick Children (SickKids), Toronto
Dr. Scherer's Research
Director of the Centre for Applied Genomics at The Hospital for Sick Children (SickKids) in Toronto, Dr. Stephen Scherer has devoted the past several years of his career trying to solve the enigma of Autism Spectrum Disorders (ASD). An internationally renowned geneticist, Dr. Scherer's research into human genetic variation and its role in ASD has changed our understanding of this condition and its complex grouping of symptoms.
Considered to be disabling, the condition can occur on a spectrum ranging from mild to severe. Compounding the condition are the numerous complications that often accompany ASD such as anxiety, seizures, gastro-intestinal diseases and sleep disorders, among others.
ASD is a brain development disorder that impairs communication and social skills. It is often accompanied by unusual, repetitive behaviour.
Attracting international attention in the hyper-competitive realm of health research is no small feat, but Dr. Scherer is doing just that. He and his team have more than 400 publications to their credit and have been cited over 30,000 times. In fact, Dr. Scherer made the Thomson Reuters' list of the World's Most Highly Cited Scientists. What has been especially transformational is Dr. Scherer's cutting-edge approach to decoding the genetic blueprint of ASD. In 2014, Thomson Reuters' Intellectual Property & Science division, which identifies the most influential researchers who may win the Nobel Prize in the future, predicted that he would be a recipient of science's greatest honour for his large-scale copy-number variation (CNV) research (CNV is an alteration of the DNA of a genome.)
Even if you don't get to go to Stockholm to collect a prize, this type of recognition is a huge honour and it put him and his project on the world's radar.
Dr. Scherer seizes every opportunity to talk about ASD. He wants to foster hope, acceptance and inclusion through education, sensitization and discussion. In addition to empowering parents with the knowledge they need to help their child, he also hopes to educate the community-at-large and break down the barriers that so often isolate people and families living with ASD.
"The most important achievement of the past decade has been generating awareness of what autism is and, equally important, what it is not and much of that awareness came from new information stemming from scientific research". - Dr. Stephen Scherer
Supporting Advances in Autism Spectrum Disorder Research
In the course of his clinical research work, Dr. Scherer and his team are following about 2,000 individuals with ASD and their families. His laboratory is at Toronto's SickKids, but the research team and families span Canada. The number one question that parents ask him is "Why?" Next, they are eager to learn what they can do about it and, finally, how they can help others.
It is this same desire to help others that drives Dr. Scherer and his fellow researchers. They know that early diagnosis of ASD means early intervention, which means better outcomes for patients.
In his role as Director of Autism Speaks' "MSSNG" project, formerly called the Ten Thousand Genomes Program (AUT10K), he is harnessing the power of Big Data to accelerate his work. In a novel partnership with Google, Dr. Scherer is leading an ambitious undertaking to use Google's Cloud platform to store the DNA sequencing of thousands of complete genomes.
MSSNG's philosophy is to promote and enable "open science" research to lead to a better understanding of autism. The project will collect the DNA and other key clinical data of 10,000 children living with an autism spectrum disorder, as well as their siblings and parents, all sequenced and stored on Google's Cloud platform. To researchers, the individual will be an eight-digit identification code, designed to maintain privacy, but to families, they are priceless.
By establishing an open-resource database, accredited researchers from around the globe will be granted access to the world's largest and most complete collection of genetic data that will support autism research as well as other types of genomic research. It is a new frontier with limitless boundaries.
Freely sharing this treasure trove of data is a revolutionary approach, and Dr. Scherer hopes it will be a great resource to other researchers from around the world, including drug companies. Up until recently, there have been no molecular targets for the drug industry to focus their efforts on, and as a result there are no drugs that treat ASD. With his CIHR Foundation Grant, Scherer says, "Our genomic discoveries streaming from MSSNG are revealing new targets that existing or new medications might modulate so we're very excited and spending much of our time thinking about this next big challenge in the field".
About Dr. Scherer
A reluctant media star, Dr. Scherer has made numerous media appearances promoting MSSNG, the 10,000 Genome project, including a feature on PBS News Hour. His work has piqued the world's interest adding to the international acclaim he has already received for his discovery of the regions of the human chromosome that contain genes linked to autism. Dr. Scherer holds the GlaxoSmithKline-CIHR Endowed Chair in Genetics and Genomics at SickKids and the University of Toronto.
Date modified: