Developing a more complete picture of arthritis in Indigenous communities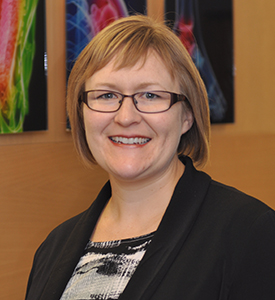 CIHR Foundation Grant Recipient
Dr. Cheryl Barnabe
Cumming School of Medicine
University of Calgary
Dr. Barnabe's Research
Dr. Cheryl Barnabe, a Métis clinician and researcher at the University of Calgary, is exploring why arthritis appears to disproportionately affect Indigenous communities, and what can be done to reduce these disparities.
As a practicing rheumatologist – a doctor who specializes in diagnosing and treating diseases of the muscles, bones and joints – Dr. Barnabe travels to Indigenous communities to see arthritis patients. During these visits, she meets with patients, their family members and their family doctor at the same time, so that the patient can receive coordinated arthritis care in his or her home town.
The rate of arthritis among First Nations adults living off-reserve and Métis adults is estimated to be 1.3-1.6 times higher than the rate for the Canadian adult population. (Source: Public Health Agency of Canada)
Dr. Barnabe is also Canada's leading researcher on arthritis in Indigenous communities. She and her team have helped determine the rate of rheumatic diseases, such as rheumatoid arthritis, in First Nations communities in Alberta. She has worked with the Siksika Nation in southern Alberta to develop a new model of arthritis care, which simplifies access to a specialist consultation and provides overarching care to help patients manage a variety of musculoskeletal conditions (including arthritis). In addition, she has worked to build important partnerships with Indigenous leaders in Alberta, as well as the Alberta First Nations Information and Governance Centre, to ensure that her research is relevant and culturally appropriate.
Supporting Advances in Indigenous Arthritis Research
There are many complex reasons why arthritis is such a large problem in Indigenous communities, including issues related to the physical environment, income, and colonial history. With her Foundation Grant, Dr. Barnabe will focus on one issue in particular: access to appropriate health care. For people living with arthritis in remote Indigenous communities, getting the care they need is not an easy task. The nearest rheumatologist and allied health professionals may be hundreds of kilometers away.
And the barriers to care aren't just geographical. For Indigenous patients in both urban and rural areas, cultural differences can be even bigger obstacles. For example, while many Canadians are comfortable making choices about their medical treatment on their own, Indigenous patients often prefer to consult with family members and members of their communities before making important treatment decisions. When clinicians who aren't familiar with Indigenous cultures don't understand this difference, they can inadvertently discourage patients from seeking care.
"One negative experience can turn a person off and prevent them from coming back for the care they need," explains Dr. Barnabe.
She will also explore how untreated rheumatoid arthritis contributes to other inflammation-related conditions, such as heart disease and osteoporosis, in Indigenous populations. In particular, she will work with Métis communities, who have received little attention to date, and she will strengthen her relationships with Indigenous community leaders. Through her research, Dr. Barnabe hopes to create a new model for delivering arthritis care in Canada's Indigenous communities.
About Dr. Barnabe
Dr. Barnabe studied medicine at the University of Manitoba and went on to specialize in internal medicine and rheumatology. She also has a Master's in clinical epidemiology from the University of Calgary.  She became a CIHR New Investigator in 2015 and has received the Young Investigator Award from the Canadian Rheumatology Association. She provides guidance on effective health care delivery to Alberta Health Services, the Canadian Rheumatology Association and the Indigenous Health Advisory Committee of the Royal College of Physicians and Surgeons of Canada. Dr. Barnabe is a past Executive Member of the Indigenous Physicians Association of Canada, and she also serves as the Chair of the Group for Research with Aboriginal Peoples for Health in the O'Brien Institute for Public Health at the University of Calgary.
"Most people aren't aware that women and Indigenous people are at a much higher risk for arthritis, and that kids can get arthritis too." — Dr. Cheryl Barnabe
Date modified: