Obesity research – A Canadian strength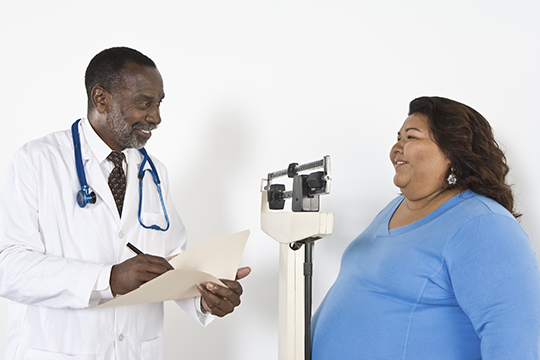 "Canadian researchers are known around the world for doing excellent obesity research that has an impact for patients."
October 8, 2015
Many morbidly obese individuals are deciding to undergo bariatric surgery in order to regain control of their weight when other weight loss methods fail. In Canada alone, the number of bariatric surgeries has risen 300% in recent years. The good news is that Canadian researchers are internationally recognized for their work on obesity.
This video features Dr. Philip Sherman, Scientific Director of the Institute of Nutrition, Metabolism and Diabetes and Adriana O'Regan, who shares her personal experience.
For more information, visit Developing a Research Agenda to Support Bariatric Care in Canada: Workshop Report.
Obesity is a rising health problem in Canada. Dr. Philip Sherman tells us more about it and Adriana O'Regan testifies on how bariatric care helped her.
Transcript
David Coulombe, Communications and Public Outreach
David Coulombe: This is David Coulombe for CIHR News.
Obesity is a major contributor to morbidity and mortality in the Canadian population. For example, obesity contributes to type 2 diabetes, osteoarthritis, colorectal cancers, depression, and it is estimated that 20% of premature deaths among Canadian adults are directly related to obesity.  While genetics plays a role in obesity, behaviours, social, cultural, and physical environments also make important contributions. Obesity is also a huge strain on the health care system and places a large economic burden on the country accounting to close to 4 billion dollars in direct health care costs.
Canada is not the only country battling this epidemic. Expanding waistlines are also contributing to rising health care costs around the world.
Type 2 Diabetes, Osteoarthritis, Colorectal cancer, Depressions
20% of premature deaths among adult Canadians are related to obesity.
Dr. Philip Sherman, Scientific Director, Institute of Nutrition, Metabolism and Diabetes
Dr. Philip Sherman: It's a good news-bad news story. We're not the worst: there are other countries that have higher rates of obesity than we do. But it certainly is on the rise here. The complications of obesity including diabetes, type 2 diabetes in children that I didn't see when I first went to medical school… is definitely on the rise. And it is an issue in vulnerable and specific populations in Canada. So it's not a problem that we can ignore. It's not going to go away. We need to have better interventions for the prevention and the management of obesity.
David Coulombe: That might explain why the number of bariatric surgeries performed on obese Canadians rose by 300 per cent in recent years.
In 2010, Adrianna O'Regan weighed 363 pounds. She went through bariatric surgery and lost over 120 pounds.
Adriana O'Regan
Adriana O'Regan: My life is a lot better. I'm able to go for walks and not have to worry about being winded or tired or my knees hurting. I'm able to walk into a restaurant and not have to worry about the chairs and if the chairs have arms, or if I go onto a plane and not have to try to be somewhat subtle and ask for a seatbelt extender. And it's just there are small little different things that most people don't even think about that have changed.
David Coulombe: For Adrianna, health research is key to improving the lives of people like her.
Adriana O'Regan: I think health research is hugely important because without the research, you don't know why things may be happening and why things have happened previously. And I think with the health research, just being able to look at things and figure things out is a huge thing.
David Coulombe: So, we have reason to be optimistic.
Dr. Sherman: I have great hope. Advancing knowledge in the field through research being conducted with the researchers that we're supporting here in Canada… will advance knowledge. The one thing about Canadian researchers, we're known around the world for doing excellent obesity research that has an impact for patients. And we will advance this knowledge over the next 10 years by the support provided by the Canadian government.
Other resources
Date modified: