INMD Connections – January 2015
Inside this Issue:
---
Message from Philip Sherman, INMD Scientific Director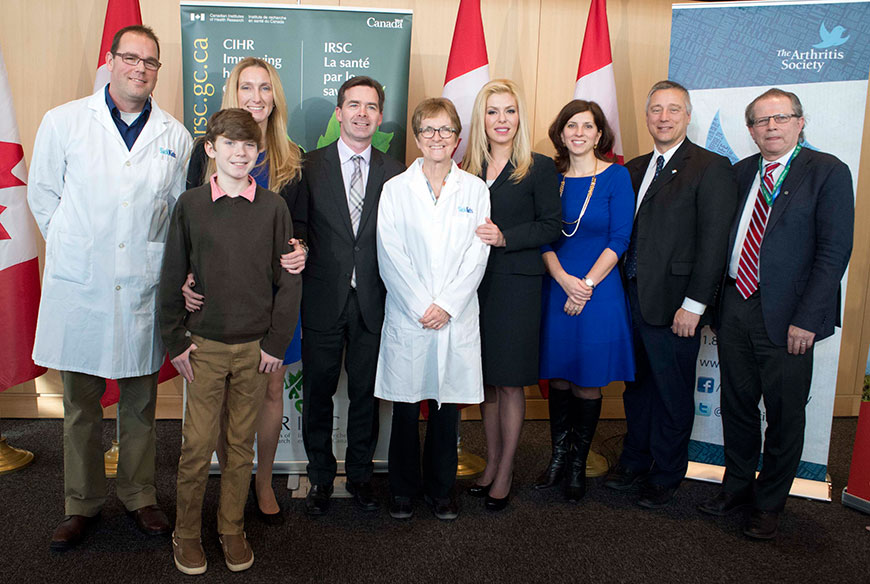 Photo: From left: Dr. John Brumell, Robbie Murray, Kate Murray, Dr. Serge Desnoyers, Dr. Janet Rossant, Eve Adams, Aida Fernandes, Jonathan Riley, and Phil Sherman
I was pleased to represent CIHR at the announcement of funding for 9 Team Grants related to Inflammation and Chronic Disease at the Hospital for Sick Children in Toronto on December 22, 2014. Parliamentary Secretary to the Minister of Health, Eve Adams, made the announcement. She was joined by Drs. John Brumell and Janet Rossant from the Research Institute at Sick Kids, Aida Fernandes from Crohn's and Colitis Canada, Jonathan Riley from the Arthritis Society, and 10-year old Robbie Murray, an inflammatory bowel disease (IBD) patient at the hospital. It is notable that IBD features prominently in these Team Grants (see next page). The aim of this CIHR Roadmap Signature Initiative is to gain a broad picture of inflammation across several pathologies and chronic diseases. We look forward to the discoveries arising from supporting this important research initiative.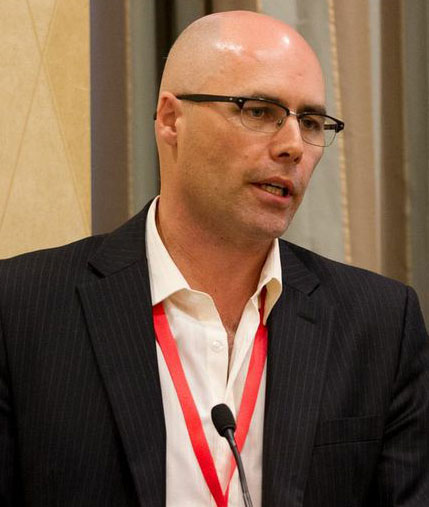 Photo: Paul Belanger
The new calendar year brings a major staffing change that impacts INMD. Paul Belanger will be leaving his position as Assistant Director for both INMD and the Institute of Aboriginal Peoples Health to assume the post of Assistant Director of Research Operations in the Office of the Vice-President, Research at the University of Ottawa. Paul started with CIHR in December 2003, and was invaluable during the transition period when starting my term as the Scientific Director in January 2009. Throughout his time with the institute, Paul has served INMD research communities, supported training and career development for New Investigators, and worked closely with members of the Institute Advisory Board. He has developed strong ties with INMD partner organizations, such as the Kidney Foundation of Canada, the Canadian Association of Gastroenterology, and the Canadian Obesity Network. We wish Paul all the best in his new position!
With Paul's departure in February, Kim Banks Hart will assume the position of Interim Assistant Director of INMD in Ottawa. Kim is well versed in the operational issues of CIHR and knows many partners and researchers in the INMD mandate area. As a result, there will be no disruption in our ongoing activities and efforts on your behalf.
Best wishes to each of you for scientific productivity, health, and happiness in 2015!
Sincerely,
Philip M. Sherman, MD, FRCPC
Scientific Director, INMD
Team Grant: Health Challenges in Chronic Inflammation – A CIHR Roadmap Signature Initiative
INMD congratulates the following successful applicants who received funding in this competition:
Principal & Co-Investigators
Institution
Project Title

Brummel

, John;

Benchimol

, Eric;

Ellis

, James;

Muise

, Aleixo;

Parkinson

, John;

Vallance

, Bruce;

Yeung

, Rae
Hospital for Sick Children
NADPH oxidase function in the pathogenesis of pediatric IBD and JIA

Eksteen

, Johannes;

Barnabe

, Cheryl;

Beck

, Paul;

Bernier

, Francois;

Fritzler

, Marvin;

Ghosh

, Subrata;

Kamath

, Binita;

Kaplan

, Gilaad;

Reimer

, Raylene;

Swain

, Mark
Univ. Calgary
A multidisciplinary approach to target chronic inflammation of the gut, liver and joint

Esdaile

, John;

Abrahamowicz

, Michal;

Avina-Zubieta

, Juan;

Barnabe

, Cheryl;

De Vera

, Mary;

Dutz

, Jan;

Kaplan

, Gilaad;

Lacaille

, Diane;

LI

, Linda;

Marra

, Carlo
Univ. British Columbia
Preventing complications from inflammatory skin, joint and bowel conditions

Kubes

, Paul;

Chee

, Alex;

Doig

, Christopher;

Hahn

, Klaus;

Jirik

, Frank;

Mody

, Christopher;

Patel

, Kamala;

Penz

, Erika;

Yipp

, Bryan
Univ. Calgary
Intravascular immunity in chronic inflammatory lung diseases

Marrie

, Ruth Ann;

Bernstein

, Charles;

Fisk

, John;

Graff

, Lesley;

Hitchon

, Carol;

Katz

, Alan;

Lix

, Lisa;

Mariott

, James;

Sareen

, Jitender;

Walker

, John
Univ. Manitoba
Defining the burden and managing the effects of psychiatric comorbidity in chronic immunoinflammatory disease

Marshall

, Jean;

Bezuhly

, Michael;

Eklund

, Kari;

Hanly

, John;

Issekutz

, Thomas;

Johnston

, Brent;

Legare

, Jean-François;

Lin

,

Tong-Jun

; Mcdougall, Jason;

Butcher

, Eugene
Dalhousie Univ.
Restitution enhancement in arthritis and chronic heart disease

Park

, David;

Gibbins

, Derrick;

Hayley

, Shawn;

Philpott

, Dana;

Rioux

, John;

Schlossmacher

, Michael;

Schurr

, Erwin
Univ. Ottawa
Insights into Parkinson's disease, Crohn's disease, and leprosy: a common role for LRRK2

Philpott

, Dana;

Muruve

, Daniel;

Bazinet

, Richard;

Beck

, Paul;

Croitoru

, Kenneth;

Duff

, Henry;

Girardin

, Stephen;

James

, Matthew;

Kaplan

, Gilaad;

Macdonald

, Justin
Univ. Toronto
Nod-like receptors: linking innate immunity and inflammation to chronic disease

Swain

, Mark;

Barnabe

, Cheryl;

Goodyear

, Bradley;

Hirota

, Simon;

Kaplan

, Gilaad;

Macqueen

, Glenda;

Mayer

, Emeran;

Myers

, Robert;

Pittman

, Quentin;

Sharkey

, Keith
Univ. Calgary
Brain dysfunction in chronic inflammatory disease: reciprocal effects of CNS and periphery crosstalk
Funding Opportunity
INMD is pleased to support the KRESCENT/CIHR New Investigator Awards and the KRESCENT/CIHR Post-Doctoral Fellowships in partnership with The Kidney Foundation of Canada and the Canadian Society of Nephrology. For more information about these funding opportunities, please visit the ResearchNet website.
Network News
View the winter newsletter of the Canadian Children Inflammatory Bowel Disease Network, a joint partnership of CIHR and CH.I.L.D. Foundation!
Feedback on the INMD Newsletter
INMD welcomes researchers, partners and other stakeholders to share news stories that relate to areas of our mandate. If you have interesting research results or developments, are organizing a conference or workshop, or wish to report on a past event, we would like to feature them in our newsletter or other communication materials.
Have a comment? Please share it with us! You can also write to subscribe or unsubscribe to our Newsletter. Simply send us an e-mail at: inmd.comms@sickkids.ca.

Date modified: