Understanding Heart and Stroke Risk around the World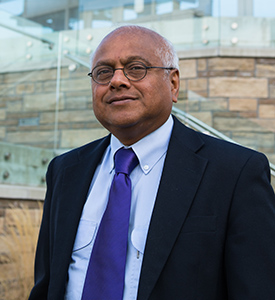 By the year 2030, cardiovascular diseases will kill more than 23 million people around the world every year. (Source: World Health Organization)
CIHR Foundation Grant Recipient
Dr. Salim Yusuf
Faculty of Health Sciences
Department of Medicine
McMaster University
Dr. Yusuf's Research
Cardiovascular diseases (CVD), such as heart attack and stroke, are the biggest killers in the world. They claim 18 million lives each year, and hit particularly hard in developing countries.
We have a general idea of what the risk factors are for CVD — poor diet, lack of exercise, smoking, alcohol, air pollution, and elevated cholesterol and blood pressure. But the precise combination of risk factors — especially those related to behaviour and lifestyle that are causing heart attacks and strokes in a specific community can vary widely. For example, some cultures view drinking alcohol as socially acceptable, while others do not. The types of foods that people eat, and how they prepare them, can differ greatly from culture to culture. Also, some cities have cleaner air than others. Because of these variations, prevention strategies designed to help people in one part of the world may not achieve the same results somewhere else.
Dr. Salim Yusuf, a cardiologist at McMaster University, has greatly enhanced our understanding of the factors that put people at risk for CVD around the world. Through two of the world's largest studies on heart attack and stroke, Dr. Yusuf identified the modifiable risk factors that account for more than 90% of heart attacks in 52 countries and strokes in 32 countries. In addition, Dr. Yusuf and his colleagues demonstrated that even though risk factor levels appear to be the higher in developed countries compared to developing countries, the number of people dying of CVD is much higher in the developing world. Their findings underscored the need to learn more about how health care systems can help reduce CVD risk.
"Cardiovascular diseases are one of the biggest health problems in the world, especially in low- and middle-income countries. But their social and environmental causes aren't the same everywhere," said Dr. Yusuf. "We need to understand the risks in different contexts in order to prevent these diseases."
By helping us better understand how risk factors relate to CVD and how they can be mitigated, Dr. Yusuf laid the groundwork for CVD prevention strategies globally. For example, Dr. Yusuf helped pioneer the "polypill," which involves combining multiple drugs in a single pill to make it easier for people worldwide to access all of the medications they need to substantially reduce their risk of heart attack and stroke.
Supporting Advances in Cardiovascular Health
With his Foundation grant, Dr. Yusuf will refine what we know about CVD risk around the world. Specifically, he will take a closer look at the factors associated with CVD and other chronic illnesses by following more than 250,000 people in 25 countries for more than 10 years. This large sample size and long time scale will enable his research team to understand some of the subtler connections between risk factors and CVD, as well as other chronic diseases, such as cancers, lung diseases and kidney diseases. The results of Dr. Yusuf's work will answer specific questions that could help policy-makers develop prevention strategies that are better tailored to specific populations.
In addition, Dr. Yusuf will examine factors in the health systems that act as barriers to CVD prevention and treatment, and they will look for ways to overcome these barriers. For example, they will study the use of non-physician health workers as a strategy to reach more people in the community who might be at risk of CVD.  
"It's not enough to just tell people they need to smoke less and eat more vegetables to lower their risk of cardiovascular disease. You have to make it easy for them to do so." ‒ Dr. Salim Yusuf
About Dr. Yusuf
Dr. Yusuf is a cardiologist, epidemiologist and clinical trial researcher who has had a major impact on the study of CVD around the world. He is the founding director of the Population Health Research Institute, a group of 320 researchers that coordinates a wider network of researchers at over 1,000 centres in 85 countries. Through his work with the World Heart Federation (WHF), he has launched programs to reduce CVD at the global level. He has mentored more than 120 researchers from 12 countries, many of whom are now leaders in their fields. Dr. Yusuf is a highly prolific and influential researcher, having been cited more than 115,000 times. For his many contributions to health research, he has received the Order of Canada and the Gairdner-Wightman award, and been inducted into the Canadian Medical Hall of Fame.
Date modified: