INMD Connections – February 2015
Inside this Issue:
---
Message from Phil Sherman, INMD Scientific Director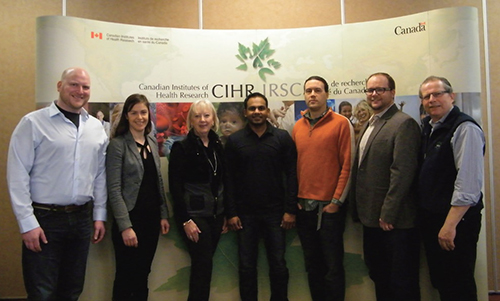 From left: Drs. Christopher Perry, Line Guénette, Stephanie Atkinson, Lakshman Gunaratnam, Mark Ungrin, Dirk Lange, and Phil Sherman
INMD held its third New Investigator Workshop in Oak Island, Nova Scotia January 26-28, 2015. The workshop brought together 39 new faculty members (within the first five years of their first faculty appointment) from across the country. The workshop objectives and agenda were planned in collaboration with INMD partners, including health charities and medical professional societies, who participated as faculty. INMD Institute Advisory Board members, Stephanie Atkinson (McMaster Univ.), Chris Kennedy (Univ. Ottawa), and Peter Jones (Univ. Manitoba) also served as faculty. Hertzel Gerstein (McMaster Univ.) provided an inspiring keynote address to the participants, who then focused on interactive sessions related to knowledge translation, patient and citizen engagement, and a mock grant review exercise.
Posters presented by each of the new investigators across the four pillars/themes of health research and across the INMD mandate indicate there is a cadre of exceptional talent that bodes well for health research in the years to come. Among the excellent posters, five participants were recognized for exceptional presentation of their work: Drs. Line Guénette (Laval Univ.), Lakshman Gunaratnam (Western Univ.), Dirk Lange (Univ. British Columbia), Christopher Perry (York Univ.), and Mark Ungrin (Univ. Calgary). INMD thanks all of the mentors, faculty, partners, and participants for their enthusiastic and engaged participation at the Workshop.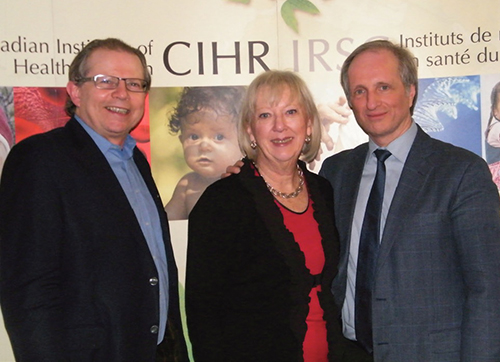 From left: Drs. Phil Sherman, Stephanie Atkinson, and Hertzel Gerstein
"I really enjoyed giving the Keynote presentation and interacting with new researchers at the INMD New Investigator Workshop. The energy and enthusiasm in the young researchers was refreshing and contagious. It was also very satisfying to be able to provide "speed" mentoring to them regarding their current and planned research programs during the Workshop." - Prof. H. Gerstein, McMaster Univ.
On a final note, the monthly INMD newsletter was launched in January 2009 to keep the research community informed and up-to-date about current events and activities relevant to the INMD mandate. In the spirit of continued improvement, please complete a short on-line survey located on the CIHR website before February 27, 2015 to let us know how the institute can better meet your needs. Thank you in advance for your input.
Philip M. Sherman, MD, FRCPC
Scientific Director, INMD
---
Operating Grant: Pathways Implementation Research Team - Component 1 (Diabetes/Obesity); Planning and Dissemination Grant – INMD
INMD congratulates the following successful applicants who received funding in these competitions:
Principal & Co-Investigators
Institution
Project Title
Operating Grant: Pathways Implementation Research Team – Component 1 (Diabetes/Obesity)
Kurtz, Donna; Bryant Maclean, Leslie; Wilson, Danielle; Guerra, Olivia; Hutchinson, Peter; Jones, Charlotte A; Jung, Mary
Univ. British Columbia
Embracing A Vision For Indigenous Health: Community Access To Prevention,
Self-Management And Integrated Diabetes Services In The BC Interior
Planning and Dissemination Grant - INMD
Boule, Normand; Little, Jonathan; Gibala, Martin; Jung, Mary; Mcgavock, Jonathan; Prado, Carla; Sigal, Ronald; Weisnagel, John; Yardley, Jane
Univ. Alberta
The Canadian E-Paradigm (Exercise-Physical Activity And Diabetes Glucose Monitoring) Protocol
Canadian Obesity Network; Ramos Salas, Ximena; Sharma, Arya
Canadian Obesity Network
Obesity Research Boot Camp
Janaudis-Ferreira, Tania; Mathur, Sunita; Blydt-Hansen, Tom
Sunnybrook Research Institute
Dissemination Of The Best Available Evidence For Exercise In Solid Organ
Transplant
Langlois, Marie-France; Clapperton, Irma; Gosselin, Suzanne; Vaillancourt, Raymonde
Univ. Sherbrooke
Dissemination Activity: Integration Of Prevention And Management Of
Cardio-Metabolic Chronic Diseases
Manns, Braden; Levin, Adeera; Battistella, Marisa; Beanlands, Heather; Dart, Allison; Garg, Amit; Hemmelgarn, Brenda; Huffman, Kate; Pannu, Neesh; Samuel, Susan; Tonelli, Marcello; Wolfs, Wim; Zappitelli, Michael
Univ. Calgary
Canadian Innovative Methods Involving Patients And Researchers In Outcome Improvements For Chronic Kidney Disease (Can-Improve Ckd): A Strategic
Planning Meeting
Russell-Mayhew, Shelly; Sharma, Arya; Alberga, Angela; Mclaren, Lindsay; Von Ranson, Kristin
Univ. Calgary
Weight Bias: What Do We Know And Where Shall We Go From Here?
Researcher Profile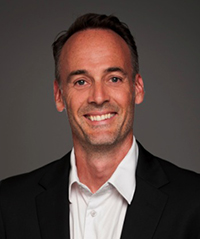 Robert Screaton, Ph.D, University of Ottawa
Recipient of the 2014 Canadian Diabetes Association/CIHR-INMD Young Scientist Award
Robert Screaton, PhD is a Senior Scientist in the Research Institute at Children's Hospital of Eastern Ontario Research Institute and Associate Professor at Univ. Ottawa, where he has been on faculty since 2005. Robert's research focuses on the function and survival of pancreatic beta cells, using genome-wide cell based screens to identify novel targets for treatment of diabetes. He is the recipient of a Tier 2 Canada Research Chair in Apoptotic Signalling. Dr. Screaton undertook his graduate training at McGill Univ. and pursued post-doctoral studies at the Burnham Institute (1999-2002) and Salk Institute (2002-2005) in San Diego, California.
2nd Edition of the Tri-Council Policy Statement: Ethical Conduct for Research Involving Humans
The 2nd Edition of the Tri-Council Policy Statement: Ethical Conduct for Research Involving Humans or TCPS 2 (2014) was recently announced. TCPS 2 (2014) replaces TCPS 2 (2010) as the official human research ethics policy of the Agencies. Changes include increased emphasis on the participant's decision-making capacity, more detailed guidance about alterations to consent requirements, and the full integration of CIHR's Guidelines for Human Pluripotent Stem Cell Research. Consult the Panel on Research website for more information, Highlights of Changes or to download your copy. For questions on changes to the TCPS 2 (2014), contact secretariat@rcr.ethics.gc.ca. For more information on the integration of CIHR's Guidelines for Human Pluripotent Stem Cell Research into the TCPS 2 (2014), visit the Stem Cell Research section of the CIHR website. For additional questions about the integration of the Guidelines and submitting applications, contact StemCell-Cellulesouche@cihr-irsc.gc.ca.
---
Feedback on the INMD Newsletter
INMD welcomes researchers, partners and other stakeholders to share news stories that relate to areas of our mandate. If you have interesting research results or developments, are organizing a conference or workshop, or wish to report on a past event, we would like to feature them in our newsletter or other communication materials.
Have a comment? Please share it with us! You can also write to subscribe or unsubscribe to our Newsletter. Simply send us an e-mail at: inmd.comms@sickkids.ca.
Date modified: