Heavy metal health risks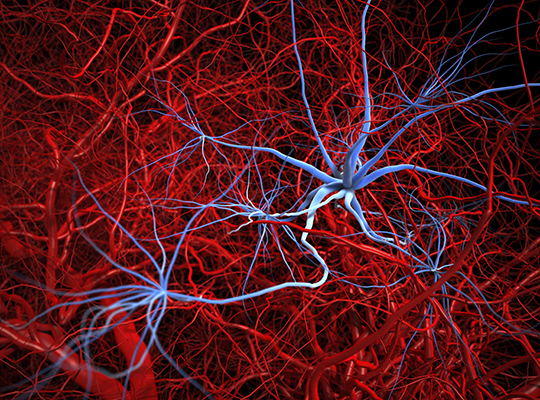 Identifying the connections between environmental pollutants and life-threatening blood clots
September 1, 2015
Every year, about 64,000 Canadians develop a life-threatening blood clot in a vein (such as a pulmonary embolism), and about one-in-ten die before these treatable clots are diagnosed. Many patients have no known associated risk factor, such as long bed rest, and there's no predictive test for venous blood clots.
Associate Professor and Canada Research Chair in Genetic Epidemiology at the Dalla Lana School of Public Health at the University of Toronto,  Dr. France Gagnon is a Canadian pioneer in using new technologies and international research collaborations to identify the genetic and epigenetic factors involved in chronic cardiovascular diseases.
"My group is working from the premise that there are not just the existing known risk factors, but other epigenetic and environmental ones, including pollutants. Identifying these is critical to improving risk management," says Dr. Gagnon.
Environmental factors, such as nutrition and stress, can leave chemical marks on the genome, creating long-term changes in the way genes behave. These epigenetic changes vary from tissue to tissue in the body — for example liver and heart cells have different epigenetic marks.
However, a key question in this rapidly developing field is whether the epigenetic changes that accumulate throughout one's life in one tissue type are reflected in others. The answer to this question could be very important for research, particularly if blood cells, which are easily studied, are found to contain epigenetic marks that reflect changes in other tissues.
Dr. Gagnon has demonstrated that stored blood samples―biobanked blood―can, in fact, be used to study epigenetic changes in other tissues. In a major project with collaborators from six countries, Dr. Gagnon provided evidence for the first time that body weight-related epigenetic changes in blood cells reflect identical epigenetic changes in fat (adipose) cells.
"This was a major step for epigenetic epidemiology," says Dr. Gagnon. "It means we can reliably use biobanked blood DNA to detect some epigenetic changes in other tissues."
Now, in a study funded in part by the Canadian Institutes of Health Research, Dr. Gagnon is extending her epigenetic sleuthing to explore the possible links between exposure to specific pollutants, inflammation, epigenetics and blood clots.
Recent research has revealed that inflammation in the body can increase risk of venous blood clots. Dr. Gagnon's study will look at blood samples from an Ottawa-area group of families with a known history of blood clots and look for heavy metals, such as cadmium to mercury, and epigenetic changes in the samples. She will then use specialized statistical techniques to identify any metals that are associated with inflammation, particular epigenetic marks and increased risk of blood clots.
"The beauty of epigenetic marks is that they are reversible," says Dr. Gagnon. "If you have an epigenetic mark that's related to diet, and you change your diet, it should change the epigenetic mark, or you could develop a medication that would change the epigenetic mark."
Epigenetics, environment and health
In the past five years, due to technological advances, epigenetics has emerged as a major area of health research and promise. While our DNA sequence is fixed, epigenetic characteristics are changeable. Epigenetics involves molecules, or marks, that regulate how the DNA is organized, and which genes are turned "on". Thus, epigenetic research could lead to new therapies, and successful epigenetic drugs are already used in cancer treatments.
The Canadian Institutes of Health Research (CIHR) is building epigenetics research capacity through
STAGE
, Canada's only formal training program in genetic and epigenetic epidemiology, and the
Canadian Epigenetics, Environment and Health Research Consortium
, which supports leading edge research on the role of epigenetic and environmental interactions in human health and disease.
Date modified: