Fifteen-year-old student to represent Canada in the 2015 International Brain Bee competition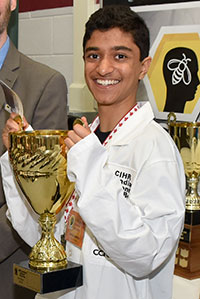 Photo: Hamilton, Ontario – May 30, 2015 – 2015 CIHR National Brain Bee winner, Janson Kappen of Calgary.
Janson Kappen will represent Canada at the upcoming 2015 International Brain Bee competition in Cairns, Australia. Janson is a 15-year-old student at Westmount Charter High School in Calgary, Alberta. In May 2015, he won the eighth annual CIHR Canadian National Brain Bee (CCNBB) at McMaster University. CCNBB is an event that brings together exceptional high school students to test their knowledge of neuroscience and brain research and aims to generate increased interest in the neuroscience field. Janson will compete against winners from up to 30 countries at the International competition.
Interview with Canada's Winner
Janson answered a few questions on his experiences in the competition and his growing passion for neuroscience.
How did it feel to win the 2015 CIHR Canadian National Brain Bee?
It felt really good. It was a goal I had been working towards for some time, so it was rewarding to see this dream become a reality.
What made you decide to participate in the competition in the first place?
I participated in this competition because I was interested in neuroscience and I wanted to get exposure into this field. Furthermore, I was always interested in neuroscience research, particularly studies about potential cures to neurodegenerative diseases (e.g. Alzheimer's). When I heard that the national winner of the Brain Bee was awarded a summer internship at a neuroscience lab, I rushed towards the opportunity and gave it my best shot.
How did you prepare for the competition?
I had so much help from my friends, family, and the great people at the Hotchkiss Brain Institute in Calgary. For the patient diagnosis section, I practiced diagnoses with my friends, where I was the doctor and they acted out certain diseases. For the neuroanatomy section, I studied different slices of the brain from the coronal, transverse, and sagittal planes. I was also allowed to see an autopsy being performed on a human brain, which allowed me to see the different structures I had seen in the pictures. Lastly, I read the "Neuroscience: Science of the Brain" study guide several times before the competition and asked my tutors to explain concepts I didn't understand.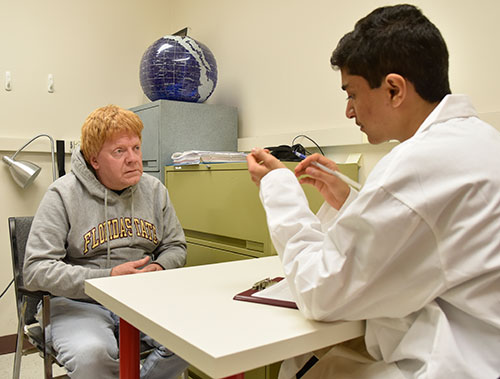 Photo: Hamilton, Ontario – May 30, 2015 – Winner Janson Kappen participating in the patient diagnosis part of the competition.
What was your favourite part of the national competition?
My favorite part of the competition was definitely the patient diagnosis part. For me, it was also the most challenging part. All of the patients were talented actors, and some of the cases were really confusing. The time limit made every second of the interview count; the hour flew by really quickly!
What are your feelings regarding the upcoming international competition?
I'm very excited about the upcoming International Brain Bee competition! This year, it's being held in Australia, which will be very fascinating to travel to. There will be a lot to prepare for the internationals, so I'll be busy over the summer. With help from the faculty at the Hotchkiss Brain Institute here in Calgary, I'm sure it will go well!
What makes the CIHR Canadian National Brain Bee competition so great?
The CIHR Canadian National Brain Bee is a competition designed for high school students interested in neuroscience. It provides dedicated students the chance to get exposure into the field of neuroscience and to build useful connections with people already in it. Personally, I am interested in the research aspect of neuroscience, and participated in this competition for the chance to get a summer internship at a neuroscience facility. Without this competition, I would not have such an opportunity or the fundamentals required to do neuroscience research.
Would you consider pursuing a career in neuroscience?
When I'm older, I would like to become a doctor specializing in neurosurgery. Alongside this career, I would also like to do neuroscience research about certain neurodegenerative diseases and their potential cures. Personally, I think that neuroscience research is quite exciting, and that a career in medicine would be both intellectually and emotionally rewarding.
Why do you think learning about neuroscience is important?
Every aspect of humans, from our personality to our motor skills, is controlled by the nervous system; it is what defines us, as people and as separate individuals. We can treat the nervous system in the same way we treat air –both give us life but we seldom acknowledge either from day to day – or we can investigate and contemplate how exactly the nervous system does what it does. I prefer the latter, because in answering the mysteries of the nervous system we get a more complete understanding of what it means to be human.
CIHR Canadian National Brain Bee 2015 Participants
Date modified: