Improving health, one step at a time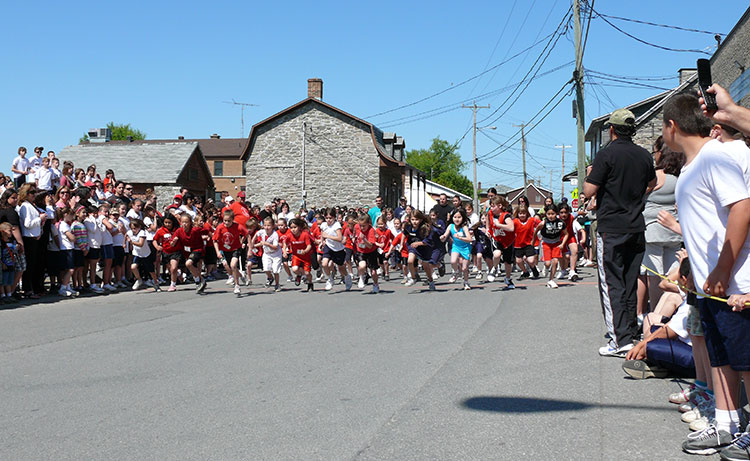 The people of Kahnawake continue a long-standing research project to prevent type-2 diabetes
August 12, 2015
When smiling, panting students crossed the finish line at this June's Racers for Health run, the cheers weren't just for the grade-school kids.
The run, in its 21st year, is part of the Kahnawake Schools Diabetes Prevention Project (KSDPP), one that's a shining example of researcher-community collaboration and community partnership to tackle a health crisis for many First Nations communities: type-2 diabetes.
An estimated 6.8% of Canadians have type-2 diabetes. But in some Indigenous communities, the rate is about triple the national average.
"The prevalence of type-2 diabetes is increasing across Canada, but because of the KSDPP, and the successful local partnerships promoting healthy lifestyles, the rate of increase in Kahnawake has been kept between that of Canada and Indigenous communities – as opposed to the massive increase in other Indigenous communities," says Dr. Ann C. Macaulay, who co-founded the project in 1994.
In the 1970s, Dr. Macaulay began seeing more and more patients with type-2 diabetes in the Kahnawake Mohawk Territory, across from Montreal on the south shore of the St. Lawrence River.
In the 1980s, with Mohawk colleague Dr. Louis T. Montour, she conducted two studies that confirmed their observations: "The numbers were awful," says Dr. Macaulay.
"Elders came to us and asked if we would do something to prevent this disease by focusing on the young," says Dr. Macaulay, also a professor of family medicine at McGill University. "They felt that they were stuck in their lifestyles, but wanted to prevent the youth from carrying the same burden of disease."
In responding, Dr. Macaulay knew that First Nations communities have a history of unsatisfying experiences with outside researchers coming in to perform research "on" them, rather than with the community.
As a result, the KSDPP guiding principle has been to work with the community as equal partners. The project combines community intervention with research to assess and document its effectiveness.
"We started in the mid-1990s before all the current ethical guidelines were developed," Dr. Macaulay says. "We became leaders in developing a code of research ethics that combined science with cultural relevance and the respect of the community."
Funded in part by several Canadian Institutes of Health Research (CIHR) projects, the KSDPP has been able to remain in operation as one of the longest-running community based health research projects in Canada.
The community has been an active partner in KSDPP from its initial conception to current activities, according to Kahnawake resident Dr. Alex McComber, the KSDPP's Community Mobilization Facilitator, who's been with the program since its inception.
Based on his work with KSDPP, Dr. McComber now offers training to other Indigenous communities and organizations across Canada. In June 2015, he received an honorary Doctorate from Queen's University recognizing his dedicated efforts in community health mobilization and community based participatory research.
The KSDPP's volunteer Community Advisory Board meets monthly with the researchers and full-time project staff to develop objectives, plan and implement interventions and evaluations, collect and interpret data, review publications, and share results.
Central to the project's enduring success has been a series of 30-minute lessons, created by the local hospital community nurses and nutritionist, on the themes of nutrition, fitness and lifestyle, and diabetes for Grades 1 to 6 at the two Kahnawake elementary schools, according to Dr. McComber.
Researchers, several of whom are from Kahnawake, have periodically assessed the elementary school children on their fitness levels, eating habits, physical activity and social media habits.
Kahnawake community organizations and the KSDPP have also worked together to enhance local infrastructure to support an active lifestyle, such as building recreation paths, and sponsor over a dozen annual social gatherings including a Mother's Day walk, diabetes prevention walks, and the Kahnawake Youth Center's Winter Carnival.
As he cheers on students crossing the finish line, Dr. McComber knows that the project's goal is a marathon rather than a sprint, all one step at a time.
"One of the project's biggest successes is in raising awareness of diabetes and the importance of diabetes prevention and healthy lifestyle in the community," says Dr. McComber. "Getting people to make changes can be painstakingly slow. But the fact that the recognition is there, that's a success."
For More Information:
Kahnawake Schools Diabetes Prevention Project website
Date modified: