Speaking up about HIV/AIDS to fight stigma, find a cure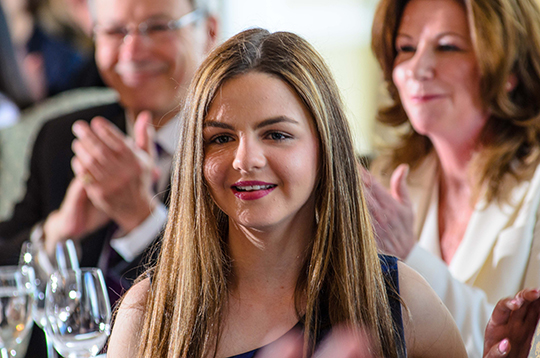 Ashley Murphy at CANFAR's "Can YOU do Lunch?" event in Ottawa
How one young woman is helping shift the conversation about living with HIV/AIDS
July 16, 2015
Since she was a young girl, Ashley Murphy has been eager to share her remarkable story.
Murphy was born HIV-positive, and doctors weren't optimistic about her chances of survival. She was placed with a foster family that had experience caring for children with special needs, and her new parents were asked to provide comfort care for Murphy during her final days.
That was 17 years ago.
Growing up with HIV, Murphy witnessed first-hand the stigma that surrounds the disease. She saw friends struggle with discrimination. She also saw that, by speaking up about her story, she could raise awareness and change attitudes.
"When I first found out I was diagnosed with HIV—I was actually told the name of it when I was seven—I would just randomly start telling people," says Murphy.
With her family's encouragement and support, Murphy began doing HIV/AIDS advocacy work at age 10. Now, at age 17, she tells her story at We Day events, which seek to inspire young people to get involved in their communities. These events take place in stadiums across North America, and are live streamed to millions of people around the world.
"The very first time I did it, in Ottawa in 2014, it was kind of nerve-wracking, because I've never told that many people, all at once that I have HIV," says Murphy. "But after I spoke, I just got an overwhelming amount of good feedback, and it made me realize that what I'm doing is great, and that if I'm able to inspire someone, and able to educate someone about HIV, then I'm doing my job."
On May 12th, 2015, Murphy and her adoptive mom, Kari Murphy, brought her message to a Canadian Foundation for AIDS Research (CANFAR) fundraiser in Ottawa. For the second year in a row, CANFAR held a "Can YOU do Lunch?" event, hosted by CANFAR spokesperson Valerie Pringle, to raise money for HIV/AIDS research.
The Canadian Institutes of Health Research (CIHR) and CANFAR have partnered to fund many important research projects on HIV/AIDS.
"We applaud Ashley and greatly value our partnership with CANFAR," says Dr. Marc Ouellette, Scientific Director of CIHR's Institute of Infection and Immunity. "Our partnership in research is leading to improved HIV prevention strategies and contributing to global efforts to find a cure for HIV."  
One of the current CIHR and CANFAR partnerships is helping support two cure research teams in Montreal, including a group led by Dr. Hugo Soudeyns at the Centre hospitalier universitaire Sainte-Justine. Dr. Soudeyns' project is focused on curing children who, like Murphy, acquired HIV from their mothers during pregnancy.
"My greatest hope, first and foremost, is to decrease stigma, and ultimately find a cure for HIV," says Murphy.
She will continue to do her part, speaking up and raising awareness, to help make that happen.
Date modified: