INMD Connections – May 2015
Inside this Issue:
---
Message from Phil Sherman, INMD Scientific Director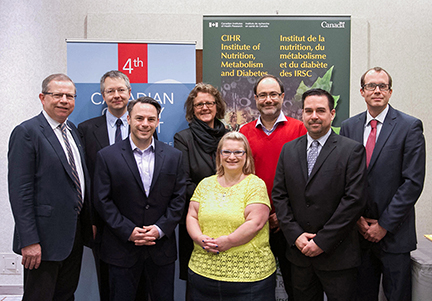 Photo: From left: Phil Sherman, with researchers Laurent Biertho, Geoff Ball, and Johane Allard; patient representative Adrianna O'Regan; Arya Sharma (CON), researcher André Tchernof, and Ian Janssen (CON).
On April 30, 2015 the Honourable Rona Ambrose, Minister of Health, announced funding of three teams to conduct bariatric care research. Bariatric care includes lifestyle intervention and modification, cognitive and behavioural therapies, pharmacotherapy and surgery, used individually or in combination. The research was funded by CIHR in partnership with the Canadian Obesity Network (CON), Alberta Innovates-Health Solutions, Alberta Health Services Obesity, Diabetes and Nutrition Strategic Clinical Network, Fonds de recherche du Québec–Santé, and the Ontario Ministry of Health and Long-Term Care. I sincerely thank each of the partners for their willingness to collaborate and support this important research. I also wish to provide hearty congratulations to all of the funded researchers and their teams.
Leads for each of the three teams came together at the Canadian Obesity Summit which was held in Toronto April 30 – May 2, 2015 to share information about their research teams, consider collaborations, and begin knowledge translation and exchange activities (pictured left).
Thank you to CON for providing an opportunity for the teams to come together at the Summit, and for their ongoing partnership and support. We look forward to sharing the progress and research outcomes arising from each of the three bariatric care teams, which together span all four pillars of health research.
Wishing everyone a wonderful, re-energizing Canadian spring season
Philip M. Sherman, MD, FRCPC
Scientific Director, CIHR INMD
Team Grant: Bariatric Care
INMD congratulates the following successful applicants who received funding in this competition:
The information is provided in the language in which it was submitted by the recipient.
Nominated Principal Investigators
Principal Investigators and Co-Investigators
Title
ALLARD, Johane
GAISANO, Herbert
(University of Toronto)
BANKS, Kate; COMELLI, Elena; GLOOR, Gregory; HOTA, Susy; JACKSON, Timothy; LOU, Wen-Yi; OKRAINEC, Allan; PHILPOTT, Dana; POUTANEN, Susan
Exploiting the therapeutic effects of the fecal microbiome in bariatric care
BALL, Geoff
(University of Alberta)
BIRKEN, Catherine; HAMILTON, Jill; HOLT, Nicholas; MASSE, Louise; MORRISON, Katherine Mary; HANNING, Rhona; JOHNSON, Jeffrey; THIRSK, Jayne; ANDERSON, Laura; BUCHHOLZ, Annick; CARSLEY, Sarah; CHANOINE, Jean-Pierre; CORDEIRO, Kristina; DETTMER, Elizabeth; FORHAN, Mary; HADJIYANNAKIS, Stasia; HAINES, Jess; HO, Josephine; LEGAULT, Laurent; LUCA, Paola; MAGUIRE, Jonathon; MAXIMOVA, Katerina; MCPHERSON, Amy; PARKIN, Patricia; PEREZ, Arnaldo; SPRAGUE, Ann; TOULANY, Alene; TREMBLAY, Mark; TU, Karen
Team to Address Bariatric Care in Canadian Children (Team ABC3)
TCHERNOF, André
(Laval University)
BIERTHO, Laurent; BOUVIER, Michel; CANI, Patrice; CARPENTIER, André; DAGHER, Alain; FERGUSON, Alastair; FULTON, Stephanie; KIEFFER, Timothy; LAFERRERE, Blandine; LEVY, Emile; MARETTE, André; PICARD, Frédéric; RICHARD, Denis; SCHERTZER, Jonathan; VOHL, Marie-Claude
Determinants of metabolic recovery following bariatric surgery in individuals with type 2 diabetes mellitus
Researcher Profile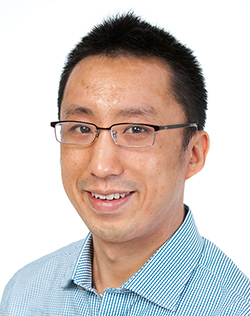 Darren Yuen, MD, PhD, FRCPC
University of Toronto, KRESCENT New Investigator
Darren Yuen is an Assistant Professor at the University of Toronto, based at St. Michael's Hospital. He received his training at the University of Toronto. Darren's clinical interest is in kidney transplantation and his research focuses on the development of new ways to better diagnose and treat kidney scarring, which is a major cause of chronic renal failure. He was recently a featured new investigator speaker at the Canadian Society of Nephrology (CSN) Annual Meeting held in Montreal in April 2015. Darren is supported by the Kidney Research Scientist Core Education and National Training Program (KRESCENT): first as a postdoctoral fellow and, more recently, as a New Investigator. He also currently holds operating grants from the CIHR, Natural Sciences and Engineering Research Council of Canada (NSERC), the Kidney Foundation of Canada, and the J.P. Bickell Foundation.
International Development Research Centre (IDRC) - Call for Concept Notes
Research on food system policies and market innovations for non-communicable disease prevention
This call is being launched by IDRC's Food, Environment and Health program. The aim of the call is to reduce and prevent malnutrition and food-related chronic illnesses, in ways that are environmentally sustainable. The main objective is to explore and understand public policy interventions and market innovations that improve the quality and diversity of food and enable adoption of healthy and sustainable diets among vulnerable populations. This initiative will focus on public policy interventions on food systems to impact healthy and sustainable diets and development and/or scaling up of market innovations for changing local and national food systems in ways that impact healthy and sustainable diets. Submission deadline: Friday, July 3, 2015.
For more information, including eligibility requirements, visit the IDRC website or email: feh@idrc.ca.
Call for proposals: Biobank of the Canadian Health Measures Survey
Statistics Canada is inviting researchers to apply for access to blood, urine and DNA samples from the Biobank of the Canadian Health Measures Survey (CHMS) for use in health studies. The biospecimens are available to any Canadian researcher that completes a review process and would benefit from a national population survey of about 5,600 participants per collection cycle. Visit the Biobank section of the CHMS website for more information.
Canadian Society of Nephrology Annual Meeting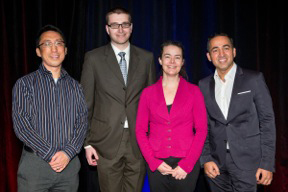 Photo: From left: Darren Yuen, Dylan Burger, Heloise Cardinal, and Navdeep Tangri
INMD was pleased to participate at the Canadian Society of Nephrology (CSN) annual general meeting which was held April 23-25, 2015 in Montreal, Quebec. The meeting brought together over 400 researchers, clinicians, trainees, patients, and relevant stakeholders for an exciting schedule of talks, debates, poster presentations, and networking. The meeting prominently featured the research of new investigators. Four Kidney Research Scientist Core Education and National Training Program (KRESCENT) supported New Investigators, Drs. Navdeep Tangri (Univ. Manitoba), Darren Yuen (Univ. Toronto), Dylan Burger (Ottawa Hospital Research Institute, Univ. Ottawa), and Heloise Cardinal (Centre Hospitalier de l'Université de Montréal, Univ. Montreal), delivered thought-provoking Ted-talk-style presentations highlighting their kidney disease research.
The meeting also highlighted the career contributions of Dr. Adeera Levin (Univ. British Columbia) who received the 2014 Kidney Foundation of Canada Medal of Research Excellence.
Research & Funding Opportunities
Have you identified a new genetic disease or work on a genetic disease which would merit further research in a model organism? If so, please consult The Rare Diseases: Models & Mechanisms Network for funding and collaboration opportunities.
Feedback on the INMD Newsletter
INMD welcomes researchers, partners and other stakeholders to share news stories that relate to areas of our mandate. If you have interesting research results or developments, are organizing a conference or workshop, or wish to report on a past event, we would like to feature them in our newsletter or other communication materials.
Have a comment? Please share it with us! You can also write to subscribe or unsubscribe to our Newsletter. Simply send us an e-mail at: INMDComms@cihr-irsc.gc.ca.
Date modified: