Dr. Lawrence Jardine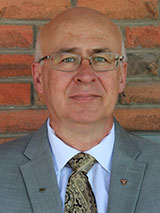 Affiliation
Associate Professor
Western University
Medical Director
London Health Sciences Centre
Committee membership
Governing Council
CIHR Audit Committee
Biography
A graduate of Memorial University of Newfoundland, Dr. Jardine is the head of the section of Paediatric Haematology and Oncology and an Associate Professor at Western University's Schulich School of Medicine and Dentistry. He is also the Medical Director of the Pediatric Bleeding Disorders Clinic at the London Health Sciences Centre.
Dr. Jardine previously worked in paediatric haematology and oncology as an Assistant Professor at Memorial University and head of the Children's Cancer Group at Janeway Child Health Centre in St. John's, Newfoundland.
He is a member of the Association of Haemophilia Clinic Directors of Canada (AHCDC), having been President from 2008 to 2010.
He serves on the Boards of Directors of the Paediatric Oncology Group of Ontario (POGO), the Canadian Council of Pediatric Hematology Oncology Directors (C17), and the Canadian Pediatric Haemostasis and Thrombosis Network.
He is a member of the American Society of Paediatric Haematology Oncology and the American Society of Haematology Hemostasis and Thrombosis Research Society and an investigator with the US National Cancer Institute.
Date modified: