Sparking Population Health Solutions: Research for a healthier future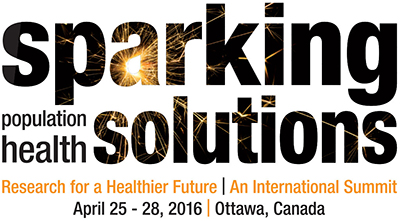 The CIHR Institute of Population and Public Health will host the Sparking Population Health Solutions international summit on April 25 to 28, 2016 in Ottawa, Ontario.
Global health problems cannot be solved one person at a time. Policies, programs, and how resources are distributed all contribute to preventing disease, promoting health and addressing the determinants of health. Population health research has catalyzed new ways of thinking about why some people are healthy (and others are not) by shining the light on the social, cultural and environmental factors that determine health and disease. We now have a wealth of new knowledge from the investments we've made. So what's next?
To improve population health in Canada and globally, decision makers need to know what policies, programs and practices work, for whom, and under what conditions. Generating evidence on real-world interventions involves a myriad of disciplinary perspectives and a range of research designs, theoretical and methodological approaches. We need to further engage partners from within and outside of the health sector in order to challenge assumptions and accelerate population-oriented solutions. Population health research is rising to the challenge by shifting its emphasis to not only study problems – but also spark solutions for a healthier future.
Call for Catalytic Questions
There is an urgency to increase the relevance and timeliness of research to address society's biggest problems. Researchers and funders need to respond to these challenges. We are issuing a Call for Catalytic Questions to accelerate a forward-looking research agenda for where the field of population health intervention research (PHIR) needs to go next. The questions will be discussed and finalized at the Summit on Thursday, April 28 to ignite the pursuit of future research and inform future research funding priorities in Canada or internationally. The final questions are expected to be included in dissemination products arising from the summit that will be distributed to researchers, decision-makers and research funders.
What is a Catalytic Question?
Catalytic questions are designed to disrupt or transform current thinking and spur innovation. By using questions as catalysts to stimulate solutions, questions should be forward-looking, challenge and creatively address widely held assumptions. Such questions should not be about more of the same; questions should go beyond the status quo and ultimately lead to better solutions to solve problems.
Deadline for submitting catalytic questions is Monday, February 29, 2016.
Submit your catalytic question!
The Debaters Live!
Hosted by award winning comedian and CBC host, Steve Patterson, this special live event on Monday, April 25 will feature Steve and two of his favourite comics performing stand-up followed by a comedic debate specially created for the Sparking Population Health Solutions Summit hosted by the CIHR Institute of Population and Public Health. Now in its 10th season on CBC Radio One, The Debaters is the hit show where comics go toe to toe in a battle of laughs and logic and the audience picks the winner. Steve and his cast are excited to be in Ottawa for this event and invite you to be part of the live audience to witness this once-in-a-life time, never-to-be-repeated comedy event. This show will not be recorded for radio.
For more information, please visit the Sparking Solutions webpage.

Twitter account for the conference: @Sparking4Health
CIHR-IPPH Announces Trailblazer Award Winners
Date modified: