TAIMA TB: How awareness can lead to positive change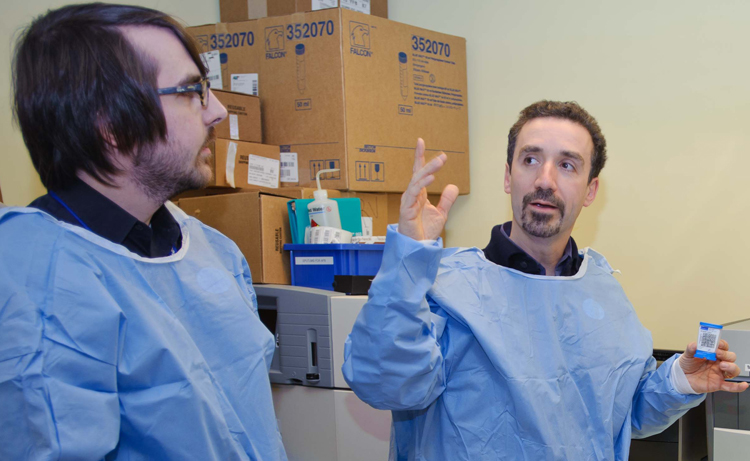 Dr. Gonzalo Alvarez on the right
June 8, 2015
It may seem like tuberculosis (TB) is a disease that plagued Canadians in the past.
But in 2012, 1,686 new cases were reported across the country. Seventy-nine of those came from Nunavut - which represents 234.4 per 100,000 people in that province.
"My research is focused on developing innovative public health interventions to prevent TB and break the cycle of the disease's transmission among Inuit in Nunavut," says Dr. Gonzalo Alvarez, associate professor of medicine at the University of Ottawa.
Inuit residents represent 85% of the total population in Nunavut. Compared to other Aboriginal people, they have the highest rate of reported TB cases across Canada. They also deal with crowded housing, as well as poor access to medical facilities and nutritious foods.
Active cases of TB cause shortness of breath, coughing, fever, night sweats - and can prove to be fatal. Latent cases, which may become active, are undetectable at first. With the help of funding from the Canadian Institutes of Health Research (CIHR), Dr. Alvarez led a public outreach study called TAIMA ("stop" in Inuktitut) TB between 2011 and 2013.
Community members who learned some background information about the disease and were familiar with Aboriginal culture and language (called 'TB Champions') collaborated with public health nurses and knocked on the doors of 614 homes. They invited residents to view an education video about TB and get tested. Over 400 people participated. By 2013, eight new active cases of TB were detected, and 42 new latent cases were identified. Dr. Alvarez attributes TAIMA TB's development and success to a steering committee made up of researchers, policy makers, and frontline workers based in Nunavut and Ottawa.
"Our findings emphasized the importance of maintaining public awareness about TB in communities with a high burden of disease," Dr. Alvarez says. "This type of door to door campaign in Aboriginal communities that are at high risk for TB could help reduce the stigma surrounding the disease and result in people being tested for it."
Aside from public outreach, Dr. Alvarez has other research goals set for the future. As the Nunavut Respirology and TB consultant, with further CIHR-funding, he plans to study whether lifestyle changes (such as smoking or diabetes prevention) and improved diagnoses can help stop the transmission of TB among Aboriginal people for good.
Date modified: