IHSPR Newsletter – May 2015
Table of Contents
---
Message from Dr. Robyn Tamblyn, IHSPR Scientific Director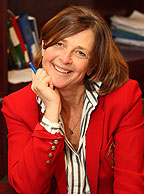 We are fully in conference season and it's a wonderful time to meet with old and new colleagues and learn how the health system is performing and how research measures and improves important indicators of success.
The team here at IHSPR is working hard at our annual Canadian Association of Health Services and Policy Research (CAHSPR) conference this year in Montreal.
It's always an honour to announce the winners of IHSPR's Article of the Year and Rising Star awards, ahead of CAHSPR. We hope you take a moment to help us congratulate and recognize the achievement of this year's remarkable recipients. We'll be learning how to use the international Commonwealth Fund Data in collaboration with CIHI.
Following the success of our 10 regional eHealth Innovations Partnership Program workshops with over 500 participants, we'll be at the eHealth 2015 conference to share what we've learned about creating health care innovation communities.
In the realm of data and health information, it's important to note that the Canadian Council of Academies (CCA) has officially released their report on recommendations for Accessing Health And Health-Related Data in Canada.
We hope to see you on the conference circuit this spring!
— Robyn Tamblyn
Follow me on Twitter!
Awards
The CIHR Institute of Health Services and Policy Research (IHSPR) would like to congratulate the 2014-15 Article of the Year and Rising Star Award winners.
The Article of the Year Award recognizes published research that has significantly contributed to the advancement of the field of health services and policy research in Canada while the Rising Star Award recognizes the research excellence and knowledge translation initiatives of graduate students and post-doctoral fellows.
Don't miss the CAHSPR 2015 conference in Montreal where you'll be able to meet many of the awardees!
Article of the Year
Rising Star
Leah Smith (PhD) – Postdoctoral Fellow, Queen's University

Smith L, Kaufman JS, Strumpf EC, Levesque LE. Effect of human papillomavirus (HPV) vaccination on clinical indicators of sexual behavior among adolescent girls: the Ontario Grade 8 HPV Vaccine Cohort Study. CMAJ. 2015 Feb 3; 187(2): E74–E81.doi: 10.1503/cmaj.140900.

Lianping Ti (MPH) – PhD candidate, School of Population and Public Health at the University of British Columbia

Ti L, Voon P, Dobrer S, Montaner J, Wood E, Kerr T. Denial of pain medication by health care providers predicts in-hospital illicit drug use among individuals who use illicit drugs. Pain Res Manag. 2015 Mar-Apr; 20(2): 84–88.
Pre-Conference Workshop
CAHSPR 2015 Pre-conference workshop: Understanding Health Systems with Commonwealth Fund data
Learning from Each Other: Across disciplines, jurisdictions and generations
Tuesday, May 26, 2015 – Thursday, May 28, 2015
Pre-Conference Day – Monday, May 25, 2015
Hotel Bonaventure Montreal (formerly Hilton Bonaventure)
eHealth 2015 Pre-Conference Symposium
eHealth 2015 Pre-Conference Symposium: Learning from Innovation Communities
Sunday, May 31, 2015
Metro Toronto Convention Centre
Contact us for free registration.
Funding News
CIHR
Grants
Training and Salary Awards/Fellowships
Fellowship: Banting Postdoctoral Fellowships Program (2015-2016)
Application Deadline: September 23, 2015

The objective of the Banting Postdoctoral Fellowships program is to:

attract and retain top-tier postdoctoral talent, both nationally and internationally
develop their leadership potential
position them for success as research leaders of tomorrow

Funds available – $ 3,220,000 for approximately 23 awards
Maximum amount per grant - $70,000 per year
Grant duration – Two years

Undergraduate: CIHR Health Professional Student Research Award (2015-2016)
Application Deadline: February 1, 2016

The specific objectives of this funding opportunity are:

to provide research training to support students in health professional degree programs leading to licensure in Canada;
to help develop the next generation of clinical researchers.

Funds available – $1,000,000
Maximum stipend per award – $5,961
Grant duration – 13 weeks
Accessing Health And Health-Related Data in Canada - Council of Canadian Academies Report
The Council of Canadian Academies released its newest Expert Panel report. "Accessing Health and Health-Related Data in Canada" examines the challenges of accessing data while ensuring privacy is protected and public trust is maintained. Overall, the Panel determined there is an important opportunity for Canada to move from a culture of caution to a culture of trust.
"This report is particularly timely as we have seen an explosion in the volume and variety of health data that is generated," said Andrew K. Bjerring, Chair of the Expert Panel.
"Health data are essential for research aimed at improving health outcomes, managing costs, and accelerating health-care sector innovation. However, accessing data in a timely way must be weighed against respecting privacy and maintaining public trust. Our report considers best practices that meet these twin goals."
Funding Decisions
Learn about CIHR funding decisions
Catalyst Grant: HIV/AIDS Community-Based Research (2014-2015) - General Stream
Health services and policy research focused
| Lead (Institution) | Project Title |
| --- | --- |
| Cecilia Benoit, Rachel Phillips, Charlotte Reading (University of Victoria) | Sex Workers as Educators: Networking HIV Prevention Strategies |
| Jacqueline Gahagan (Dalhousie University) | Community Preparedness in the Context of HIV Point-of-Care-Testing in the Atlantic Region: Are Our Communities Ready? |
| Lance McCready, Shannon Ryan (University of Toronto) | Adapting HIV Prevention Resources, Programs and Services for Newcomer and Refugee African, Caribbean, Black Men Who Have Sex With Men (ACBMSM): Assessment and Selection |
Operating Grant: HIV/AIDS Community-Based Research (2014-2015) - General Stream
Health services and policy research focused
| Lead (Institution) | Project Title |
| --- | --- |
| Kelly O'Brien, Mehdi Zobeiry (University of Toronto) | Translating Exercise into the HIV Community: Evaluating a Community-Based Exercise Intervention to Improve the Health of Adults Living with HIV |
| Joanne Otis, Kenneth Monteith, Martin Blais (Université du Québec à Montréal) | Conjuguer prévention combinée et érotisme: Recherche évaluative participative du programme Phénix, version 2.0 |
Show me the Evidence
Evidence-Informed Healthcare Renewal (EIHR) – Evidence in the Making
The EIHR Signature Initiative supports researchers and decision makers to work together to advance the current state of knowledge, generate novel and creative solutions, and translate evidence for uptake into policy and practice to strengthen Canada's health care systems.
The research covers topics including: health technology assessment, child and youth mental health, caregiving*, collaborative practice in primary health care*, and interdisciplinary primary health care.
Here is a sample of these research stories.
*Part of the IHSPR Policy Round webinar series.
Aging in the Community – Evidence Makers
Promising Ideas for Long-term Care – Dr. Pat Armstrong
Making Communities More Age-friendly – Dr. Verena Menec
Modifying Disease Risk with Exercise – Dr. Robert Petrella
Announcements
Governing Council has now completed the Institutes Model Review. As mandated in the CIHR Act and as recommended by the 2011 International Review Panel, this review assessed the structure, role, policies, financial framework and slate of the CIHR Institutes. Governing Council wishes to thank everyone for their contribution to this important process and, in particular, the members of the External and Internal Working Groups for their thoughtful reports and recommendations.

Update message from the President

Calling all researchers and data analysts - The Data Impact Challenge launches May 12!

Have authorized access to Canadian health care data sets and the ability to conduct timely, privacy-sensitive analysis? Join the Data Impact Challenge today.  Analysts authorized to use Canadian health data sets are invited to answer at least one Challenge question for an opportunity to take part in up to $80,000 in awards.

By analyzing data insightfully, you could help impact health care decisions in Canada – ultimately improving patient care.

For more information about the Challenge, register for the webinar on May 12 which will discuss how to participate and the Challenge's questions.

Help reimagine the future of the evidenced-informed decision making process – join they Data Impact Challenge today!

2015 CAHSPR Policy Forum – Learning from Failure

The premise of this conference is that for the Canadian healthcare system to improve we have to change our attitude towards failure. More specifically, we have to create an environment that tolerates failure when it occurs, and learns from it to create a better system. Speakers at the conference will introduce this crucial idea, bringing examples from other sectors and other jurisdictions of organizations who have accomplished this change. We will explore the reasons why Canada's healthcare system has been slow to do so, and conclude by bringing forward the key actions we need for successful change.
Events
Did You Know?
Got good news?
Are you a CIHR-funded investigator driving innovative health services and policy research? Have you recently been published in a peer-reviewed journal? Then we want to hear from you!
Send us a research project abstract and a short summary (500 words max) of your latest game-changing outcomes and impacts for a chance to be featured in the IHSPR newsletter or website! Forward us your information to info.ihspr@mcgill.ca.
Contact Us
Stay up to date with IHSPR activities! Contact staff, follow SD Robyn Tamblyn on Twitter and follow us on YouTube.
Date modified: