POP News – Spring 2015, Volume 2, Issue 8
Table of contents
---
Message from the Scientific Director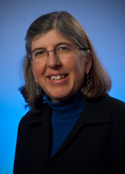 Earlier this year, the public health and health policy community lost an international leader, Dr. Pat Martens, who was well known to many of you. Pat was Vice-Chair of our Institute Advisory Board (2007-2009), held a CIHR/PHAC Applied Public Health Chair (2008-2013), and an IPPH Programmatic Health Equity Grant. She excelled in her extensive contributions to science, mentoring and knowledge translation. On behalf of CIHR-IPPH and our Institute Advisory Board, I would like to pay my deepest respect to Dr. Pat Martens and to extend my condolences to her family and colleagues.
CIHR Transitions
This past year marks some important transitions for CIHR. In 2014 the CIHR Governing Council recommended several changes to modernize the Institutes, specifically through the restructuring of the Institute Advisory Boards (IABs) as well as through the creation of the Roadmap Accelerator Fund, which will support Signature Initiatives that cut across multiple Institute mandates and disciplines. Importantly, there will be no change in the number or slate of Institutes or in each of the grants used to support institute activities, and no reduction in the total amount of funding available to Canadian health researchers.
Strategic Initiatives
IPPH continues to drive the public and population health agenda forwards at CIHR through Institute led and co-led strategic initiatives specifically, Community-Based Primary Health Care, Global Health, Environments and Health, and Pathways to Health Equity for Aboriginal Peoples. The Innovating for Maternal, Newborn and Child Health program in Africa is progressing well. Twenty funded implementation research teams and two Health Policy Research Organizations participated in an inception workshop in Kenya in April 2015. Also on the global front, members of the Global Alliance for Chronic Diseases (GACD) are working on the next call for funding, with its focus on chronic lung disease. Further, considerable progress has been made on implementing the Environments and Health Signature Initiative. Federal and provincial forums have been held, global links are being forged, and funding opportunities have been launched. Forthcoming funding opportunities are featured below.
Annual joint technical steering committee meetings for the hypertension GACD teams and the community-based primary health care (CBPHC) teams, new investigators and chairs were held in November in Xi'an, China and in Montreal, respectively. These meetings provided important opportunities for teams to share and reflect on progress and new insights. A capacity building workshop for junior investigators on implementation science was part of the China workshop, while a session led by Merrick Zwarenstein on implementation science and context was a feature of the Montreal meeting on CBPHC.
In March, the Public Health Agency of Canada joined us for the first meeting of the newly funded cohort of 14 Applied Public Health Chairs in Ottawa.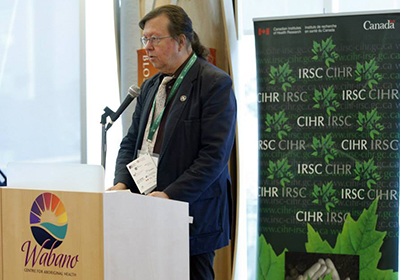 Photo: Dr. Malcolm King, Scientific Director of CIHR-Institute of Aboriginal People's Health
March 23-25, 2015 was the Inaugural Pathways to Health Equity for Aboriginal Peoples Annual Gathering - a significant milestone in the journey toward achieving CIHR's Roadmap 2 priority in Health and Wellness for Aboriginal Peoples. This event brought together approximately 140 researchers, their community partners, CIHR partners, Aboriginal Organizations, and CIHR staff to dialogue about the initiative, exchange knowledge, and lay the groundwork for developing meaningful working relationships for greater impact. This event was guided by an External Planning Committee, which included Indigenous knowledge keeper Tim Yearington, our facilitator Harold Tarbell, representatives from our Partners for Engagement and Knowledge Exchange (PEKES), and CIHR staff, we would like to extend our thanks to them for their contributions to making the inaugural Pathways Annual Gathering a success! Highlights of the Gathering included the opening panel which engaged Indigenous Knowledge Keepers and Elders in reminding all attendees that the foundation to positive change and meaningful research is shared leadership between researchers and community partners and the integration of Indigenous Ways of Knowing.
Conferences and Workshops
Over the last few months I have spoken at conferences. These events have provided an opportunity to connect with leading scientists in our field, to share IPPH's approaches and successes, and to profile research that is being undertaken by CIHR-funded scientists.
I presented the IPPH experience of "Setting and Mobilizing a Research Agenda that Aims to Influence Policy and Improve Population Health" at the Health Research Symposium 2014 in Hong Kong and featured CIHR implementation science initiatives at the Consortium of Universities in Global Health in Boston in March 2015.
In February, I moderated a panel session at the 14th World Congress on Public Health in Kolkata, India. Our IPPH session, entitled "Joining forces to address non-communicable chronic diseases", focused on key strategies to strengthen synergistic action among alliances and consortia that cross sectors. Leaders from the field included  Dr. Howard Njoo from the Public Health Agency of Canada (PHAC), Dr. Vesna Bjegovic-Mikanovic from the Association of Schools of Public Health in the European Region (ASPHER), Mr. James Chauvin from the World Federation of Public Health Associations (WFPHA), and Dr. Howard Hu from the Dalla Lana School of Public Health (DLSPH) University of Toronto. On February 23rd and 24th 2015, CIHR-IPPH co-hosted a workshop with Glasgow Caledonian University and the UK Science & Innovation Network on New pathways to health and well-being through social enterprise in Toronto, Ontario. The workshop was an opportunity for participants to discuss microcredit and other social enterprise interventions in relation to public health and health equity, as well as to discuss the possibility of collaborative research projects and funding opportunities.
Upcoming Conference
CIHR-IPPH will be attending the annual Canadian Public Health Association (CPHA) conference to be held in Vancouver on May 25-28, 2015. This conference represents an opportunity for the public health community to connect, learn from one another, and share knowledge. CIHR-IPPH will be collaborating with CIHR-Institute of Aboriginal Peoples' Health (IAPH) on a session entitled "Lifecycle of social determinants and its impacts on First Nations, Inuit and Métis children's health". This session aims to describe the impact on health of children-in-care and how it affects First Nations, Inuit and Métis over the full life course, identify existing barriers and systems that contribute to the lifecycle from childhood through adulthood for children-in-care, and to describe innovations and success stories that can be used to improve public health interventions with First Nations, Inuit and Métis.
Best wishes to all,
Nancy Edwards
Scientific Director
CIHR Institute of Population and Public Health
Upcoming and Live Funding Opportunities
Pan-Canadian SPOR Network in Primary & Integrated Health Care Innovations – Quick Strikes
Important Dates
| | |
| --- | --- |
| Application Deadline | April 30, 2015 |
| Funding Start Date | September 1, 2015 |
Project Scheme "Live Pilot" Competitions
Important Dates
| | |
| --- | --- |
| Registration Deadline | January 18, 2016 |
| Application Deadline | March 1, 2016 |
| Funding Start Date | July 1, 2016 |
Foundation Scheme "Live Pilot" Competitions
Important dates
| | | |
| --- | --- | --- |
| | 1st Pilot (2014) | 2nd Pilot (2015) |
| Registration Deadline | June 23, 2014 | July 27, 2015 |
| Stage 1 Application Deadline | September 15, 2014 | September 15, 2015 |
| Stage 2 Application Deadline | February 5, 2015 | February 5, 2016 |
| Funding Start Date | July 1, 2015 | July 1, 2016 |
Innovative Ebola Research Grants
Important Dates
| | |
| --- | --- |
| Registration Deadline | 2015-05-25 |
| Application Deadline | 2015-06-08 |
| Funding Start Date | 2015-08-01 |
Upcoming Opportunities
Stay tuned for updates related to CIHR Intersectoral prevention teams.
Population Health Intervention Research (PHIR)
The launch is anticipated for Spring 2015 and the application deadline is anticipated for early Fall.
Public Health Agency of Canada Reinforces Commitment to Multi-Sector Collaboration and Innovation
By: the Public Health Agency of Canada
The Public Health Agency of Canada (PHAC) reiterated its continued support for the Applied Public Health Chairs Program, a joint initiative between the Agency and CIHR's Institute of Population and Public Health and other partners, by providing new funding totaling $4.5 million of the total $12,938,128 from all partners over the next five years. This funding will be used to support researchers in mid-career faculty positions in Canadian universities as well as to build new relationships with existing public health organizations to develop the next generation of public health practitioners and researchers.
"The Applied Public Health Chairs Program remains a valuable means of supporting innovative health research in Canada", said Dr. Gregory Taylor, Canada's Chief Public Health Officer. "Efforts like this are essential to ensuring that a multitude of perspectives inform public health planning and decision making".
The program, which supports high quality and focused research of national relevance to public health, fosters formal linkages with the public health system, supports Canadian universities to mentor the next generation in public health and stimulates innovative approaches in public health intervention research, education and knowledge translation.
A mid-term evaluation of the first launch of the chairs program (2007-08 to 2012-13) completed in 2010 found a continued need to build public health intervention research capacity at the mid-career level in Canada, and highlighted the program's effectiveness in meeting its objectives and building public health research capacity.
Ethics in Research: A Science Lifecycle Approach
Contact: Jaime Flamenbaum, Senior Advisor, Ethics, CIHR | Jaime.Flamenbaum@cihr-irsc.gc.ca
The workbook "Ethics in Research: A Science Lifecycle Approach" consisting of a Knowledge-to-Action/Ethics (KTA-E) framework and a series of scenarios where an ethics lens is applied and discussed is now available on CIHR website. This material is intended to fill an educational void by assisting young and senior investigators to develop the skills and attitudes that will help to identify and address ethical issues inherent in their work throughout the research life cycle. The KTA-E kit goes beyond issues related to human subject protection and offers an interactive open-ended scenario-based approach that can be adapted to those circumstances where other supporting material is lacking. Two video captures are already available and a webinar is in the works: video capture of an event at the Western University and webcast on ethics in research. Because of the dynamic nature of health research, unexpected ethical challenges continually arise; users will therefore be able to offer feedback on current case studies and propose new scenarios through the dedicated email: ethicsedu@cihr-irsc.gc.ca to ensure the continuing relevancy of the Workbook.
Reflects upon the Federation of Canadian Municipalities' Sustainable Communities Conference
By: Katherine Cole, CIHR-IPPH Associate, Strategic Initiatives | katherine.cole@cihr-irsc.gc.ca
IPPH was pleased to sponsor a workshop at the Federation of Canadian Municipalities' Sustainable Communities Conference held in London, Ontario from February 9-12, 2015. The workshop, entitled Healthy Communities by Design: Turning Research into Results, was an opportunity for IPPH to showcase an evidence informed initiative undertaken by the Region of Peel and broadly implemented in the City of Brampton.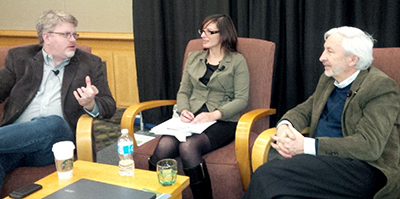 This conference was an important venue to disseminate information about CIHR and more specifically, the Environments & Health Signature Initiative, in order to inspire and mobilize municipalities to join the research process. Participants discussed the challenges of integrating health into planning and land use/development decisions in practice, and hopefully the Heathy Development Index [ PDF (1.92 MB) - external link ] and Health Background Study Framework [ PDF (2.72 MB) - external link ] gave them some new ideas and tools to consider for their respective communities. The workshop was well attended by approximately 90 conference delegates. Many thanks to the fantastic panelists - Dr. James Dunn (McMaster University), Sandra Almeida (Peel Public Health) and Alex Taranu (City of Brampton) - for sharing their experience and knowledge, and contributing to an excellent discussion (pictured from left to right). The session was organized and moderated by Katherine Cole.
Student Corner: Featured articles
By: Ashley McAllister - ASPHER Student Winner 2014 | ashley.mcallister@sydney.edu.au
I began my PhD journey as a self-funded student. While my supervisors were very supportive and helped fund some fieldwork and conference expenses, I still spent a lot of time working to support my studies. At times this prohibited me from attending conferences, training sessions and potential opportunities for collaboration. In April 2013, this changed. I was awarded a CIHR Foreign Doctoral Research Award. This award allowed me to dedicate the final 18 months of my PhD to finishing my Australian data collection, analysis and writing. My thesis is entitled: Australian and Ontarian approaches to disability income support design and mental illness: A comparative study. My aim was to understand how disability is defined and assessed in disability income support (DIS) policy in relation to mental illness. While I recognise boundaries need to be drawn when determining eligibility for DIS, I sought to develop evidence demonstrating the unique challenges of designing policy for those with a mental illness.
In addition, this scholarship funded a visiting student position in the Equity and Health Policy Research Group at the Karolinska Institute (KI) in Stockholm, Sweden. Being affiliated with KI has provided me with many opportunities to receive informal, peer-review from experts which has strengthened the quality of my research. Perhaps the best example is the opportunity to do a mock thesis examination where my research group provided comments on a draft of my thesis. Without a doubt, these comments enhanced the final version of my thesis. I was also awarded a CIHR Travel Award this year to attend the European Public Health Association Conference where I presented results from my thesis and networked with leaders in my field. I have submitted my PhD thesis and I will begin postdoctoral research at KI in 2015. Final completion of my thesis would not have been possible without the generous financial support from CIHR.
By: Rodney Knight
In October, I began a CIHR-funded Post-Doctoral Research Fellowship at Simon Fraser University and the British Columbia for Excellence in HIV/AIDS. As a result, the timing of the EUPHA Conference represented a truly 'transitional' period of my scholarly career. I was particularly attracted to this year's conference theme 'Reducing inequalities in health and health care', as it represents the underlying motivation and emphasis of my own research. I was also delighted to have the opportunity to attend and present my research at the Young Researchers' Forum. During the forum, Dr. Peter Piot offered a presentation regarding career planning. Dr. Piot emphasized that, despite the tendency for those of us in the academy to methodically plan our career trajectories (particularly within key transitional phases), his professional and personal experiences highlight how we should also be prepared to adapt, re-strategize and re-orient our goals and aspirations on a 'case-by-case' basis (context matters). Attending the EUPHA conference also gave me an opportunity to reflect on the importance of international collaborative opportunities related to my career development, as well as the science in which I engage. For instance, given the contextualized nature of the social and structural factors that shape health outcomes, international collaborations will play an important role in leveraging evidence and theory to support the successful (and ethical) implementation of population health interventions and related research.
Tri-Council Policy Statement Update
The revised version of the 2nd edition of the Tri-Council Policy Statement: Ethical Conduct for Research Involving Humans (TCPS 2) was released in December 2014. TCPS 2 (2014) replaces TCPS 2 (2010) as the official human research ethics policy of the CIHR, the Natural Sciences and Engineering Research Council of Canada (NSERC), and the Social Sciences and Humanities Research Council of Canada (SSHRC).
FAQ: Did you know?
Q: How does a reviewer evaluate the publication record? Which documents do reviewers look at to evaluate an applicant's publication record?
A: The Peer Review Guide directs the reviewers to look at the Common CV (CCV), the 5-year Research Plan and the 3 Sponsor Letters when evaluating the applicant's Track record. The CCV with the CCV attachment (publication list), the Dean of Faculty/Research Director Letter, letters or collaboration, and finally the 3 Sponsor Letters are all sections where the reviewers may look at to evaluate the publication record. Although it is suggested that reviewers look only at the information provided in the application to prepare their review, websites such as Pubmed are also consulted by some.
More information on Open Programs and Peer Review Reforms...
Featured Book release: CIHR-IPPH Applied Public Health Chair holder, Valéry Ridde
By: Valéry Ridde, Associate Professor, Department of Social and Preventive Medicine, School of Public Health, University of Montreal
Une politique de santé et ses contradictions. La gratuité des soins au Burkina Faso, au Mali, et au Niger (only in French)
The analysis of government policy in Africa, and implementation science are still embryonic. This book offers an in-depth empirical analysis of the design and implementation of government healthcare-fee exemption policies in three poor French-speaking countries in West Africa: Burkina Faso, Mali and Niger. It also pioneers through its combination of qualitative methods (intensive field surveys) with quantitative methods, and through its comparative analysis of three neighbouring countries, which combines cases studies, analyses of practices and the perceptions of the actors concerned.
The research program presented in this book was conducted by the Laboratory for Studies and Research on Social Dynamics and Local Development, in Niger, and the School of Public Health of the University of Montreal, in Canada. It was co-funded by the IDRC and the AFD, with contributions for the publication of the book from CIHR through salary support for co-author Valéry Ridde, who was recently awarded a CIHR-IPPH Applied Public Health Chair in global health for the period 2014-2019.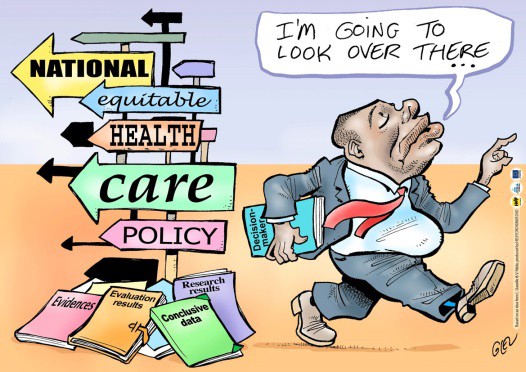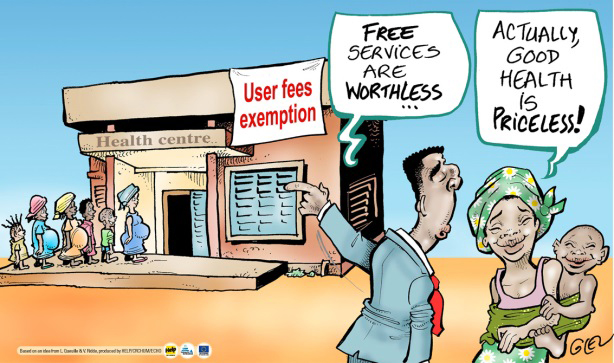 Date modified: