Mental Health First Aid course empowers First Nations' community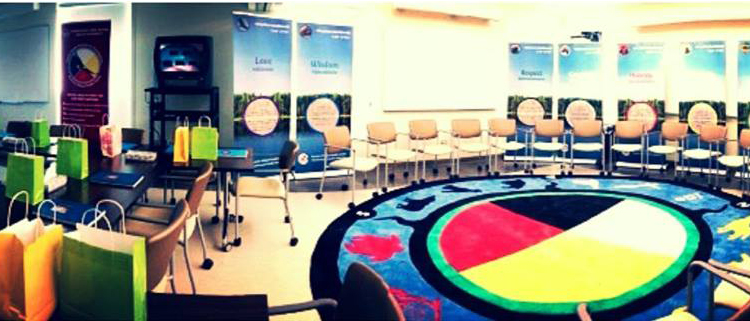 Mental Health First Aid - First Nations training setup in Opaskwayak Cree Nation
Photo courtesy of Linda Lathlin, RNBN, MHFAFN facilitator
June 15, 2015
The usually tough and indifferent elderly man sat crying softly as he told the painful story of his childhood in a residential school more than 50 years earlier. Two dozen others in the circle quietly listened.
"It was a powerful healing moment," says Rhonda Ross, Executive Director of Opaskwayak Cree Nation Health Authority. "We created an environment so safe that he was able to speak and share his experience with us. It was a beautifully bittersweet moment."
It's the kind of moment that she says is typical of participants' experience in the two-day sessions of the Mental Health First Aid - First Nations (MHFA FN) course that she's led in her home of Opaskwayak Cree Nation, a 4000 person community across the Saskatchewan River from The Pas in northwestern Manitoba.
Mental Health First Aid is an international, evidence-based course used in 18 countries that empowers participants as mental health first responders. The Mental Health Commission of Canada has successfully offered the course to thousands of participants in communities across Canada. It's now pilot testing a version specifically developed by a First Nations Guidance Group for Canada's First Nations communities, work made possible by a grant from Health Canada.
"There's such promise with the MHFA FN approach" says University of Western Ontario clinical psychologist Claire Crooks. "When you think about how many First Nations communities there are and there's such a shortage of professionals that we really need a population health approach. This is a way of giving the community tools to move towards wellness."
With support from the Canadian Institutes of Health Research (CIHR), Crooks is leading the evaluation of the implementation, effectiveness and potential scalability of the MHFA-FN pilot studies in six First Nations communities, from British Columbia to Nova Scotia.
Meaghon Reid, Director, Mental Health First Aid Canada says, "We've been extraordinarily fortunate to walk alongside the six First Nations partner communities, the First Nations Guidance Group, and health researchers to ensure this course is community developed and culturally safe."
For many MHFA FN participants their journey as mental health first aid responders begins with an understanding of the roots of their own emotional pain.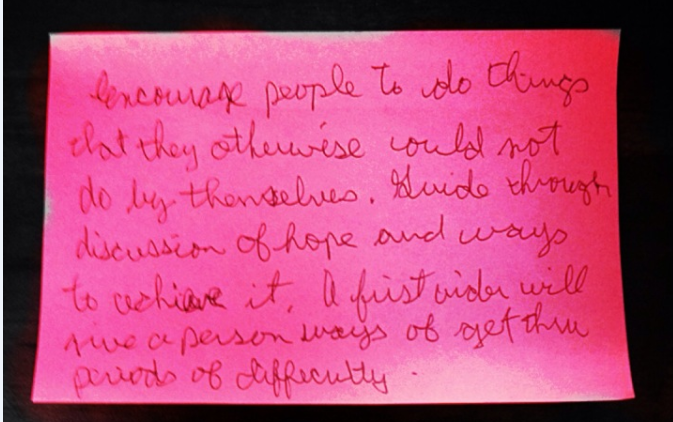 Photo: "I encourage people to do things that they otherwise could not do by themselves. Guide through discussion of hope and ways to achieve it. First Aid will give a person ways to get through periods of difficulty."
Mental Health First Aid - First Nations (MHFA FN) participant in Opaskwayak Cree Nation. Photo courtesy of Brian Ballantyne, MHFA FN facilitator
"The feedback that we've received tells us that when we deliver the workshop many of our people come out feeling ready to face what they weren't ready to face before," says Rhonda Ross. "It's a very powerful experience, it's almost like you're connecting to your true being. We all come out feeling that connection to who we are as proud First Nations people, and more importantly connected to our strength as a caring, resilient community."
During the past 18-months in Opaskwayak, Ross and two colleagues and co-facilitators have led five of the two-day MHFA FN courses, each one involving 20 adult participants.
For more information on MHFA courses and programs in Canada, including dates of upcoming courses, visit Mental Health First Aid Canada.
Understanding and respect
One of the key cultural adaptations of the course is that the First Nations' version begins with a historical discussion, which triggers personal stories.
"There's a lot of inter-generational trauma in the community, whether from residential schools, the TB sanatorium and experimentation or the '60s scoop" says Ross, whose mother and maternal grandmother both attended residential schools.
"MHFA FN speaks to these issues. When you go through the training you get such a strong sense of yourself as a First Nations person. It explains that some of the hurt that I carry isn't mine, I've inherited that and I didn't even realize it. It's helped me and others who've shared their stories gain a deeper understanding and respect for the courage and strength of our parents and grandparents. We will never forget but now we can work at forgiveness and move on in life's journey."
In Opaskwayak this sharing is facilitated by having two distinct areas in the space where the course is given. The classroom-like area is used to discuss the MHFA FN workbook. A second, more welcoming space has seats arranged in a sharing circle around a Medicine Wheel.
Crooks says that there is abundant evidence that respecting and promoting broader First Nations cultural connectedness is key to helping individuals heal mental health issues.
"Western researchers are used to thinking about suicide as an individual behaviour or pathology, and you look at that individual and their immediate family," she says. "But there's a very good argument to be made for looking at community well-being and broader issues of cultural connectivity, and this is what MHFA FN has the potential to do."
Being Ready for "Yes"
Rhonda Ross watched as her loved one's mood and behaviour changed following the suicide of a close and dear friend.
"I was scared as heck," recalls Ross, Executive Director of Opaskwayak Cree Nation Health Authority "When it came to talking about whether she was thinking about suicide, I was so afraid to have her say yes."
Ross did talk to her loved one, and was able to walk with her as she began her journey to seek professional help.
She says that one of the insights from the pilot projects of Mental Health First Aid First Nations (MHFA FN) that she's led is that many participants are aware of mental health issue signs and symptoms, but hesitate when it comes to taking action, particularly asking about suicidal thoughts.
"What we've seen from the participants is that what stops us from acting a lot of times is, I don't know what to say," says Ross, who was also a member of the advisory group that developed the First Nation's version of the course. "One of the biggest learning moments for participants is the myth about the fear of planting the idea of suicide by using the word suicide or asking about suicide. Because that's exactly what you need to do, and to be prepared for the 'yes'"
The MHFA FN training empowers participants with the specific techniques and language to act as first responders to help those with mental health issues. It also gets us to identify the resources that we have in our communities, our Circle of Support, so that we know where a person needs to go when they are ready for help.
"There's a lot of demand from First Nations communities across Canada to scale-up the MHFA FN program, and what we're learning in the pilot sites will ensure that this is done successfully," says CIHR-funded researcher Claire Crooks, who's leading the pilot study evaluation.
For Rhonda Ross, MHFA FN is already helping Opaskwayak Cree Nation community members see themselves as strong resilient people.
"MHFA is helping our community members to assert our proud Cree identity and that we have what it takes to help ourselves," she says. "The course is a spark for healing in the community, and each participant who takes the course is taking his or her healing journey into the community."
Date modified: