CIHR National Stakeholder Council Meeting on Safe Medication Management for Older Men and Women Across Canada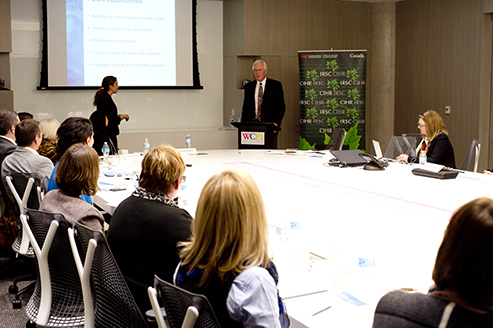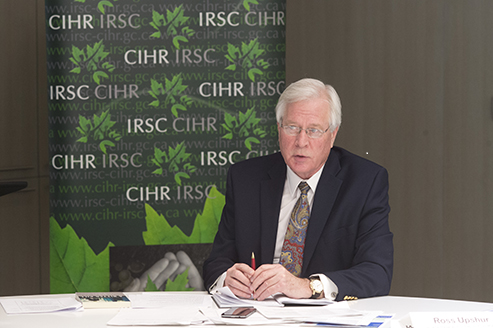 On January 23rd, 2015, Dr. Cara Tannenbaum, the new Scientific Director for CIHR's Institute of Gender and Health and the Michel Saucier Pharmacy Chair in Health and Aging at the Université de Montréal, led a select group of delegates in a discussion of a growing health issue in Canada: the inappropriate use of medication among seniors living in the community. One-in-four seniors consumes at least one medication that increases the risk of harm, according to Dr. Tannenbaum. The CIHR National Stakeholder Council Meeting on Safe Medication Management for Older Men and Women Across Canada, which took place at the Women's College Hospital in Toronto, brought together policy-makers, national organizations, physicians, pharmacists, patient advocacy groups, economists and academic researchers and others with an interest in health safety. 
The council was delighted to welcome Member of Parliament for Oakville, Terence Young, who founded the advocacy group Drug Safety Canada in 2002. MP Young spoke on behalf of the federal Minister of Health about Vanessa's Law, which aims to provide better protection for Canadians from harmful drugs and medical devices. With this law, information about Canadian clinical trials will be posted on a public registry, which all Canadians will be able to access. MP Young also addressed the Government's Regulatory Transparency and Openness Framework and Action Plan, which was launched in the spring of 2014.
Goals of the Meeting
Reducing a patient's exposure to multiple or inappropriate medications, known as de-prescribing, is a complex process. However, by drawing on a wide range of expertise, the council was able to:
Identify ways to improve the overall quality of pharmaceutical care for our aging population and lower drug-related health care costs;
Explore policies needed to support better practice and quality of life for men and women with multiple chronic medical conditions; and,
Promote communications approaches that will increase the development and dissemination of evidence-based de-prescribing protocols for knowledge users.
Solutions for Safer Medications
During the symposium, many avenues were explored to help foster changes surrounding de-prescribing. The council discussed topics such as national policies related to medication coverage and purchasing, patient information and empowerment, and the education of health professionals who work with the aging population. One of the key issues covered at the meeting was the implementation of a national practice change regarding prescribing among physicians. The council members also emphasized the need to increase access to non-pharmacological alternatives to prescribed medications. Often these therapies are not covered by insurance, or are more expensive than prescriptions. Finally, the council agreed that a national education campaign should be put in place to raise awareness of the issue of inappropriate prescribing.
Next Steps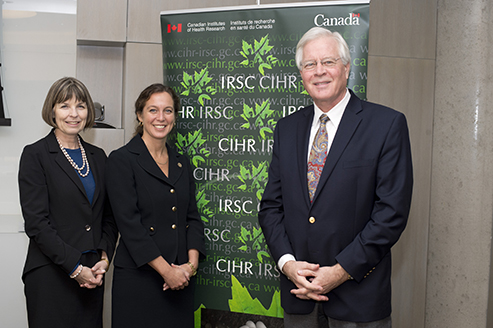 The next step is to raise public awareness of the potential harms of certain medications such as sleeping pills, antipsychotics used in persons with dementia, and even certain diabetes medication. Professional medical organizations and health researchers will work with the Choosing Wisely Canada Campaign to support clinicians to safely de-prescribe. Policy experiments targeting different reimbursement schemes  and easier access to therapies such as cognitive behavioural therapy for insomnia will be explored in various provinces. The council will reconvene in one year's time to assess progress in achieving a 50% reduction of inappropriate prescriptions for seniors over the next 3 years.
Date modified: