IHSPR Newsletter – January 2015
Table of Contents
---
Message from Dr. Robyn Tamblyn, IHSPR Scientific Director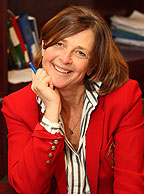 Happy 2015 to all! It's a very exciting and equally busy time in health research and the same can be said for IHSPR.
The eHealth Innovations Partnership Program has been live for a few months now and we're starting of the 2015 with a fresh slate of regional partnership workshops! These events are an important opportunity to bring together health care innovation communities and health technology companies to form the relationships that will be so crucial to the success of the research projects. Be sure to find out when events are happening in your region.
I extend my warmest regards and congratulation to the CIHR Health Researcher of the Year, Dr. Arthur Slutsky, and Knowledge Translation Prize Winner, Dr. Bonnie Stevens. It's always exciting to acknowledge colleagues who are doing instrumental work and our IHSPR Awards allow us to do so for our array of health services and policy researchers.
Stay ahead of new information on the Institutes Modernization and the latest research developments from our health services community.
Hope to see you on our cross country eHealth workshop tour!
Robyn Tamblyn
Follow me on Twitter!
Awards
IHSPR Awards
IHSPR is pleased to announce the 2014-15 Article of the Year, Rising Star Awards. Winners will be recognized at the May 2015 annual Canadian Association of Health Services and Policy Research (CAHSPR) conference.
Get ready for next year's conference and apply for the opportunities below!
Article of the Year
Application deadline: February 13, 2015
This award is intended to recognize published research in a peer-reviewed journal that has significantly contributed to the advancement of the field of health services and policy research in Canada. IHSPR will consider articles related to:
Research that demonstrates a clear impact or potential impact on policy, practice, or health outcomes (e.g., decision maker uptake, change management for improved practice);

OR

Research that breaks ground in the way health services or policy research is conducted (e.g., innovations in methodology, novel theory or application of theory, new approaches to existing problems).
Funds available – $ 10,000 for one grant
Grant duration – One year
Rising Star Award
Application deadline: February 13, 2015
The CIHR Institute of Health Services and Policy Research (IHSPR) is dedicated to supporting graduate students and post-doctoral Fellows and to recognizing the research excellence and knowledge translation initiatives of these emerging health services and policy researchers at an early stage in their career.
Objectives:
To recognize the excellence of Canadian research and innovative knowledge translation (KT) initiatives of graduate students (e.g. M.D., M.A., M.Sc. and PhD) and post-doctoral fellows studying health services and policy research;
To recognize research and/or KT contributions for which a graduate student or post-doctoral fellow has had primary responsibility;
To promote careers in health services and policy research.
Funds available – $ 3,000 for approximately three grants
Maximum amount per grant – $1,000
Grant duration – One year
2015 CIHR Barer-Flood Prize in Health Services and Policy Research
Application deadline: May 1, 2015
The CIHR Barer-Flood Prize for Health Services and Policy Research is a career achievement award that honours and recognizes an exceptional researcher in the area of health services and policy research who has created a seminal body of work that has had a substantial impact on health services and policy research, policy and/or care delivery.
Objective:
To recognize the exemplary efforts and activities of an exceptional individual who has made an outstanding contribution to health services and policy research, policy and/or care delivery in Canada.
Funds available – $ 25,000 for one grant
Grant duration – One year
Learn more about the 2014 Winner - Dr. Tom Noseworthy
Read the News Release
CIHR Awards
CIHR Researchers of the Year 2014 – Dr. Arthur Slutsky (St. Michael's Hospital)
CIHR Knowledge Translation Award 2014 – Dr. Bonnie Stevens (Hospital for Sick Children)
eHealth Innovations Partnership Program (eHIPP)
Registration Deadline: April 1, 2015
Application Deadline: June 3, 2015
eHIPP will focus on development of inter-sectoral collaboration between healthcare innovation communities (researchers, clinicians, patients and decision makers) and industry to help realize the value of existing innovations. The expectation is for collaborative teams (healthcare innovation community + industry) to address gaps and inefficiencies in the care of two priority populations:
Early detection of and intervention for youth (11-25 years of age) with mental health conditions
Seniors with complex care needs in their homes and communities
1:1 Partner Matching
Maximum CIHR amount per award – $187,500 per year
Grant duration – Four years
View the full funding opportunity.
Watch our info webinar (EN)/(FR) and learn more about upcoming events in your region!
Events are scheduled for:
January – Newfoundland & Labrador
February – British Columbia & Yukon
March – Alberta, North West Territories, Saskatchewan, Manitoba, Ontario and Quebec
Funding News
CIHR
Summary of the Stage 1 review process for the Foundation Scheme Pilot
New CV Template for the Transitional OOGP Competition
CIHR Reforms: Update on the 2014 Foundation Scheme "live pilot" competition
CIHR Open Reforms
Foundation Scheme : 2014 1st Live Pilot
Stage 2 Application Deadline: February 5, 2015

The Foundation Scheme is designed to contribute to a sustainable foundation of new and established health research leaders, by providing long-term support for the pursuit of innovative and high-impact research programs.

Requirements:

Stage 1 Application
Stage 2 Application

Please note: CIHR has made the decision to change the funding start date for the 2014 Foundation Scheme live pilot and the Transitional OOGP competitions from October 1, 2015 to July 1, 2015. With these revised timelines, CIHR will reduce the funding gap that may exist for some current grantees from 6 months to 3 months.
Other Grants
Training and Salary Awards/Fellowships
External
Centres of Excellence for Commercialization and Research
Application Deadline (LOI): March 6, 2015
Application Deadline: August 28, 2015

The goal of the CECR program is to create internationally recognized centres of commercialization and research expertise in priority areas to deliver economic, social, health and environmental benefits to Canada.
Financial sustainability of the centres beyond the CECR grant funding remains a key element of the program.

The 2016 competition is seeking to fund new centres of excellence that have a robust business model, which includes strong commercialization (including new technologies, goods and services), and sustainability plans, as well as a credible budget over the proposed timeframe. Only applications that meet the threshold of excellence will be funded.

Centres applying to the 2016 CECR competition must demonstrate how the proposed centre will address priorities of the Government of Canada, including:

Environmental science and technologies;
Natural resources and energy;
Health and related life sciences and technologies;
Information and communications technologies; and
Management, business or finance.
Funding Decisions
Learn about CIHR funding decisions
2014 Applied Public Health Chairs announced
CIHR is pleased to announce the 2014 Applied Public Health Chair (APHC) recipients. The program supports innovative population health research that improves health equity for citizens in Canada and around the world. This can be achieved through interdisciplinary collaborations and mentorship of researchers and decision makers in health and other sectors.
CIHR/PHAC Applied Public Health Chair Dr. Wendy Norman featured in media coverage on abortion access:  CBC Radio, CMAJ, Globe & Mail, National Post
Quality of Prenatal Care
A new instrument, the Quality of Prenatal Care Questionnaire (QPCQ), is now available for use in research and quality monitoring projects. The QPCQ is a 46-item self-report questionnaire, designed to be completed by women after 36 weeks of pregnancy or within the first 6 weeks postpartum.
Development and testing of the QPCQ was funded by a four-year operating grant from the Canadian Institutes of Health Research and was guided by a multidisciplinary team of researchers and collaborators, led by Dr. Wendy Sword (School of Nursing, McMaster University) and Dr. Maureen Heaman (College of Nursing, University of Manitoba). 
The QPCQ is available for use through McMaster University's intellectual properties office. To access the free QPCQ and the scoring instructions please submit a request.
A French version of the QPCQ will be available soon.
Announcements
Governing Council has now completed the Institutes Model Review. As mandated in the CIHR Act and as recommended by the 2011 International Review Panel, this review assessed the structure, role, policies, financial framework and slate of the CIHR Institutes. Governing Council wishes to thank everyone for their contribution to this important process and, in particular, the members of the External and Internal Working Groups for their thoughtful reports and recommendations.

Message from the President - Institutes Modernization Update
Questions & Answers

Canada's Science, Technology and Innovation

In May 2007, Prime Minister Stephen Harper launched Canada's Science and Technology (S&T) Strategy: Mobilizing Science and Technology to Canada's Advantage, and in doing so, outlined a comprehensive plan to make Canada a leader in S&T, research and innovation.

On December 4, 2014, the Government of Canada launched an updated strategy: Seizing Canada's Moment: Moving Forward in Science, Technology and Innovation 2014 which builds on the foundation laid out in the 2007 framework, but goes further to ensure that Canada remains well positioned in the global arena for research excellence, talent and wealth.

The renewed strategy will leverage the expertise and resources of post-secondary institutions, industry and government to translate brilliant theories and ideas into applications that will improve the day-to-day lives of Canadians and generate economic growth and jobs across the country. It will be guided by four core principles: promoting world-leading excellence, focusing on targeted priorities, fostering partnerships and enhancing accountability.

Discover Canada's largest research platform on aging and health

The first major data release from the Canadian Longitudinal Study on Aging (CLSA) is underway. Researchers interested in accessing the CLSA platform are invited to visit the DataPreview Portal on the CLSA website for detailed information about the available data and the application process.

The CLSA is the most comprehensive study of aging ever undertaken in Canada. The study will follow 50,000 individuals aged 45 to 85 for 20 years, collecting information about their physical, emotional and social health through telephone interviews, in-home interviews and physical assessments. To date, more than 42,000 participants have been recruited.

The CLSA data will enable researchers to investigate the biological and psychological changes that frequently accompany aging, as well as non-medical factors such as social and economic changes. The longitudinal data will also provide opportunities for sound research that will inform decisions to design interventions and policies to improve the health and well-being of older adults.

The June 2014 release includes the first data collected from 21,241 participants who completed 60-minute telephone interviews. Canadian and international public sector researchers are eligible to apply. Data will be available to researchers following submission and review of applications by the CLSA Data and Sample Access Committee. The process for accessing biospecimens and physical assessment data from the 30,000 participants who are seen in person is currently being developed in anticipation of the first release of these data in 2016.

For more information, or to apply for access, visit Canadian Longitudinal Study on Aging.

Ethics in research: A science lifecycle approach

CIHR has launched a new research ethics workbook. Its purpose is to foster awareness of the ethical issues that may emerge throughout the entire lifecycle of scientific knowledge from creation to translation.

The workbook begins by providing an overview of the four themes of the Canadian Institutes of Health Research (CIHR) funded health research including common ethical issues that may arise under each theme.

The following section presents the Knowledge-To-Action Ethics (KTA-E) Cycle, which is the conceptual framework for the entire document.

Section 4 provides a series of scenarios built around the four themes of CIHR funded health research.
Events
Did You Know?
Got good news?
Are you a CIHR-funded investigator driving innovative health services and policy research? Have you recently been published in a peer-reviewed journal? Then we want to hear from you!
Send us a research project abstract and a short summary (500 words max) of your latest game-changing outcomes and impacts for a chance to be featured in the IHSPR newsletter or website! Forward us your information to info.ihspr@mcgill.ca.
Contact Us
Stay up to date with IHSPR activities! Contact staff, follow SD Robyn Tamblyn on Twitter and follow us on YouTube.
Date modified: