Dr. Soo Chan Carusone
Complex Lives and HIV Research
Research Lead, Casey House, Toronto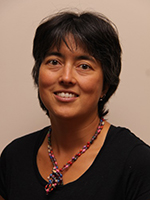 As we learn more about the impact of HIV on the lives of those living with it, it becomes increasingly apparent that there are no straightforward answers. HIV affects those from many walks of life with complex lived experiences and medical histories. Dr. Soo Chan Carusone, Research Lead at Casey House in Toronto, strives to ensure that HIV research is representative of these intricate lives. "I see my role as trying to increase representation and our understanding of HIV within a more complex context that is medical as well as psychosocial," Dr. Chan Carusone explains. "Casey House serves a very complex population; they often don't meet the eligibility criteria for studies because they are so complex." This leaves clinicians struggling to fit their clients into the more simplistic molds defined by research results. "We're increasingly realizing that best practices and guidelines are difficult to apply to complex clients," Dr. Chan Carusone says. "Improving our ability to know what to do in these circumstances starts with inclusion of complex cases in research."
Dr. Chan Carusone has several projects on the go that relate to this issue. With support from the Canadian Institutes of Health Research, she is working on a project that will capture the lived experience of discharge and the transition back into the community after hospitalization. The hospital is a stable environment, providing meals and shelter but once discharged, many clients lose this stability and some are re-admitted to hospital. "We want to understand how they feel and what goes on leading up to their discharge," Dr. Chan Carusone explains. "How does their discharge meeting go, and what plans are put in place for that transition? How do these plans actually play out once the individual is back in the community?"
In a study supported by the Ontario HIV Treatment Network, Dr. Chan Carusone is looking at developing and evaluating different models for involving more marginalized individuals with HIV in research in an advisory capacity. "We have a more traditional community advisory committee and additionally we are running one that is activity/arts based." Dr. Chan Carusone explains. "It is much more informal so that people don't need to commit to ongoing participation." Casey House hosts sessions and activities that interest people, such as decorating cookies or making and tasting tea. "We hope that it might be more inviting and comfortable for people who don't tend to participate in community advisory committees," says Dr. Chan Carusone. "There are similar objectives and conversations to what would happen in a traditional community advisory committee but we try to have it in a different manner."
Working at Casey House has been ideal for Dr. Chan Carusone because she can see her research in action. "It's a great opportunity to be based in an organization where you can directly observe the implementation of research. I see it on the ground and all the way through from its inception to changes in practice and care." Casey House will undergo big changes with a new Day Health Program, set to open in two years time. Dr. Chan Carusone feels that it will be another opportunity for research to make a difference. "This will be a really great opportunity for us to better serve more marginalized individuals and in greater numbers," she explains. "We'll be able to integrate program evaluation and research to directly inform provision of care."
The Canadian Association for HIV Research (CAHR), the CIHR HIV/AIDS Research Initiative, the Canadian Foundation for AIDS Research (CANFAR), the CIHR Canadian HIV Trials Network (CTN) and the Canadian HIV Vaccine Initiative (CHVI) Research and Development Alliance Coordinating Office (ACO) would like to thank Dr. Chan Carusone and her colleagues at Casey House for their significant contributions to our understanding of HIV. Their work is part of a larger Canadian effort that is making a difference in the lives of those affected by HIV in Canada and around the world.
Date modified: