CIHR Knowledge Translation Award - 2014
Dr. Bonnie Stevens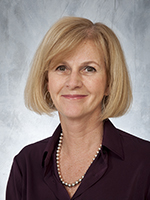 Health professionals receive surprisingly limited training when it comes to managing pain in children. As a result, pain is an all-too-common experience for hospitalized children undergoing painful procedures for diagnosis and treatment.
Nurse, educator, mentor and researcher Dr. Bonnie Stevens is working to change this. She has been a driving force behind important advancements in child health in Canada. In recognition of her leadership and outstanding work, she is receiving the 2014 CIHR Knowledge Translation Award.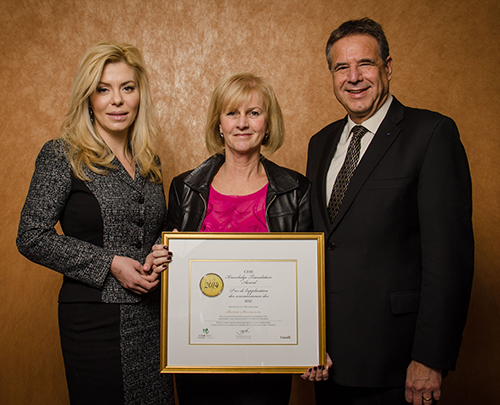 Photo: From left to right: MP Eve Adams, Dr. Bonnie Stevens and Dr. Alain Beaudet, CIHR President
Through her research, Dr. Bonnie Stevens has done much to improve the way that we assess and treat pain in children. As the Principal Investigator of the Canadian Institutes of Health Research Team in Children's Pain, she has worked to transform the way that health professionals think about pediatric pain. The focus of her research is to help health care professionals in hospitals put research evidence into practice to prevent and manage child pain. Her team, which consists of clinicians, researchers and knowledge translation specialists at eight pediatric health centres across the country, has worked to better educate doctors and nurses about pain and to change their behaviours. These efforts have led to improved assessment and management practices and a significant reduction in severe pain amongst young patients at the participating hospitals. Dr. Stevens is now working on knowledge translation toolkits to share the team's approach with more health centres, both within Canada and around the globe.
Dr. Stevens holds the Signy Hildur Eaton Chair in Pediatric Nursing, and she is a Senior Scientist and Associate Chief of Nursing, Research at the Hospital for Sick Children (SickKids) Research Institute. She is also the Director of the University of Toronto Centre for the Study of Pain and Co-Director of the SickKids Pain Centre. She is the Nominated Principal Investigator on the CIHR Strategic Training and Health Research program for Pain in Child Health, and she is a professor who actively engages in teaching about pain and knowledge translation at the Lawrence S. Bloomberg Faculty of Nursing.
Eve Adams, Parliamentary Secretary to the Minister of Health, presented Dr. Stevens with her award during the Innovating Child and Family Health Conference.
The CIHR Knowledge Translation Award honours and supports the exemplary knowledge translation efforts and activities of an exceptional individual, team or organization that has made an outstanding contribution to increasing the application of research findings, improving the health of Canadians, health services and products, or strengthening the health care system.
Date modified: