Dr. Amy Ornstein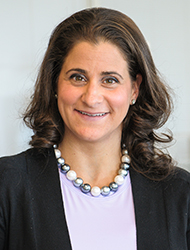 Affiliation
Pediatrician and Medical Director
IWK Health Centre Child Protection Team
Division Head of General Pediatrics
Dalhousie University
Committee membership
Governing Council
Biography
A graduate of McGill University in Montreal, Amy Ornstein is a pediatrician and medical director of the IWK Health Centre Child Protection Team as well as Division Head of General Pediatrics, Dalhousie University.
Formerly, Dr. Ornstein worked in the Suspected Child Abuse and Neglect (SCAN) Program at the Hospital for Sick Children in Toronto. Dr. Ornstein completed her residency in Pediatrics and a clinical fellowship focusing in child maltreatment at The Hospital for Sick Children. She is Board Certified in the field of Child Abuse Pediatrics by the American Academy of Pediatrics, and is an Associate Professor in the Faculty of Medicine at Dalhousie University.
She is active in research and advocacy, with a focus on child abuse/neglect and prevention. Through her advocacy work, Dr. Ornstein has been a key leader in the vision and development of the SeaStar Child and Youth Advocacy Centre. She also led the implementation of the 'Period of PURPLE Crying' abuse prevention program at the IWK Health Centre, which is now being implemented in many parts of Nova Scotia.
Her work has been presented at both national and international meetings focusing on both pediatrics and child maltreatment. She is active in education about child abuse and neglect and teaches a wide range of audiences including medical professionals, law enforcement and social workers. She recently completed a Master's of Science degree in the Department of Community Health and Epidemiology at Dalhousie University.
Date modified: