IMHA Featured research: Dr. Lawrence Korngut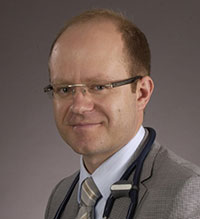 The Canadian Neuromuscular Disease Network
Network profile
The CIHR-IMHA Network Catalyst Grant awarded to Dr. Korngut and his team will help them to develop a Canadian Neuromuscular Disease (CAN-NMD) Network to promote advances in clinical care, research and education in the field of neuromuscular disease. No such organization yet exists in Canada to bring together specialists, scientists, and care providers, to work in partnership with national patient advocacy groups such as Muscular Dystrophy Canada.
Principle Investigator profile
Dr. Lawrence Korngut is an Assistant Professor in the Department of Clinical Neurosciences at The University of Calgary, and a neuromuscular neurologist interested in clinical translational research, registries, and epidemiology. His research includes clinical trials of new therapies for neuromuscular conditions and he is National Principal Investigator of the Canadian Neuromuscular Disease Registry. He recently led the development of the Canadian Neurological Registry Best Practice Guidelines, which culminated in the formation of the Canadian Registry Network. Dr. Korngut kindly answered some questions about his work and motivation behind it for IMHA's newsletter.
Interview
"I want to be a neuromuscular neurologist when I grow up," were not likely his exact words, but after reading Nobel laureate Gerald Edelman's book Bright Air, Brilliant Fire as a child, the seed was planted in young Lawrence's brain. A grown-up Dr. Korngut recalls how Edelman's work caught his attention with its proposal that "we were at the beginning of the greatest revolution in human history, namely the neuroscientific revolution which would lead us to an understanding of how the brain works."
Further inspired in his post-secondary medical studies by such mentors as neurologist Dr. Warren Blume, neurosurgeon Dr. John Girvin, and award-winning researcher Dr. Michael Strong at the University of Western Ontario, Dr. Korngut pursued a neuromuscular fellowship with Dr. Douglas Zochodne at the University of Calgary. There, he learned about translating bench research findings into human clinical trials. "The excitement of being the first to try a new potential treatment in human subjects," he said, "and realizing that I could co-ordinate collaboration between experts with very different skill sets resulted in a clear sense that clinical translational research would be my focus."
Patients and their involvement in research are also a primary focus, which is why he spends much time in the clinic. "That connection with patients and their diseases drive my research program," he explained. "The sense of duty to impact my patients' future beyond what we are capable of in the clinic is striking as a result of the minimal impact we can make on survival in diseases like certain forms of muscular dystrophy and ALS. At the same time, most of our research ideas come directly from observations we have made in the clinic."
Connecting patients to the research community empowers them, he says, by giving them access to "cutting edge research opportunities regardless of where they live. Neuromuscular diseases are rare diseases and partnership with the patient community is the only way forward in the process of developing and testing potential treatments."
As researchers, he said, "Our role as the clinical translational research community is to ensure that our clinical trials are properly designed to ensure safety and minimize the risk of error in estimating the true effects of the compound."
That is where the need for a network comes in. Though patients living with neuromuscular diseases have diverse needs, common themes exist, but support for patients is varied from province to province. "We hope that the establishment of standards of care will help provide more equity for patients across different provinces," said Dr. Korngut. "Access to clinical expertise, equipment, and respiratory care vary and through the formation of the Canadian Neuromuscular Disease Network (CAN-NMD) we expect to impact these issues and improve care across Canada."
Dr. Korngut first noticed a need for a network when trying to recruit subjects for a study. It took a very long time to find only a few patients who met the criteria. "I was concerned that we would not be capable of recruiting sufficient numbers of patients into clinical trials," he said. "At the same time we were approached by the Marigold Foundation (Calgary, Alberta) who were keen to develop a national neuromuscular registry and had already made a lot of progress."
The Canadian Neuromuscular Disease Registry (CNDR), now housed at the University of Calgary, is a clinic-based registry where trained personnel collect data from patients during clinic visits and from clinic charts. One aspect of conducting a registry in this manner is keeping the data consistent.  "For example," said Dr. Korngut, "on every patient with Duchenne muscular dystrophy we request a Forced Vital Capacity data point.  This means that every patient with [the disease] must undergo a pulmonary function test as part of their clinical care.  In this way, the registry directly impacts the consistency of clinical care across the country."
The registry is also directly helping to increase clinical research opportunities and make recruitment for them more cost efficient. "We are hopeful that one day this will directly impact therapeutic treatments available to patients and their long-term prognoses," said Korngut.
The CAN-NMD Network will build further on the CNDR's capacity to connect researchers, clinicians, allied health professionals, primary care physicians and patients. "We expect that this closer collaboration will make Canada a world-leader in neuromuscular translational research," he said.
Famous last words
"Never before has Canada seen such collaboration and a broad community of patients and care providers coming together for a single initiative within neuromuscular disease.  The collaborative environment created by the registry contributed to creating willingness to move to the next level and launch the Canadian Neuromuscular Disease Network and the registry's strong research and clinical infrastructure will make the Network's collaborations effective."
Date modified: