IMHA Featured research: Dr. Sarvesh Logsetty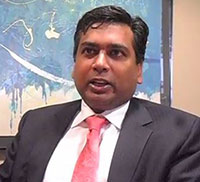 The Advancement of Burn Care Network (ABCN)
Network profile
The ABCN's objectives are to improve burn survivor health outcomes by promoting research; including burn survivors and the multidisciplinary team in the creation of research and knowledge sharing activities; and reducing the duplication of resources in order to accelerate implementing best clinical practices. The directors of the six largest regional adult and four largest children's burn centers in Canada have collaborated to build this network.
Principal Investigator profile
Dr. Logsetty is the Burn Unit Director at Winnipeg's Health Sciences Centre, an Associate Professor of Surgery at the University of Manitoba, and Director of Resident Research for the Section of Plastic Surgery. A busy and widely-published researcher with memberships in many medical and scientific organizations, Dr. Logsetty kindly stopped by the IMHA office to talk about the new ABCN.
Video - The Advancement of Burn Care Network
Why burns?
Initially, Dr. Logsetty chose surgery for the "hands-on interaction with patients" and the ability to see the immediate results of medical intervention. Specializing in burns was a step further: "You get to see how people do over time and how they re-integrate into society, overcome their challenges," Dr. Logsetty explained. "You see the strength of human nature and humanity as they return to doing things that they love and return to being part of society that they value, that they're part of."
Lured by the challenging multidisciplinary nature of burns and the satisfaction of seeing patients improve and rebuild their lives, Dr. Logsetty found that on a practical level, "You can't take care of burns patients without the nursing staff to help do the dressings and make sure they all practice isolation and infection control, the therapists are essential in helping people get back to their activities and helping with scar management, maintain their function, nutrition and dieticians are essential in making sure that wound healing progresses and keep up the building blocks to continue with that. Psychologists, psychiatrists, social work, everybody including housekeeping are essential, because if we don't pay attention to what's happening to the environment, then burn patients are at risk of infection and that drastically alters their outcomes, more so than a lot of other aspects in medicine."
"The other aspect of burns that I found interesting was that there's a huge amount of still unknown in terms of opportunity for growth and an opportunity for understanding things […]. Even on the same person there are areas that scar versus other areas where you might not even see where they were burned or grafted in the first place. We don't understand why one area might be different than another area, let alone why one patient might scar more than another patient. There's a huge amount of opportunity to try and understand that to improve wound healing and try and improve overall patient care."
Pursuing these opportunities is a reason why Dr. Logsetty saw a need for a burn network. Having visited most of the major burn centres in North America as the American Burn Association Travelling Fellow, Dr. Logsetty saw that though some of Canada's burn units are among the best in the world from both a clinical and basic science research perspective, "The challenge is that we're all busy."
"Although we communicate regularly and we're all cooperative, the true nature of collaboration involves regular meetings, an ability to share resources," he explained. "The ability to bring people together on a regular basis and say, what's the update in your lab, what's happening in a collaborative fashion, allows us to decrease the resources needed to increase the efficiencies of what's happening and maybe potentially explore novel new ideas from that catalyst of having two different thought processes brought together."
Clinically, while outcomes across Canada are "among the best," according to Dr. Logsetty, "We all do things slightly differently. We use slightly different fluids, surgical techniques, dressings. It doesn't mean that we all have to do the same but the fact that we do things differently to achieve the same goal means that maybe there's an opportunity to examine what the best ways to do things are. Unfortunately no one centre is large enough, has enough numbers in terms of patients or population to be able to do that. By collaborating across the country we can do that."

Input from burn survivors is the final piece of the Network puzzle. "Burn survivors are vocal, they participate in our national conferences, they are individuals who are very enthusiastic about trying to help and improve care," said Dr. Logsetty. "At the end of the day it's useless to talk about creating a new technique that doesn't improve the outcome of the survivor's quality of life."
The first Canadian Burn Symposium was held at the end of May at which the first official network meeting took place. Work is well underway: "We've already started to do cross-Canada surveys to try and understand how different aspects of burn care are being done," said Dr. Logsetty.
Why Winnipeg?
Not only because Dr. Logsetty, Principal Investigator is based here, but as he says, "Every major burn centre in Canada has come on board, so all the burn directors from every major burn program in Canada is a participant and they've all agreed that we'll base it out of Winnipeg. It's a testament to the excellent infrastructure we have and the reputation we have across Canada for doing excellent work.
Date modified: